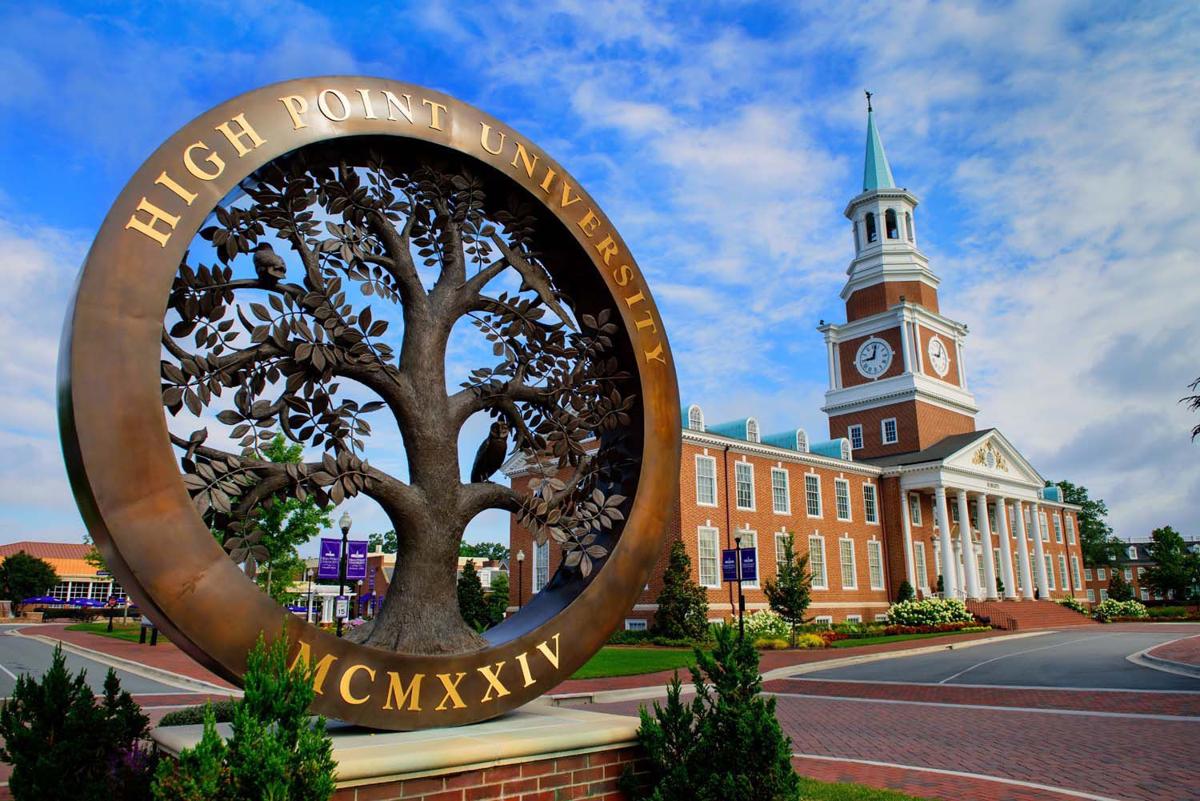 High Point University said it will use a $12 million gift from an alumna and Winston-Salem resident for new programs for women and scholarships for its students.
The donation from Elizabeth "Betty" Miller Strickland of Winston-Salem is the largest single gift to the university's endowment, which helps pay for scholarships, campus programs and other university purposes. The gift was announced todayWednesday on Women's Equality Day, the annual commemoration of the adoption in 1920 of the 19th Amendment that allowed women to vote.
"HPU has come so far since I attended, it's unrecognizable," Strickland said in a statement issued by High Point University. "I want to be a part of the values being taught and fostered at the university."
The donation, High Point University President Nido Qubein said in a statement, "provided us the opportunity to demonstrate specific leadership in the advancement of women. We can achieve this with faithful courage and the willingness to empower students, especially our young women, to become strong leaders of tomorrow."
High Point said the gift will go toward several purposes. Among them:
• A women's leadership fund that will provide mentorship and other opportunities for young women. The Elizabeth Miller Strickland Women's Leadership Fund will be overseen by a new women's leadership council, also named for Strickland, that will develop seminars and other programs for women in business, leadership and entrepreneurship.
"I want women to be educated in empowering one another," Strickland said. "It hurts me to see a woman who has the ability to pursue a job not get the position. Bob and I believed we had to do what we could to try to change that."
• A new honor called the Elizabeth Miller Strickland Trailblazer Award. The award will be given annually to a graduating woman student who, according to the university, "epitomizes the qualities of hard work, passion for service, perseverance and determination." The winner must donate a portion of the award's cash prize to a charity of her choice.
• Scholarships for all students regardless of gender. The Elizabeth Miller Strickland Endowed Scholarship Fund will help sophomores, juniors and seniors with financial need who do well early on at High Point University.
• High Point University will name a plaza for Strickland near Roberts Hall, the university's original main building. The Elizabeth Miller Strickland Scholarship Plaza will include three sculptures depicting recent graduates. Those statues will be installed later this year.
"It is our hope that the plaza honors Betty's transformational gift and inspires others to support the importance of scholarship in higher education," Qubein said.
Strickland attended the school, then known as High Point College, and was crowned Miss High Point College in 1952. After college, she led a number of arts and charitable institutions in Wilkes County and Winston-Salem. For nearly 20 years until 2000, she organized and operated Oxford Antiques and Gifts, a Winston-Salem organization that raised money for charity from the sale of antiques and estate items.
Strickland was married for 66 years to Bob Strickland, who retired in 1999 as chairman of the board of Lowe's after a 40-year career with the home improvement retailer.
Bob Strickland served a four-year term on the board of the Federal Reserve Bank of Richmond and was a trustee at Wilkes Community College and UNC-Chapel Hill. During his one term in the N.C. House of Representatives, the legislature established the state's community college system and the nation's first public arts conservatory now known as UNC School of the Arts.
In 2017, the year before Bob Strickland's death, the couple gave $2.8 million to Forsyth Tech in Winston-Salem. The gift — the largest-ever donation from an individual to the community college — went to support Forsyth Tech's career center. The campus building that holds the career center and student services offices was renamed for Bob Strickland.
"(Bob) loved anything to do with education," Betty Strickland said in a statement. "I wish I could share the excitement of this gift to HPU with him, but I know it is something he would support wholeheartedly."
Contact John Newsom at 336-373-7312 and follow @JohnNewsomNR on Twitter.
Get local news delivered to your inbox!
Subscribe to our Daily Headlines newsletter.