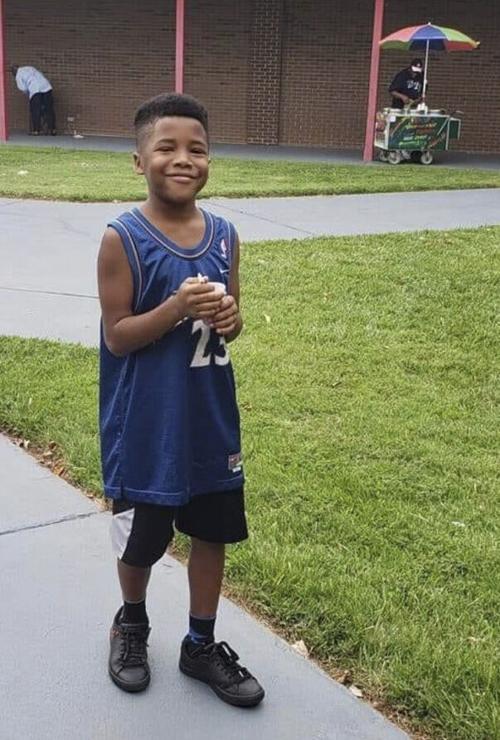 A 17-year-old girl is facing a new charge in connection with a chase involving Forsyth County sheriff's deputies that left a 13-year-old boy dead in August.
Kmya Amari Renee Wynn of Avera Avenue was charged this month with felony death by motor vehicle. An arrest warrant was served on her on Jan. 7 and alleges that she was driving while impaired. 
She is accused of unintentionally causing Reuben Charlie Pledger IV's death on Aug. 18, 2020. Wynn was indicted last year by a Forsyth County grand jury of second-degree murder under the theory that she was being "inherently dangerous without regard to human life." 
Wynn was driving the car that Forsyth County sheriff's deputies were chasing on Aug. 18. Pledger was killed when the car ran off Patterson Avenue and struck a utility pole. Pledger was a passenger in the car, along with two other people. 
Pledger attended Quality Education Academy on Lansing Drive before transferring to Hanes Magnet School during the 2019-20 school year, Michaela Finney, one of his aunts, told the Journal last year. After he was involved in an altercation at Hanes, he transferred to a non-traditional school within the Winston-Salem/Forsyth County school system. 
His family said in his obituary that he loved dancing, playing basketball, swimming and music. 
Wynn also faces other charges in the the crash, including felony fleeing to elude arrest and speeding. The arrest warrant for the speeding charge alleges that Wynn was driving 92 mph in a 35-mph zone. 
The Forsyth County Sheriff's Office said in a news release last year that deputies were working with police in the city limits when they noticed a car without a license plate properly displayed being driven erratically on southbound Patterson Avenue.
Arrest warrants said Deputy Troy Austin Curry attempted to stop the vehicle in the 2200 block of Paterson Avenue. The driver refused to stop, the sheriff's office said. Winston-Salem police said in an incident report that Wynn failed to stop and attempted to "flee at a high-rate of speed."
"Driver of Unit 1 stated she lost control of the vehicle through a curve in the road. Unit 1 exited the roadway and collided with a telephone pole," Winston-Salem police said in the incident report. "Unit 1 continued on and rolled over before coming to a final rest."
Curry and another sheriff's deputy, Matthew James Marso, are listed as witnesses in the police report, but the Forsyth County Sheriff's Office has not identified the deputy or deputies in the pursuing patrol cars. 
Christina Howell, a spokeswoman for the Forsyth County Sheriff's Office, has said that the pursuing deputies were following departmental policy and initial video review has shown no violations. Howell did not immediately respond to questions asking the identities of the pursuing deputies and the status of any internal investigation into the incident.
Pledger's mother, Tamara Kallay, has raised questions about the chase, including why the chase commenced over a license plate. 
According to court documents, Wynn is on electronic house arrest. She is scheduled to appear in Forsyth District Court on Jan. 28 on the charge of felony death by motor vehicle and other charges. A hearing in Forsyth Superior Court for second-degree murder has not been set.