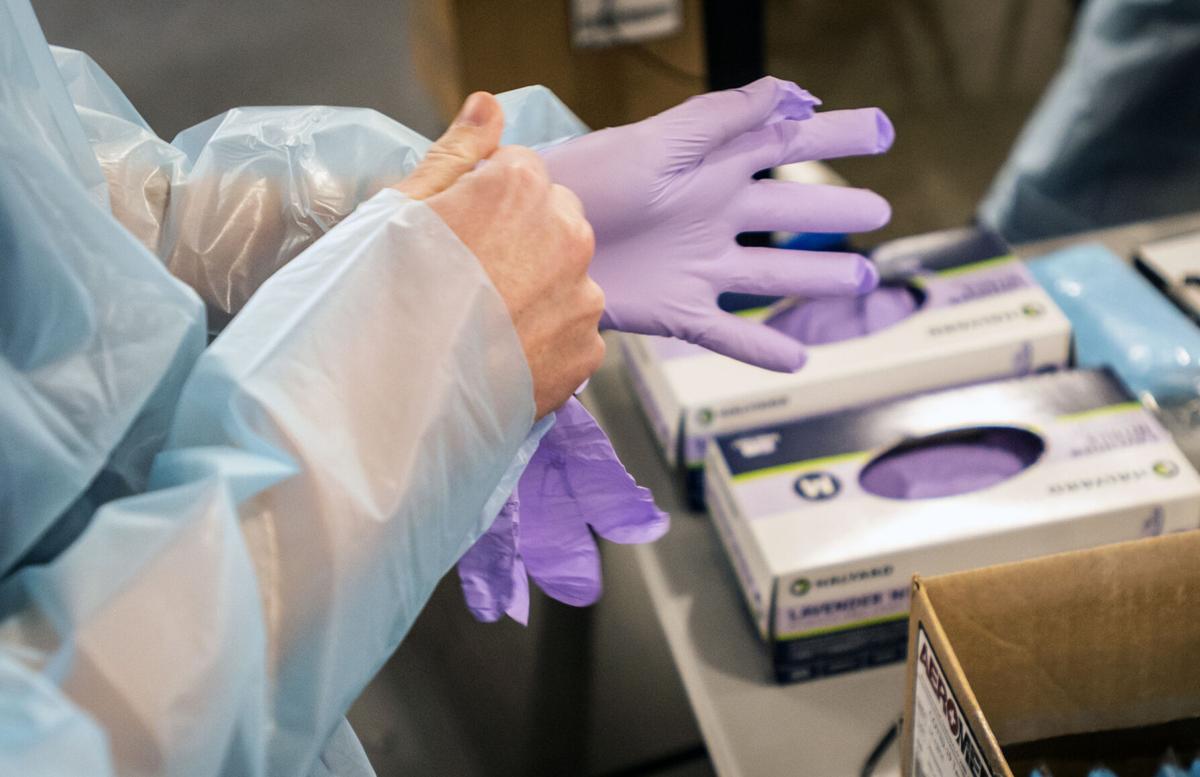 Forsyth County has been moved from the most to least severe county alert category for COVID-19, the N.C. Department of Health and Human Services announced Monday.
Although the latest county alert update was released Monday, the metrics were based as of Feb. 13.
DHHS said the county alert system is designed "to give individuals, businesses and community organizations and public officials a tool to understand how their county is faring and to make decisions about actions to take slow the spread of the virus."
The system uses COVID-19 case rates, the percent of tests that are positive, and hospital impact within the county to categorize counties.
Forsyth's shift from red — signifying critical community spread — to yellow — signifying significant spread — appears to have been based on two key COVID-19 metrics.
The first is being considered as COVID-19 having a low impact on its hospital systems.
The 17-county Triad region reported 340 COVID-19 patients hospitalized on Monday, down 47 from Sunday. The region has had the highest daily hospitalizations of any region for most of the last 17 weeks.
The second is having a positive test rate below 8%, which Forsyth was at 7.8% as of Feb. 13. DHHS reported the Forsyth rate was at 6.9% based on 850 tests conducted Saturday.
Dr. Mandy Cohen, the state's health secretary, has said it would take a statewide positive test rate of 5% or below to mark a decrease in community spread of COVID-19.
It is the first time that Forsyth is listed in the yellow category. When the system was debuted Nov. 17, Forsyth was in the orange category for substantial community spread.
Region's update
Also being moved from red to yellow in the Triad and Northwest N.C. were Ashe and Wilkes counties.
Guilford County was shifted from red to orange, factoring in the low impact on its hospital system, but with an 8.5% positive test rate as of Feb. 13.
Also going from red to orange were Alamance, Davie, Rockingham and Yadkin counties.
Watauga County went from orange to yellow.
Remaining at red are Alleghany, Davidson, Randolph, Stokes and Surry.
Overall, the state went from 61 red counties, 33 orange and six yellow counties on Feb. 4 to 27 red, 40 orange and 33 yellow counties.
"With North Carolinians continuing to follow the 3Ws and more than 1 million people in the state having received at least a first dose of vaccine, we are slowing the spread and saving lives," Cohen said in a statement. "Let's keep it up."
Trending down
North Carolina reached a three-month low in new daily COVID-19 cases with 2,133, DHHS reported.
It's the lowest case count since Nov. 16, when 1,972 were reported. The state has reported 844,770 COVID-19 cases since the pandemic began.
DHHS reported eight COVID-19 deaths statewide, the lowest daily count since eight on Jan. 31. The overall death toll is 10,934.
Forsyth had 96 new cases Monday — the same total as Sunday.
It was the first time Forsyth had three consecutive days with fewer than 100 new cases since October.
There were no additional COVID-19 reported deaths in Forsyth.
With six days remaining, February is already the county's deadliest month with 60 deaths reported. The overall death toll is 338 for Forsyth.
DHHS lists COVID-19 cases and deaths on the day they are confirmed by medical providers and public health officials, so individuals may have been infected or died days before their cases were counted.
Gov. Roy Cooper said Thursday that North Carolina may be close to easing some Phase Three restrictions by early March.
Cooper said he and his administration expect to announce this week their plans. Some of the restrictions have been in place since Oct. 2.
Vaccinations
As of Monday, more than 2.09 million doses of the vaccine had been administered in N.C. — about 1.9 million by medical providers and 187,193 in long-term care centers.
There have been 72,230 vaccinations administered in Forsyth, with 45,427 individuals receiving the first dose, or about 11.9% of county residents, and 26,983 receiving both doses, or 7.31%.
Joshua Swift, Forsyth's health director, said Feb. 16 that about 45% of Forsyth residents ages 75 and older have received their first dose, along with 38% of those ages 65 to 74.
Statewide, 1,567 COVID-19 hospitalizations were reported Monday, down 80 from Sunday.
Monday's hospitalizations were at the lowest level since 1,538 on Nov. 19. The statewide hospitalization count has dropped for 26 of the last 29 days.
The state's positive test rate was at 6.1% out of 38,327 tests conducted Saturday.