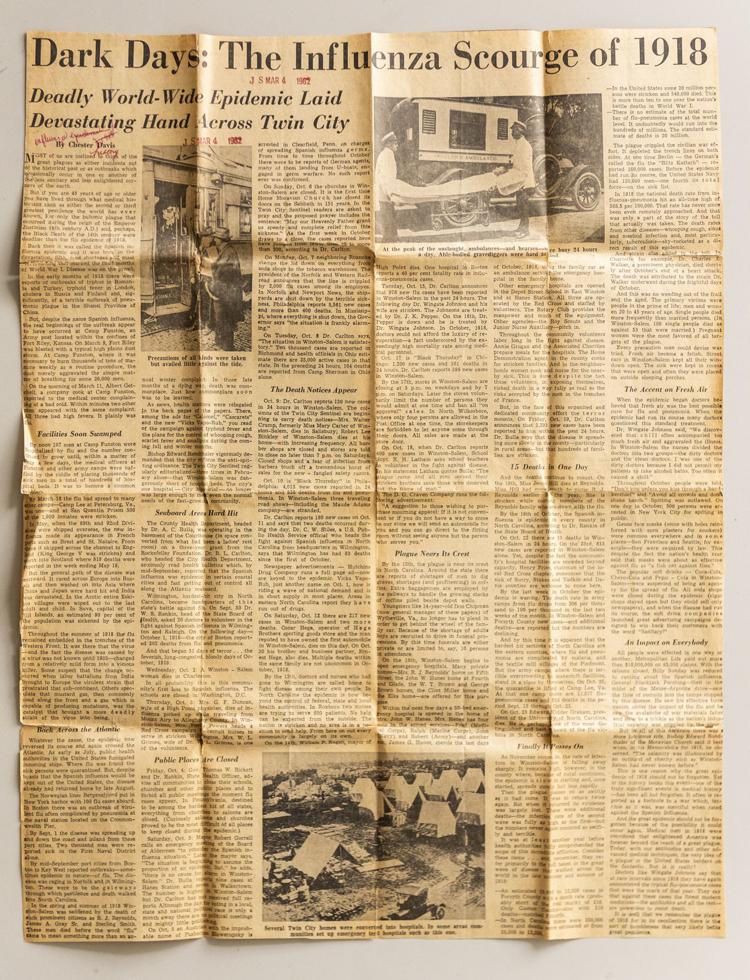 Since earning its pandemic status, the novel coronavirus has drawn comparisons to the 1918 flu pandemic — not the typical seasonal flu — with regard to its potential. And that's an unnerving sentiment, considering the numbers cited by state epidemiologist Zack Moore when talking in 2018 about a museum exhibit on the 1918 outbreak.
"World War I claimed about 18 million lives. The influenza epidemic that swept across the world in 1918 claimed the lives of an estimated 50 million people," Moore said in an N.C. Department of Health and Human Services blog. "One third of the world's population was infected with this virus. Within a few months, it had become one of the deadliest outbreaks in recorded history."
Here in Winston-Salem, there was a three-month period that, among other things, shut down a church that pre-dated the Declaration of Independence and closed one of the city's economic stalwarts.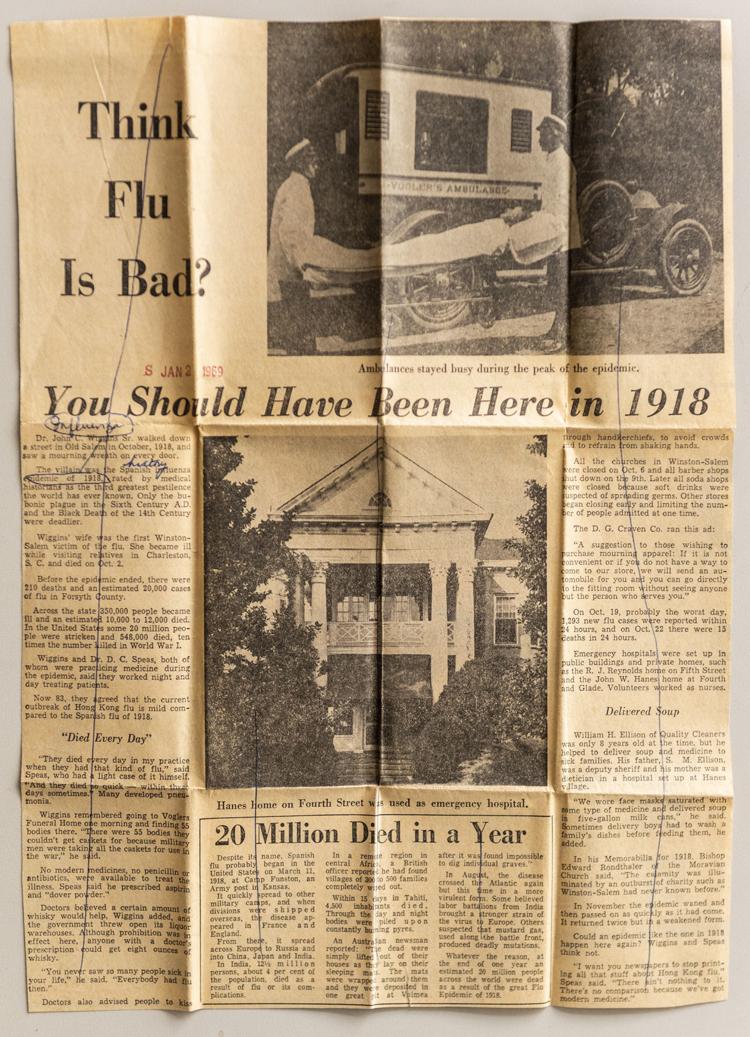 A look through the Journal archives — including newspapers from October 1918 while the flu ravaged the county and reporting from decades later in the 1960s and 1970s — paints a gloomy picture. In the Twin City, more than 10,000 people, nearly a quarter of the city's 40,000 residents, came down with the virulent strain of flu.
Approximately 300 people died in the area over a three-month span, according to a 1957 Journal article, which detailed a surge of cases in October 1918 that shut down the city. That directive, a combined effort of Gov. Thomas Bickett and state health officer W.S. Rankin, closed schools, churches and public meetings.
It led to the first closing of Home Moravian Church in 151 years on Oct. 6, 1918. Tobacco warehouses were closed, and no tobacco was sold. Store hours were shortened, and the number of guests allowed inside was monitored.

Restrictions were lifted as of November, but the flu resurfaced again in December, closing down the city again until after the holiday season. January 1919 brought normalcy, with cases becoming more sporadic and reflective of a more typical flu season.
The flu started in the military bases, with World War I and soldier deployment as a catalyst. It bounced around the world, eventually finding its way to Wilmington and spreading. The first death with a Winston-Salem connection came on Oct. 2. A local woman — identified as the wife of John C. Wiggins in a 1969 Journal article — died in Charleston, S.C. while visiting family. It was called "the community's first loss to Spanish influenza" in a 1962 Journal recount.
A frequent voice on the outbreak in Winston-Salem was Dr. R.L. Carlton, the head of the city health department. And he dealt with a flu caseload that ballooned every hour.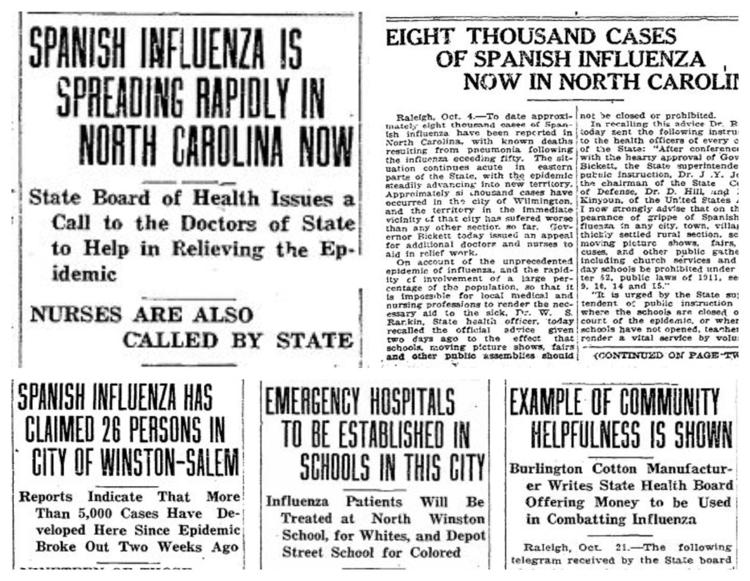 On Oct. 8, he was quoted as saying, "the situation in Winston-Salem is satisfactory." He'd see new cases by the hundreds in the days after that. At its worst, on Oct. 19, Carlton reported 1,293 new cases in a 24-hour period.
Around that same time, with only one main hospital in City Memorial, pop-up hospitals were formed in larger homes, and the American Red Cross made mobile kitchens to provide food to those confined indoors.
It was a dark time in the country, with an estimated 675,000 deaths in the U.S. according to the Centers for Disease Control and Prevention. And it's the type of outbreak that Americans hope to avoid with COVID-19.
The novel coronavirus is so detrimental currently because there is no vaccine and the virus has an incubation period of up to 14 days, meaning a person can transmit to others for two weeks before showing symptoms. It also has a much higher death rate than the flu. Earlier this month, when talking about the difference in the two diseases, World Health Organization director-general Tedros Adhanom pointed out that COVID-19 can lead to more significant health issues, including death.
"Globally, about 3.4% of reported COVID-19 cases have died," Adhanom said. "By comparison, seasonal flu generally kills far fewer than 1% of those infected."
Concerned about COVID-19?
Sign up now to get the most recent coronavirus headlines and other important local and national news sent to your email inbox daily.