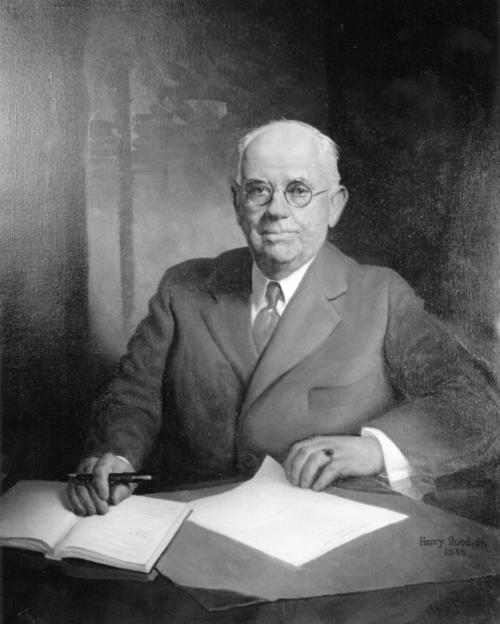 William Louis Poteat fought for causes ranging from child-labor reform to humane care of the mentally ill. He earned a progressive reputation that blossomed nationwide from his post as the president of Wake Forest College.
Poteat died in 1938, years before the college moved to Winston-Salem and grew into a university, but his name lives on at the school. Wake historians still talk about the legacy of "Billy" Poteat, including how he made a strong case for academic freedom by openly teaching evolution in his biology classes in the 1920s.
Another position taken by Poteat is not discussed as much. He was an early and vocal supporter of the eugenics movement. He embraced it long before others and stood by it long after many others backed off. He gave his students pamphlets advocating sterilization for human betterment and in speeches across the South he pushed the idea of sterilizing the unfit.
"(T)here can be no doubt that we are ready for the application of negative eugenics, that is, restrictive mating for the elimination of the obviously unfit," he told a group of Baptist educators in 1921.
Poteat was a devout Baptist born shortly before the start of the Civil War. He worked passionately through the first third of the 20th century, exploring a cavalcade of new ideas - including eugenics. The seemingly contradictory sides of Poteat's life raise an old and thorny question for historians. Should great men be seen in the context of their times, or should more be expected of them?
"It's what some people call 'the present-tense myth,' that we are trying to make him see what we now see," said McLeod Bryan of Winston-Salem, 82, a retired religion professor at Wake Forest University.
Bryan, who did his master's thesis on Poteat while at Wake Forest College, said that Poteat was a paragon of another myth -the scientific myth "that science is going to cure everything. And he was a perfect example of that, he swallowed it hook, line and sinker," Bryan said.
For Poteat, eugenics "would have been the latest or most scientific approach to making society better," said Randal Hall, the author of William Louis Poteat: A Leader of the Progressive-Era South, published in 2000.
Poteat, a Wake Forest graduate, embraced eugenics as he took leadership of the school during the early 1900s. He continued to teach as president.
The Eugenics Board of North Carolina, the state's vehicle for ordering sterilizations, wasn't formed until 1933. Poteat didn't participate in its creation; that was done by an act of the legislature. But as an influential leader revered across the state, he helped lay the groundwork for its acceptance.
At a YMCA retreat in Blue Ridge, N.C., Hall writes, Poteat taught classes on eugenics. But, as Hall notes, "most of his work on behalf of eugenics took the form of speeches vainly advocating the idea."
The speech Poteat gave to the Southern Baptist Education Association in 1921 was typical. "The feebleminded, the insane, the epileptic, the inebriate, the congenital defective of any type, and the victim of chronic contagious diseases ought to be denied the opportunity of perpetuating their kind to the inevitable deterioration of the race," he said.
Both Hall and Bryan said that Poteat's support of eugenics and progressive causes was not an unusual combination for his time. "For a time, I think, the (eugenics) position had the support of many but not all progressive voices," said Hall, an admissions officer and a history professor at Wake Forest. "Not just in the South, but in the rest of the country."
Hall said he was "a little disappointed" when he came across Poteat's connection to eugenics while doing research for his book. "Where he doesn't change is the late '20s and early '30s. By then, there were voices in opposition to eugenics that he just doesn't acknowledge."
Neither Hall nor Bryan thinks that Poteat's stance on eugenics diminishes his reputation. "I think we have to acknowledge that even our heroes are human and voices for their time," Hall said.