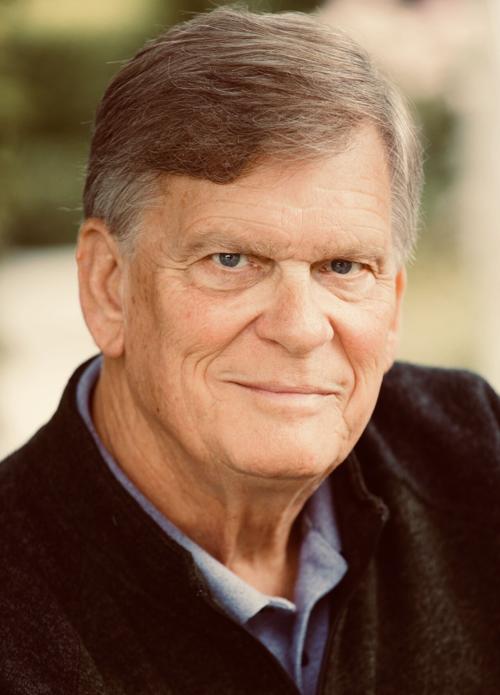 When NBC's "Annie Live!" makes its debut on Thursday, Dec. 2, a former Winston-Salem resident will have a significant role in the story.
Alan Toy, a graduate of Reynolds High School who got his first stage experience with the Little Theatre of Winston-Salem, plays the role of Franklin Delano Roosevelt. It is believed to be the first time a real-life polio survivor has played FDR in a major production.
Toy, who is 71, developed polio at age 3, when his family lived in Key West, Florida. He vividly recalls scary times in the hospital as a child. "It was bad there, and I'm told I had one of the worst cases in Key West," he said. In decades past, before vaccines were developed in the 1950s, polio resulted in paralysis for tens of thousands of patients each year.
Toy was left having to use crutches and leg braces, and in more recent years has shifted to using a wheelchair. But that has not stopped him from having a prolific career as a character actor on television and in movies. His roles have included recurring roles in the original "Beverly Hills, 90210" and the 1980s medical drama "Trauma Center," and guest spots in such shows as "Matlock," "Highway to Heaven" and "M*A*S*H," where he made his television debut. On film, he has had parts in such movies as "The Aviator," "Kansas" and "In the Line of Fire."
He has also become a prominent activist working on behalf of actors with disabilities and encouraging producers and directors to cast them in more roles and avoid common stereotypes. He takes on occasional roles as an extra in addition to speaking roles with the idea of increasing the visibility of people with disabilities even if it's in the background of a scene. "It's all money in the bank," he said, "and if people see me in whatever capacity, it's moving our acceptance just a tiny bit more."
Toy became comfortable around crowds when he was, as he put it, "a cute little blond kid who was raising money for the March of Dimes. And so I would be sitting in the back of the Cadillac convertible in the March of Dimes parade. It was a big thing back then. That virus was as deadly and as fearful a pandemic as the one we're going through now, and a lot of efforts were made to fight what they called 'infantile paralysis' at the time.
"President Roosevelt, interestingly, is the one who started that," Toy said. "He asked people to send their dimes to the White House, and that's how it became the March of Dimes."
Local ties
Toy spent much of his youth in Winston-Salem, moving here with his family when he was about 11. He attended Dalton Junior High School and Reynolds High, where he graduated in 1968.
"I graduated in what I think is probably one of the best classes ever," he said, explaining that he and fellow members of the Reynolds High Class of '68 have managed to come back together over the years and created a scholarship program to help younger alumni go to college. "Happily, we've been giving away hundreds of thousands of dollars to new grads, which is something we're all very proud of," he said.
When his family moved here, his mother became involved in the Little Theatre and he helped out. "Doris Pardington, who was the great matriarch of the Winston-Salem Little Theatre, was really my first kind of professional theater mentor," he said. "I worked on a number of shows there, mostly doing sound effects and things like that."
At Reynolds High, his interest in the stage was furthered by McLean Mitchell, a teacher who encouraged his students to get extra credit by doing work in the community and in the arts. Toy knew about the Little Theatre and saw that the North Carolina School of the Arts, later known as the UNC School of the Arts, was doing a production of "Once Upon a Mattress" there. He volunteered to be an usher and work the front of the house, and met people who influenced him toward a career in the arts rather than the political science career he originally had in mind.
"I found myself after that production just hanging out at the School of the Arts more and more and more, although it wasn't my chosen major," he said. "I really knew at that point that my love was theater and I was going to do something in the arts."
He applied to the school, and "the rest is my career arc."
He attended the North Carolina School of the Arts, now UNC School of the Arts, from 1969 to 1971, studying drama. But he felt that since he walked with crutches and a brace, acting opportunities would be limited. He wanted to direct, but the school did not have a program that focused on directing until many years later, so he went first to the Goodman School of Drama in Chicago. Disliking the cold weather, he says he "very quickly decamped from there to the California Institute of the Arts, and I never looked back after that. California has been my base since then."
Toy said his interest in activism was sparked in 1969, the summer before he started at the School of the Arts, when he was visiting a friend in Connecticut and spent some time at a marina. A huge yacht pulled in, and he spotted Frank Sinatra. Sinatra overheard his enthusiastic response and invited him onboard for a visit, and was pleased to hear the "scraggly hippie 19-year-old," as Toy described himself, was pursuing a career in the arts. One of Sinatra's companions later took Toy aside and give him three crisp hundred dollar bills, "which in 1969 was a boatload of money," Toy said.
Though he only had a dollar and fifty cents, Toy tried to decline, but was told "Frank would be hurt if you didn't take it" and that he'd prefer that once Toy himself became a success, he would turn around and help out someone else in need.
"That is really the story of how I became a social activist," Toy said, chuckling. "Largely because that damn Frank Sinatra put this burden on my shoulders to pay it forward."
Trips home
Toy occasionally returns to Winston-Salem to visit friends, both from RJR and UNCSA, and said many of his classmates have moved back to the Triad after they retired because they enjoyed the area. "There's now a growing community of former School of the Arts alumni who are making Winston-Salem their home," he said.
He had planned to come back to Winston-Salem in early 2020 to work on a play commemorating the anniversary of the Americans With Disabilities Act. "COVID got in the way of that," he said.
He still has fond memories of his time at the School of the Arts. "I guess I learned, more than any place I've ever been, to love performing artists and the performing arts," he said.
Now living in Santa Monica, California, he said he also misses the seasons in North Carolina. "I get there whenever I can, but not that frequently anymore," he said "North Carolina is so beautifully green in the summer. Out here there's more of a desert landscape. I really miss that lush green and those intense thunderstorms and the sounds of crickets and grasshoppers. And I miss fireflies."
He's looking forward to performing in the "Annie Live!" which he describes as akin to being back on stage, but in front of millions of people all at once.
And as the title indicates, the three-hour production will be done live.
"We're all going to try to keep on our best behavior, and hope we get through this as glitch-free as possible," he said. ""But it's going to be great. Are you kidding? It brings an energy."