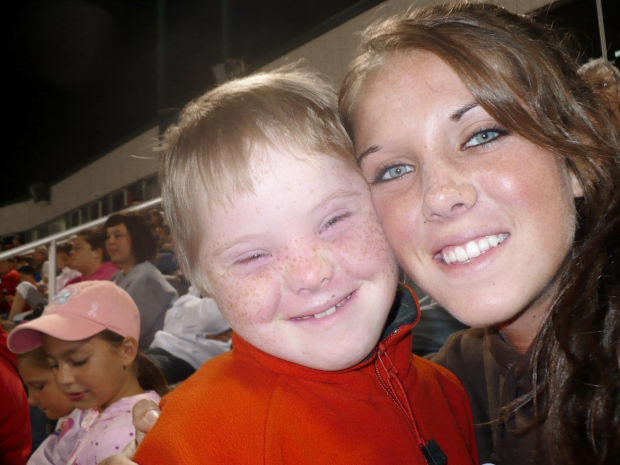 Unlike siblings who might at times view their little brothers as a pain or a nuisance, Eleanor Saffian finds inspiration from her younger brother Charlie.
"Charlie's always been supportive of me," Saffian said. "I don't think he realizes how much he's impacted my career path, but he knows he makes a difference."
Shortly after his birth, 13 years ago, Charlie was diagnosed with Down syndrome. Saffian, a rising senior at Wake Forest University, said that since that day, she has always had a special interest in science and genetics.
Saffian, of Cumberland, Maine, was 9 years old at the time of her youngest brother's birth, and already had three other younger brothers.
"When Charlie was born with Down syndrome, I was the oldest," Saffian said. "It affected us all in different ways, but for me, I was interested in what Down syndrome was and wondering how it was going to affect Charlie."
Down syndrome is a genetic disorder that occurs when an individual has a full or partial extra copy of chromosome 21. It is the most common chromosome abnormality in humans and is typically associated with a delay in cognitive ability and physical growth and a particular set of facial characteristics. According to the National Down Syndrome Society, one in every 691 babies in the United States is born with Down syndrome.
Saffian said that growing up with a sibling with Down syndrome inspired her to pursue her dream of becoming a genetic counselor. She said she remembers that after Charlie was born, a genetic counselor her mom met with helped answer a lot of the family's questions.
"I chose genetic counseling as a specific field because it ties together the genetic component of the scientific field, as well as a counseling aspect. I really like interacting with people in challenging times," Saffian said.
As Saffian pursued her goal, she encountered some difficulty with Wake Forest's demanding science curriculum, but said she was determined to stick it out. She said she found a mentor in Clifford Zeyl, an associate professor of biology.
Most students who major in biology are required to conduct research as a part of the degree. Saffian began working with Zeyl, who studies evolution in budding yeast and conducts experiments manipulating yeast genetically, during the spring semester of her sophomore year. Saffian said she was interested in joining his lab and took it upon herself to introduce herself. Zeyl immediately accepted her into his lab.
"She's wonderful," Zeyl said. "Most of the students who volunteer to do research in lab are highly motivated and academically strong students. Eleanor really stands out as having more initiative and energy to take on whatever seems interesting."
Saffian said joining the lab was a great experience and that she looks up to Zeyl. "It was wonderful to be so accepted into that lab research environment and he's definitely been a mentor to me throughout my undergraduate career," she said.
Saffian is working at Massachusetts General Hospital's Down Syndrome Program in Boston for the summer. The program is one of the only comprehensive adult and pediatric Down syndrome programs in the nation, and offers weekly clinics to meet the unique medical needs of patients.
Saffian said the program provides a collaborative, multidisciplinary clinic that allows patients with Down syndrome and families to see a number of different specialists, including physicians, genetic counselors, speech therapists, physical therapists and social workers.
"I can kind of shadow all these different individuals; it's been a wonderful experience," she said.
Outside of her duties in the clinic, Saffian is working on projects to help streamline the process of obtaining guardianship for adults diagnosed with Down syndrome. She is also holding focus groups to gather information on simplifying the process of transitioning individuals with Down syndrome from a pediatrician to an adult care provider.
"It can be a challenging time if not handled properly; regression can occur," she said. "I hope to gain insight on how to make the process more successful for families in the future."
Saffian will return to Wake Forest in the fall and plans on attending graduate school to become a genetic counselor after she graduates from Wake Forest in May 2014.
Zeyl said Saffian's personality and history make her an excellent candidate to be a genetic counselor. "I think her personal family history makes her well qualified to empathize with people who might be facing an emotionally difficult time," he said. "She's an ideally suited person, with her temperament and personality, as well as having the intellectual strength and talent, to do really well in any sort of scientific endeavor."
Saffian said having a brother with Down syndrome gave her a different perspective and she wants to share that perspective.
"Individuals with Down syndrome may look different on the outside sometimes, but the only thing making them different from you or me is one extra chromosome in all their cells," she said.
"Charlie's one of the best things in my life and I think that if I can share that with people and make them realize how great people with Down syndrome are, then I think that's something I should do."