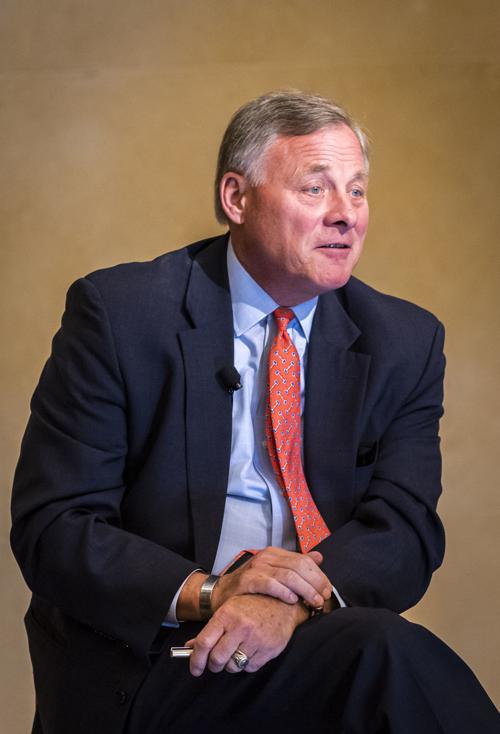 However, the seizing of Burr's cellphone Wednesday night by Federal Bureau of Investigation agents takes the case to a disturbing new level, said Noah Bookbinder, CREW's executive director.
It defines its mission as using "aggressive legal action, in-depth research and bold communications to reduce the influence of money in politics and help foster a government that is ethical and accountable."
"It's a real shock for the FBI to believe, and a federal judge to agree, that there was probable cause that a crime may have been committed to justify a search warrant against a U.S. senator," Bookbinder said.
"There appears to be reason enough to believe that Sen. Burr engaged in insider trading that it needs to be investigated at this level.
"It's always been my inclination that when the FBI moves forward, they have the evidence to back up its steps," Bookbinder said.
The watchdog group's complaint concerned stock trades made by Burr, the Republican from Winston-Salem, and U.S. Sen. Kelly Loeffler, R-Ga., after both attended a Jan. 24 Senate Health and Foreign Relations committee briefing on coronavirus.
Senate financial-disclosure documents show Burr and his wife, Brooke, sold between $628,000 and $1.72 million of their stock holdings in 33 separate transactions just on Feb. 13. The publication Roll Call listed Richard Burr's net worth at $1.7 million as of 2018.
Loeffler, who was sworn into office Jan. 6, and her husband sold more than $1 million worth of stock in 47 separate transactions — 39 sales and eight purchases — in January and February.
Loeffler's husband is Jeffrey Sprecher, chairman of the New York Stock Exchange and founder, chairman and chief executive of Intercontinental Exchange. There were 29 joint transactions, 17 by her husband and one by Loeflfler.
Complaint
CREW filed the complaint in part because Burr, as Intelligence committee chairman, was getting "daily updates" on the pandemic while "assuring the public (in February) that "the United States is better prepared than ever before to face emerging public health threats, like the coronavirus."
Burr's comments carry significant weight in part because he is author of the federal Pandemic All-Hazards Preparedness Act of 2006.
The stock market decline began a week after the Burrs' stock sale and some of those by Loeffler and her husband.
"If Senator Burr had inside information about how bad the coronavirus outbreak could be and used it to protect his personal fortune, while reassuring the public that the government was prepared for the disease, that would be a shocking violation of the public trust and may have been a violation of the law," Bookbinder said.
Burr called for a Senate Ethics investigation the day after the March 19 ProPublica report on the Feb. 13 stock sales.
CREW said the committee "should also investigate any other senator if facts emerge of possible violations on their parts."
Bookbinder said Burr's stock trading, "just in themselves, show just appalling judgment."
"Even if you don't prove the insider trading, it sends an awful message," Bookbinder said.
"It reflects pretty badly on him, and that's something he should answer to the people of North Carolina for."
Trading patterns
The Burrs' stock trades are based on quarterly and annual filings required by the 2012 Stop Trading on Congressional Knowledge (STOCK) Act "designed to combat insider trading."
The law prohibits the use of non-public information for private profit.
Since 2013, the Burrs have bought and sold between $639,500 and $1.1 million of stock in companies that make medical devices, equipment, supplies and drugs, according to a ProPublica analysis of his financial disclosures.
"Senators are prohibited from pushing legislation in order to directly further their own financial interest, but they can own stocks in industries overseen by committees on which they sit and trade in and out of individual stocks," ProPublica reported.
Perhaps the Burrs' highest-profile stock trades on Feb. 13 involve Wyndham Hotels and Resorts.
Richard Burr's Feb. 13 sales of Wyndham stock were valued at between $15,001 and $50,000, while Brooke Burr sold stock valued at between $50,001 and $100,000.
The Feb. 13 share price was $60.23. The stock hit a 52-week low of $14.50 on March 18.
Another example of the Burrs' hotel stock transactions involves Extended Stay America Inc.
On Feb. 4, Richard Burr bought stock in Extended Stay in the $1,001 to $15,000 range, while Brooke Burr bought stock in the $15,001 to $50,000 range. It was their only buy purchases declared so far in 2020.
On Feb. 13, Richard Burr sold Extended Stay stock in the $15,001 to $50,000 range and Brooke Burr sold in the $50,001 to $100,000 range.
The share price at the time of the Feb. 13 sale was $13. It reached a 52-week low of $5.35 on March 18.
Tools in place
The Feb. 13 stock sales by the Burrs occurred six days after Burr co-wrote an op-ed piece saying America had tools in place to combat COVID-19.
On March 20, Burr spokeswoman Caitlin Carroll released a statement from Burr about the stock selling.
"I relied solely on public news reports to guide my decision regarding the sale of stocks on Feb. 13," Burr wrote. "Specifically, I closely followed CNBC's daily health and science reporting out of its Asia bureaus at the time."
Bruce Sacerdote, a Dartmouth College economics professor, said that "it's actually hard to infer from the data whether Sen. Burr was trading on publicly available information and/or whether he had very fortunate timing."
Sacerdote said his review of Burr's stock trading since the STOCK Act took effect "has not really benefited him" prior to the Feb. 13 trades.
"He would probably have done just as well, if not a little better, putting the money into an index fund, and not wasting his time doing this (stock sales)."
Sacerdote said the STOCK Act serves a purpose in casting light on senators' transaction patterns.
"The STOCK Act significantly reduced the amount of financial activity in the U.S. Senate," Sacerdote said. "Prior to passing the act, senators were inclined to make many high-nominal value trades."
"We do not find that Senate committee assignments lead to stock picking or industry picking skills within industries that are related to committee assignment or under the committee's purview."
Townhouse sale
Burr's Senate office provided a statement April 13: "Senator Burr sold his Washington, D.C., town home at fair-market value."
The sale was finalized in February 2017 after a months-long process, which included an independent appraisal confirming the building's market value and legal review of the title and contract."
"The Senate Ethics committee was notified before the sale and the committee's guidance was followed on all relevant public financial disclosures," according to the statement.
When asked how the committee was notified, Burr's office said "the consultation with the Senate Ethics committee was a conversation; there was not a formal letter involved, nor was one required." The committee does not respond to questions about a current investigation.
Bookbinder said the conversation about the townhouse could have followed "general preexisting (committee) guidance, and not necessarily any guidance individually tailored to this situation."
"It could have been a phone call saying 'Hey, I'm doing this.' It's possible someone on the committee said, 'That sounds good,' or just kind of recorded it and that was it," Bookbinder said.
"I'm not saying that means he did something wrong, but I also don't know if it gives him a lot of comfort in terms of establishing that he didn't do anything wrong."