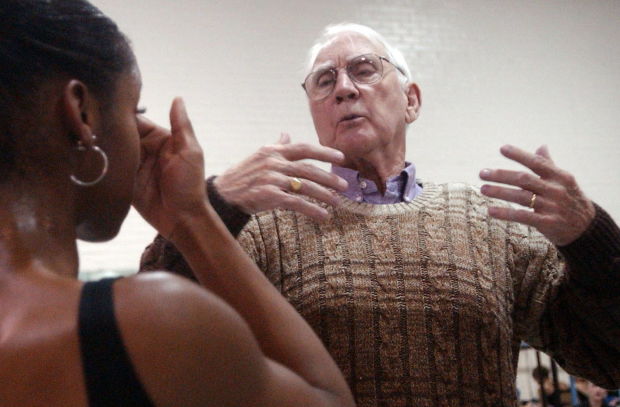 Robert Lindgren, the founding dean of the School of Dance at UNC School of the Arts, died Friday at his home in Winston-Salem.
He was 89. The cause of death was not immediately available.
Lindgren was a "titan in the dance world," Alex Ewing, a former UNCSA chancellor, said in a news release.
"He was a revered alumnus of three major ballet companies in his time," said Ewing, who knew Lindgren for more than 50 years. "A very special friend to hundreds of students and associates, he will always be loved and treasured here in North Carolina and throughout the entire dance world."
Lindgren served as UNCSA's dance dean from 1965 to 1987, when he left to become general director and later president of the School of American Ballet in New York City. He served there until 1991, when he and his wife, Sonja Tyven, returned to Winston-Salem.
Lindgren began his career as a dancer, and became a noted performer. He danced with such companies as the Ballet Russe de Monte Carlo, the American Ballet Theatre and New York City Ballet. He performed on Broadway, on national television and in tours sponsored by the U.S. State Department.
Before joining UNCSA at the behest of its first president, Vittorio Giannini, Lindgren and his wife operated their own dance school, the Lindgren-Tyven School of Ballet in Phoenix, Ariz.
His students at UNCSA included Mel Tomlinson, who was a soloist with the New York City Ballet and later taught at UNCSA for four years; the late Edward Stierle, a leading dancer with the Joffrey Ballet; and Frank Smith, a former soloist with the American Ballet Theatre. Smith has taught at UNCSA since 1983.
"Bobby Lindgren was not only the founding dean of the School of Dance, but in my years as an NCSA student, Bobby was a father figure to many of us and later a mentor throughout our careers," Smith said.
Lindgren founded the Preparatory Dance Program at UNCSA, and he and his wife choreographed the school's first production of "The Nutcracker." They continued to oversee the annual production for more than 40 years.
Lindgren also founded the professional North Carolina Dance Theatre, which has since moved to Charlotte.
Doug Singleton, the company's executive director, described Lindgren as "an amazing individual."
"The company wouldn't exist without his hard work and vision," he said.
Lindgren not only had a strong artistic vision, but he was also savvy when it came to the business side of things, Singleton said. "He understood that without a strong business plan, it just wouldn't work."
Lindgren continued to come down to Charlotte to see the company's performances when he could, even though he could no longer drive.
"You could just see the joy in his eyes, the joy that those memories brought him," Singleton said.
Lindgren served on the Council for Lincoln Center, the dance and choreographer panels of the National Endowment for the Arts, and received a North Carolina Governor's Award for outstanding contribution to the arts.
In 2006, UNCSA awarded him an honorary doctorate.
He also served on the boards of the arts councils of North Carolina, New York state and Winston-Salem/Forsyth County. He has been a visiting guest artist at Wake Forest University and director of the South Carolina Governor's School dance program.
Lindgren is survived by his wife of 61 years, and two daughters. Funeral arrangements are pending.
Be the first to know
Get local news delivered to your inbox!