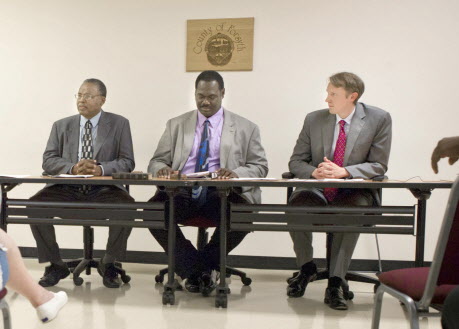 As Forsyth County elections officials meet Monday and in the coming weeks, they will not only have the selection of an interim director and the search for a permanent director on their hands. They will also have to weigh early-voting options in light of new election laws that go into effect this year.
New election regulations shorten the One Stop early-voting period by a week but require counties to provide the same number of early-voting hours that they offered in 2010. For Forsyth County, that number is 137 hours.
"We're going to have to either add more hours (at the elections office) or we're going to have to have additional locations," Lamar Joyner, deputy director of the county elections office, informed the Forsyth County Board of Elections at a meeting last week.
The board could discuss its options as early as Monday afternoon. It meets at 4:30 p.m. in the county government center to discuss appointing an interim county elections director in the wake of state elections Executive Director Kim Strach's decision to fire Rob Coffman.
One Stop voting was a subject of controversy for the Winston-Salem primary last fall when Mayor Allen Joines, who was up for re-election, requested the elections office open two additional early-voting sites. The board voted 2-1 against the request, citing low turnout and questioning the cost justification. Coffman estimated at the time that it would cost about $5,000 per additional site.
Joyner said the county typically only offers One Stop voting at the elections office for the mid-term May primary. But under the new shorter voting period, the board of elections office would have to be open for 15 hours a day if it were the only site.
Last week, Joyner provided the board members with a preliminary printout of the number of early-voting hours that would be required per day with one, two or three voting sites.
He said staff members were not recommending specific sites but would wait for direction from the board on how to proceed. Typical early-voting sites include libraries and recreation centers, but the county will have to move soon if it wants to reserve space.
Election workers are working with county staff members on the elections office's budget for the coming fiscal year and on adjustments to this year's budget due to the additional temporary help that will likely be needed.
"We have to achieve the required early-voting hours to comply with state law. As far as how it'll be achieved, all options are on the table," said Chairman Ken Raymond in an email last week.
The county could request a reduction of hours from the state board, but that plan would have to be unanimously approved at both the county and state level. The deadline to submit a reduction plan is Feb. 17.
"At this point, I don't see any reason to request a reduction in hours from the state," Raymond said.
If the county doesn't choose to pursue a reduction in early-voting hours, its early-voting plan is due to the state by March 14.
Early voting runs from April 24 through May 3 this year.
Marva Reid of the East / Northeast Winston Neighborhood Association said after the elections meeting last week that she wants to know how the board of elections will handle early voting under the new laws so she can get the word out to folks in her community.
"We have to re-educate our people," she said.