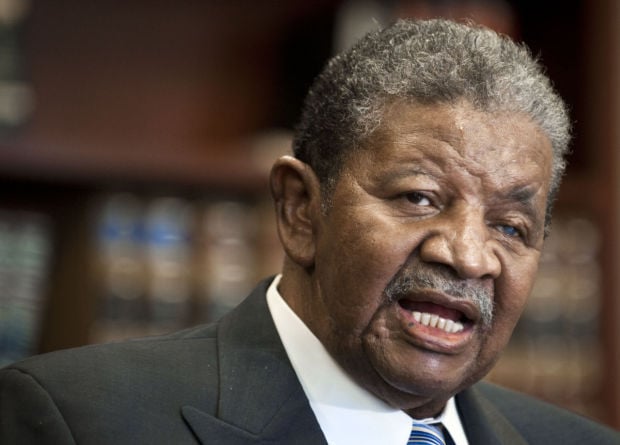 Larry Womble, a former state legislator who was seriously injured in a 2011 car crash, has filed a lawsuit alleging that the man killed in the accident drank too much and drove recklessly and that Sixth & Vine kept serving the man alcohol even after it was evident he was intoxicated.
Womble is a former state representative in the N.C. General Assembly and filed the lawsuit in Forsyth Superior Court Tuesday. The lawsuit asks for more than $10,000 each in compensatory and punitive damages.
"Mr. Womble has suffered tremendously from this accident," said David Freedman, Womble's attorney. "He was in critical condition for a significant amount of time. He had to give up his political career and he is still fighting to learn to walk again."
Womble initially was charged with misdemeanor death by motor vehicle after the Dec. 2, 2011, crash because Winston-Salem police originally believed that Womble's car crossed the center line of Reynolds Park Road and crashed into Carmichael's car. That charge was voluntarily dismissed by Steven M. Arbogast, a prosecutor with the N.C. Attorney General's Office, after further investigation, including an accident reconstruction, indicated that it was Carmichael's car that crossed the center line.
Neither R. Kenneth Babb, the administrator for Carmichael's estate, nor Kathleen Barnes, the owner of Sixth & Vine, could be reached for comment Tuesday. Carmichael's father, C.F. "Hoagy" Carmichael, ran unsuccessfully for Womble's seat in the 1990s and soon after became close friends with Womble. Hoagy Carmichael could not be reached for comment Tuesday.
According to the lawsuit, Carmichael, 54, had consumed a large amount of alcoholic beverages at Sixth & Vine on the night of Dec. 2, 2011, and had left "in an extremely intoxicated condition."
Just after 11 p.m., Carmichael got in his car and started driving home. While in the eastbound lane in the 2600 block of Reynolds Park Road, Carmichael crossed the center line and collided head-on with Womble's car, which was in the westbound lane, the lawsuit said. Carmichael died at the scene, and Womble was transported to Wake Forest Baptist Medical Center.
Freedman said toxicology reports showed that Carmichael had a blood alcohol level of 0.29 percent, more than three times the legal limit of 0.08 percent. The lawsuit said that Carmichael had three separate receipts from Sixth & Vine in his pockets, all dated Dec. 2, 2011. The last receipt was issued to Carmichael about 20 minutes before the accident, the lawsuit said.
"The severe injuries of plaintiff (Womble) were proximately caused by the reckless, negligent, willful and wanton misconduct of David Carmichael, whose actions and outrageous conduct described above led to the collision of Carmichael's car with plaintiff's car," the lawsuit says.
The lawsuit says that as a result of Carmichael's alleged actions, Womble has had "extensive and excruciating injuries," as well as ever-increasing medical bills. Freedman said Womble's medical bills are several hundred thousand dollars and continue to increase. Womble remains in a wheelchair and goes to physical therapy several times a week, Freedman said.
In the lawsuit, Womble alleges that Sixth & Vine employees continued to serve Carmichael alcoholic beverages "after they became aware, or should have been aware in the exercise of reasonable care, that Carmichael was intoxicated."
The lawsuit also said that the owners and managers of Sixth & Vine also failed to properly train and supervise employees on the appropriate procedures for selling alcohol to visibly intoxicated customers.
"The actions of the employees of Defendant 6th & Vine, acting in the course and scope of their employment, in serving alcoholic beverages to David Carmichael while he was in an intoxicated condition on Dec. 2, 2011, constituted negligence and violated the common law of North Carolina," the lawsuit said.
This is the second time that Sixth & Vine has been sued in connection with a fatal crash involving alcohol.
In 2008, the bar and restaurant reached a settlement with the family of Casey Bokhoven, the man former WXII anchor Tolly Carr hit and killed while driving drunk in 2007.
Womble alleges that Sixth & Vine had been put on notice about the risks of continuing to serve a "visibly intoxicated person," because of the previous lawsuit. Womble alleges that Sixth & Vine's conduct represents malice.