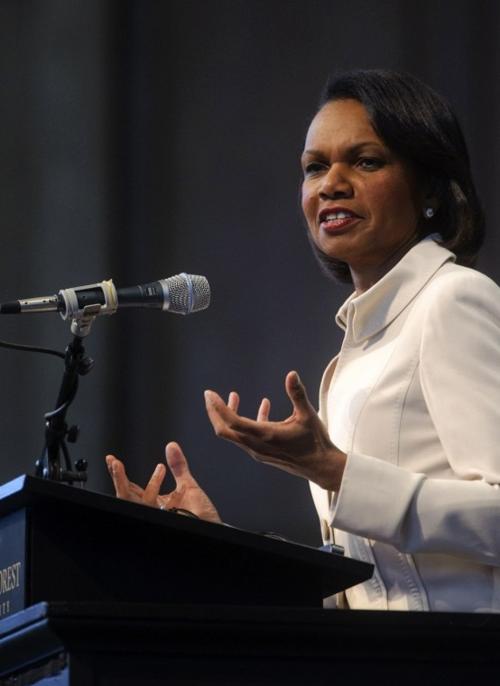 When Condoleezza Rice was secretary of state, she avoided reading poorly written, meandering memos.
That's why, she said, she always insists that her students write clearly.
"I say to my students sometimes when I get a paper, 'Did you know where this paper was going to end up when you started? Or did you kind of meander there and hope for the best?'"
Rice, 57, the former provost at Stanford University, now teaches political economy at the Stanford Graduate School of Business.
She spoke Wednesday night at Wake Forest University as part of a conference on preparing college students for the modern workforce.
About 2,200 people attended the lecture in Wait Chapel, during which Rice said universities and colleges must teach their students to write clearly, make effective oral arguments and help them acquire a basic knowledge of fields such as history and economics.
"We have to make sure that we are imparting knowledge," Rice said, adding that students can use those skills to help get jobs in a competitive global economy and prepare them for life's challenges.
"The American higher education system is without a doubt the gold standard internationally," Rice said. "It is a place where the elites (of other countries) want to send their children."
Rice served as national security adviser during the first term of President George W. Bush from 2001 to 2005. She then served as secretary of state from 2005 to 2009, during Bush's second term. She was the first woman to be named national security adviser and the first black woman to hold either position.
Rice shared personal stories about her education and background, drawing laughter and applause from the audience.
In 1992, Rice, an accomplished pianist, said that Yo-Yo Ma, the famous cellist, invited her to perform with him during a concert at a White House.
"I wasn't playing with Yo-Yo Ma because I was the world's greatest pianist," Rice said as the audience laughed. "I was playing with Yo-Yo Ma because I was the national security adviser."
Chelsea Privette, a WFU senior, said Rice's speech brought home the value of education.
"What she said about education makes me value my education here at Wake Forest," Privette said.
Rice also laid out another mission for schools: to help students find majors that they are passionate about. Rice said she changed her major three times as an undergraduate student at the University of Denver.
Rice said she decided to major in international politics after she took a class with a noted professor who specialized in the Soviet Union.
"I then knew what I wanted to be," she said.
She said she realized that she made the right choice in 1990, when she was sitting on the White House lawn with Soviet leader Mikhail Gorbachev and his wife.
Educated people have an opportunity to change human history, she said.
"What we have is very, very special," Rice said. "It's our responsibility to pass it on to the next generation."