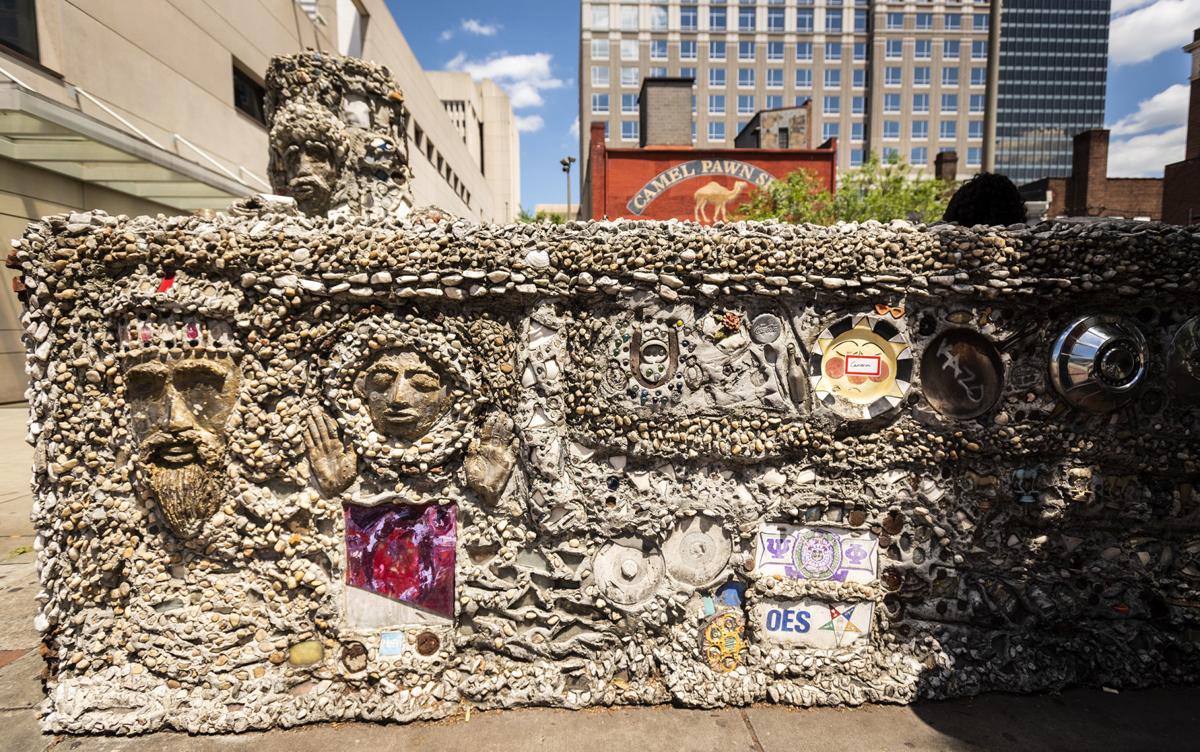 An artistic wall on Trade Street is drawing scrutiny from the city as the scene of problems ranging from fights to drinking and drug use.
But city officials said a report going around on social media that the city has decided to take down the wall is simply not true.
People in the arts community are pointing out that the wall is the creation of "Mr. Imagination," otherwise known as Gregory Warmack, who came from Chicago to Winston-Salem in 1999 and adorned a plain 55-foot concrete taxi stand with hundreds of objects donated by people from all over the city.
The wall stands against the sidewalk on the east side of Trade Street just south of the Campbell Transportation Center. From a distance, you notice the hubcaps and other glittering pieces of metal. The piece is called the Memory Wall of Peace and Love.
"I get calls about people feeling uncomfortable when they walk by," said Jason Thiel, the president of the Downtown Winston-Salem Partnership, noting that the wall is a hangout. "We have had fights break out there. There are a lot of loud arguments."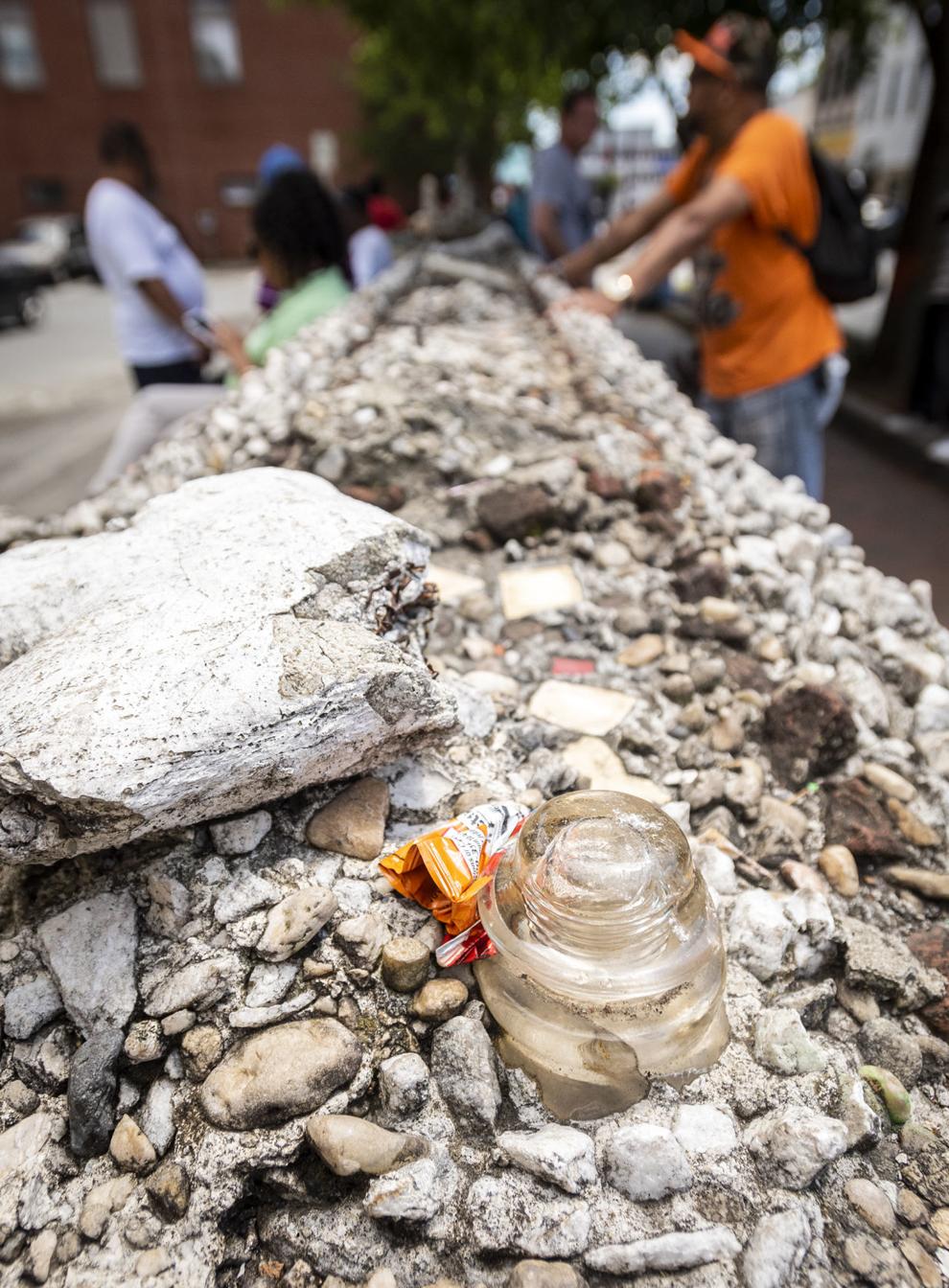 Assistant City Manager Damon Dequenne met recently with the Public Art Commission of Winston-Salem and Forsyth County to talk about problems that have been reported at the wall and alleyway nearby.
After that meeting, Dequenne said, the word got out on social media — incorrectly — that the city was determined to take down the wall, provoking some consternation among art lovers.
"The wall is in disrepair," Dequenne said. "It has been vandalized. I was passing along concerns that we were sent to the Public Arts Commission to work together to solve the problem. What I'm hopeful of is that someone will have an idea about how we can preserve it."
Sgt. Kevin Bowers of the city's downtown patrol said that while he has even heard of sex and prostitution taking place at the wall or nearby, he couldn't confirm that.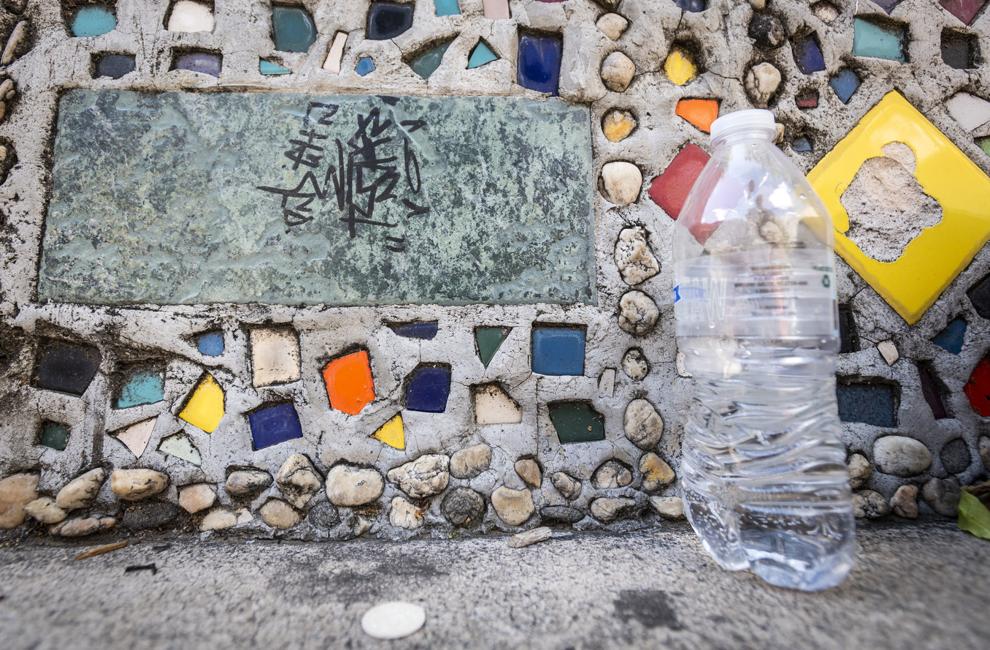 "Panhandling is a bad problem over in that area as well," Bowers said. "Folks ask for money, and the money is used to buy alcohol, and at times that leads to fights and public urination and that kind of stuff."
Bowers said that because sections of the artwork have been broken off over the years, they could pose a cutting hazard for anyone not careful.
Harry Knabb, who sits on the Public Arts Commission, said when he heard Dequenne ask for ideas at the meeting, he suggested perhaps cutting the piece into segments and installing them at various places around town. Knabb is chairman of the the group Art for Art's Sake.
"I was trying to think about solutions, then one of our board members sent me a Wikipedia thing about who this artist is," Knabb said. "This guy is world-renowned. He has stuff at the Smithsonian, Europe, all over the place."
Warmack was 64 when he died in 2012. A story in the Winston-Salem Journal reported that he built the Memory Wall in the summer of 1999 during a residency at the Southeastern Center for Contemporary Art.
With assistants and volunteers, he spent several weeks on the wall, incorporating items that included toy action figures, jewelry, pottery, name plates from automobiles and too many other individual items to list.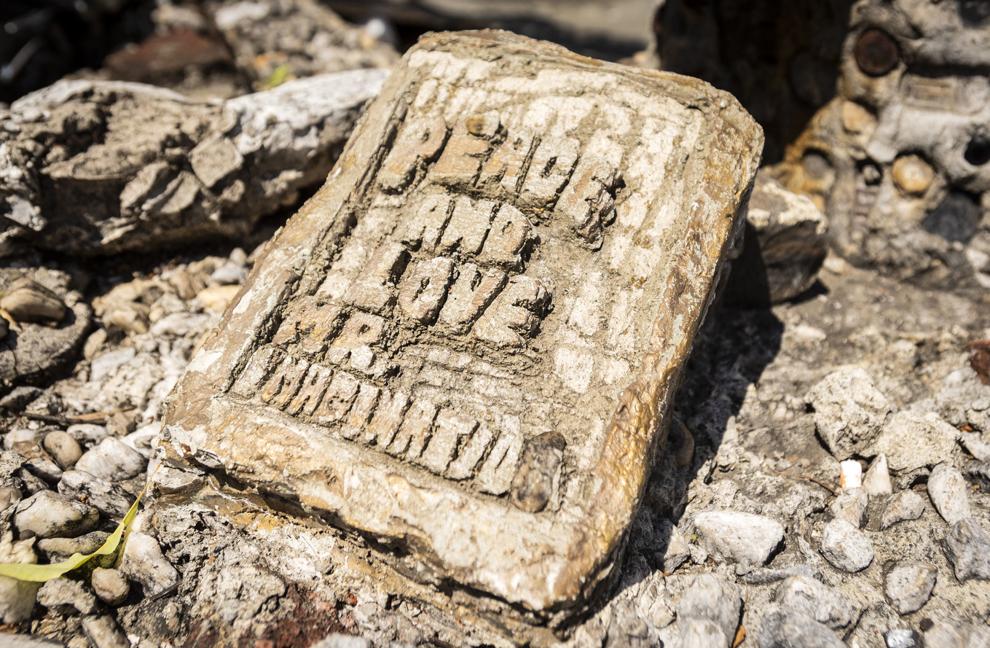 A ninth-grade dropout, Warmack had no formal art training, but painted rocks and made things out of broken and castoff jewelry. As an adult, he adopted the Mr. Imagination name and made art from industrial sandstone, bottle caps and found objects. He was discovered as an artist and had his first formal exhibition in the 1980s.
Knabb said he thinks the city should find a way to deal with any troublemakers at the wall.
"We should stand firm and make them go somewhere else," he said. "Take a bench away, put in better lighting. Some people say it is not safe. Make it safe."