Q: What happens to garbage after sanitation crews pick it up? Also, what happens to the recycling?
Answer: A lot, according to Gale Ketteler, the public information officer for Winston-Salem/Forsyth County Utilities, the operator of the landfills in the county.
"The garbage you place in the trash is transported by sanitation trucks from Forsyth County and other surrounding counties to the Hanes Mill Road Solid Waste Facility where it is weighed and paid for by your collection service with tipping fees," Ketteler said.
"Winston-Salem/Forsyth County Utilities operates this state-permitted and lined municipal solid waste landfill, as well as other facilities for recycling, yard waste, hazardous and electronic waste."
At the landfill, trash is deposited, then it is spread and compacted. It is covered each day to prevent odor, wind dispersal and to keep animals from getting into it, Ketteler said.
People used to dump garbage in rivers, swamps or ravines, she added.
"Today, we use a variety of proven disposal methods to protect public health and the environment," Ketteler said. "Landfills are lined to protect groundwater. Methane collection systems capture the gas and reuse it to provide sustainable energy."
Appliances, tires, hazardous materials and electronics should not be placed in the trash.
Appliances can be taken to the Hanes Mill Road landfill and dropped off at no charge.
Forsyth County residents can dispose of five tires each year at no charge at the Hanes Mill Road landfill.
Household hazardous materials and electronics should be taken to the 3RC EnviroStation at 1401 S. Martin Luther King Jr. Drive, Winston-Salem.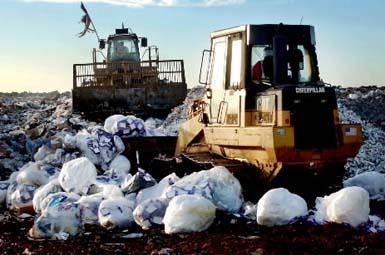 For the recycling part, SAM turned to Helen Peplowski, the sustainability director for the City of Winston-Salem.
"I know there is a lot of skepticism about the recycling process, especially when national news stories come out that focus on what isn't being recycled, so I'm happy to share more about that process.
"Because we contract with Waste Management, they are responsible for collecting, processing and marketing all recycled materials.
"Once they collect the recycling from curbside bins, it is taken to their Material Recovery Facility (MRF) in the Union Cross area for sorting and processing. In this facility, the material is transferred to a system of conveyer belts that assist the employees in sorting the material.
"This is how plastics, paper, glass, aluminum and steel cans are all separated from each other. Once all the material is separated, each material type is baled and then sold and sent to the buyers of the material to be turned into other items by mills and manufacturers.
"Waste Management has confirmed that a little over 80% of this outbound material stays in the southeast region, and plastics and glass specifically even stay within North Carolina markets.
"Waste Management also sorts the contamination, or items that aren't recyclable, out of the stream at the MRF. These items are collected and brought to the landfill for dumping. Garbage and items that are contaminated are the only items that go to the landfill.
"Waste Management does not dump recyclable material at the landfill."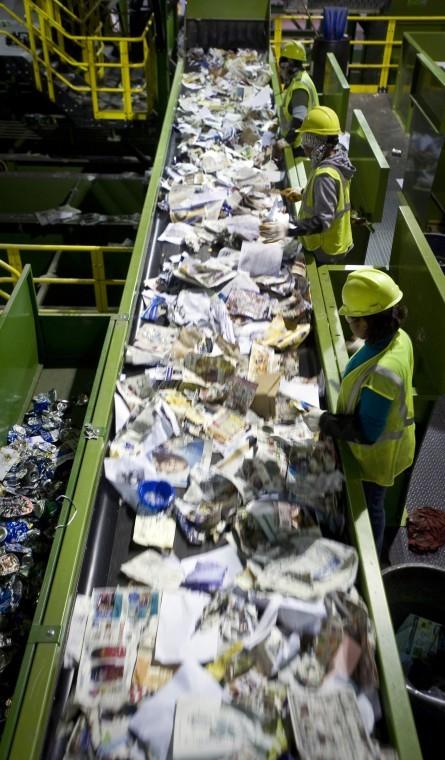 Memorial Industrial School RoadSAM has received lots of questions about when Memorial Industrial School Road will reopen. The N.C. Department of Transportation said it reopened Wednesday, more than a week ahead of schedule.
The road has been closed since February 2020 after it was damaged by flooding from Trick-Um Creek.