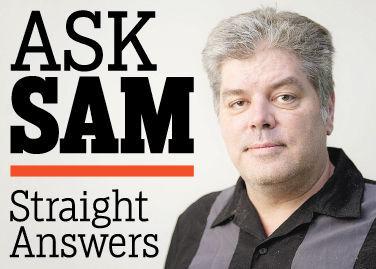 Q: There was an insert in the absentee ballot package I received that stated in order for the ballot to be counted, it had to be postmarked before Nov. 3. There was also a notice on the same page that the post office is no longer requiring mail to be postmarked and will only do so if requested in person at the post office. Given the nature of this election process and how much of a stickler of the rules it may become, does that mean that, regardless of the date, a mail in ballot will not be accepted through the mail unless is specifically postmarked?
Answer: For those who have not seen it, the insert you are referring to reads "The post office is no longer required to cancel a stamp with a postmark. In order for your absentee ballot to be considered timely, you must either hand deliver or go into the post office and request that the item is postmarked." Several readers have written in to SAM concerned about this and asking for clarification.
"The insert is intended to remind voters that if they are mailing their absentee ballot closer to the return deadline on Election Day, then it needs to be postmarked on or before Election Day and received within three days from Election Day in order for the ballot to be accepted by the Board of Elections," said Tim Tsujii, executive director of the Forsyth County Board of Elections. According to the State Board of Elections, it is strongly recommended that absentee ballots are mailed by October 27 to help ensure it arrives in time.
Since we are 48 days away from Election Day right now, Tsujii said, it is safe to mail back an absentee ballot right now without having to get it postmarked. The warning is for people who are sending their ballots in closer to the deadline. 
Q: Because there is concern about a candidate declaring himself the winner of the presidential election based on the public release of in-person vote tallies on the night of the election, before all mail-in ballots have been counted, I would like to know what the legal requirement is regarding when boards of elections must release any numbers or the tallies. Would it be possible for all the state and county boards to declare ahead of time they will not release any numbers or tallies until all the results are in?
Answer: Results that are posted on election night are unofficial, Tsujii pointed out, and are not made official until the election has been certified by the county boards of elections at canvass, which by state law is held 10 days after election day. Absentee ballots and provisional ballots still need to be counted and included with the results. So in an exceptionally tight race, the results may be delayed some time. Expecting the preliminary results to be withheld for a week or more is, to be blunt, very unlikely.
Q: You had an item in your column about the CDC issuing an order halting some residential evictions. Where can I read more about that and what it says?
336-727-7371
Ask SAM, 418 N. Marshall St., Winston-Salem, NC 27101
Get local news delivered to your inbox!
Subscribe to our Daily Headlines newsletter.