Victoria Manginas should have time for friends, time for herself. She should have time to do what a normal 22-year-old does, but instead she owns and operates her late father's restaurant.
She runs the restaurant in his honor. The day after he died, she made a promise to reopen it in his memory, calling the restaurant his "legacy."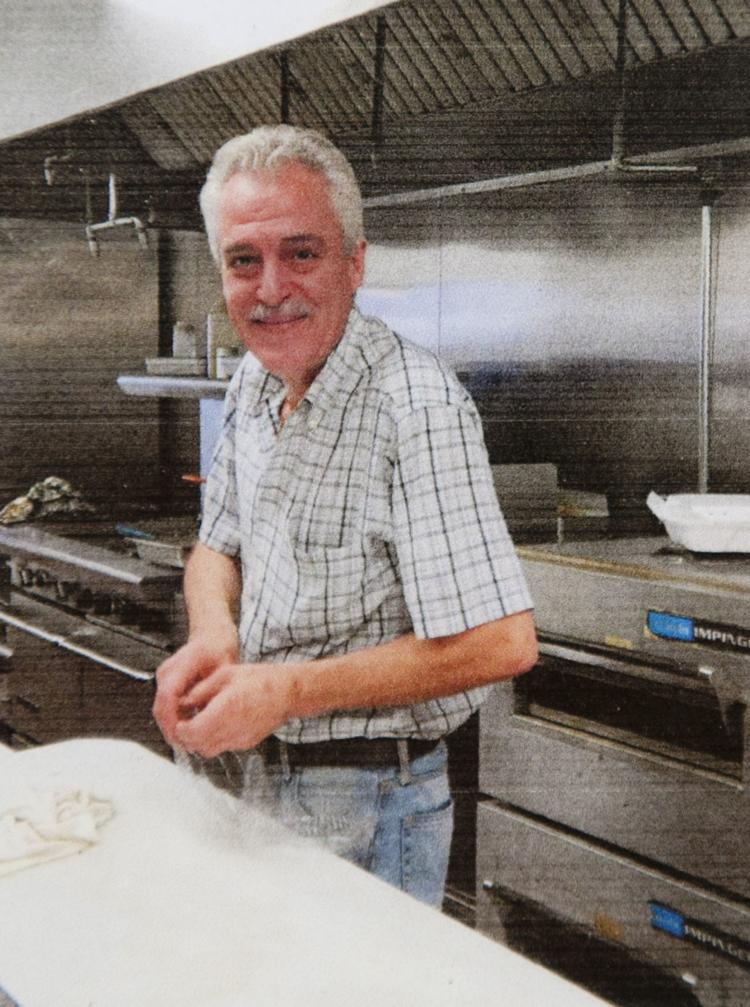 Last year on Nov. 9, Evangelos Manginas' restaurant, Zito Pizzeria and Grill, was busy and the kitchen had run out of pita bread. Like he had done countless times before when low on ingredients, Evangelos went out the kitchen's back door and headed toward a Greek store on the other side of Healy Drive to get enough bread to make it through the evening, Victoria Manginas said.
At 7:20 p.m., it was dark outside in November, but a street light illuminated the part of the road where Evangelos was crossing. He was in poor health, recovering from a recent trip to the hospital after he suffered severe burns in a kitchen accident.
Just before he reached the other side, Angel Bowman and her 2003 Toyota hit Evangelos, killing him instantly. First-responders tried to save his life, and he went to a local hospital, but Victoria Manginas knows her dad died right there on the road, behind his restaurant. Bowman wasn't charged.
Pedestrian deaths in Winston-Salem aren't uncommon. Between 2009 and 2018, there were at least 500 car crashes in the city involving a pedestrian. At least 34 of those resulted in the pedestrian dying and at least 38 crashes left the pedestrian severely disabled, according to data from the city of Winston-Salem.
There isn't a crosswalk where Evangelos crossed the street — in fact there isn't a pedestrian crosswalk within 1,500 feet of the restaurant according to data from the city of Winston-Salem. The nearest intersection with a traffic light is 750 feet away, or about 2.5 football fields up the road.
Now Manginas is working to carry on her dad's legacy. She spends most of her waking hours in the restaurant, which closed temporarily after her father died. The back office that used to be her dad's is hers now. Pictures of him sit on a shelf behind her desk, and even though it's an hour after the lunch rush she can hardly look away from the security camera feeds for more than a minute, a seemingly endless desire to make sure things are going smoothly out front. Running a restaurant is a lot to ask for a 22-year-old.
"Maybe in three years I'll have more time," she said. "Sometimes I will leave for an hour or two to go for a run, or just to go home."
In the rare moment she's not working, she sometimes thinks about the safety issues Healy Drive poses. In the immediate aftermath, Victoria Manginas would stand across the street and stare at the spot her father died, wondering if anything could be done to make the area safer. She's mostly come up empty handed.
Maybe the police could do a better job of monitoring people's speed on the road, she said while watching cars whiz by. She isn't really sure.
She thinks it's incredible more people haven't been hit by cars there. The farther away from Stratford Road you get, the harder it is to see pedestrians, she said.
"Don't drive down there at night, you can't see them," she said.
Now, nearly one-year after her father's death, the city of Winston-Salem has a plan to make intersections near her restaurant, along with 88 others in the city, safer.
Pedestrian crashes on the rise
As a whole, pedestrian-involved crashes are rising throughout North Carolina and the United States, according to data from the North Carolina Department of Motor Vehicles and the Governor's Highway Safety Association.
In the last 10 years, the number of pedestrians killed by motor vehicles in North Carolina has increased by 54 percent, with 228 pedestrians killed in 2018 compared to 148 in 2009, according to the N.C. DMV.
The data in Winston-Salem is reflective of the statewide increase — there were six pedestrians killed in 2018, compared to three pedestrians killed in 2009, according to city data.
About a third of pedestrian fatalities in Winston-Salem happen between 6 p.m. and 8 p.m., according to city data. Of the 34 fatalities, 28 happened when it was dark outside.
Following a request from the Winston-Salem City Council to study the causes and circumstances surrounding the pedestrian crashes, Matthew Burczyk, the city's bicycle and pedestrian coordinator, made it clear in an interview: Winston-Salem is not a walkable city.
As the city grew, new development sprawled across the area, Burczyk said, leading to a lack of urban planning with pedestrian accessibility in mind.
"It's very hard to connect a sprawling community with bike and walking areas," he said.
Burczyk pointed to downtown as an example of good pedestrian infrastructure, where nearly every intersection has pedestrian signals and designated crosswalks.
"Downtown is great, it's easy to walk and you can actually walk to work or to restaurants," he said. "We also have sprawling development, and that's not nearly as easy to walk.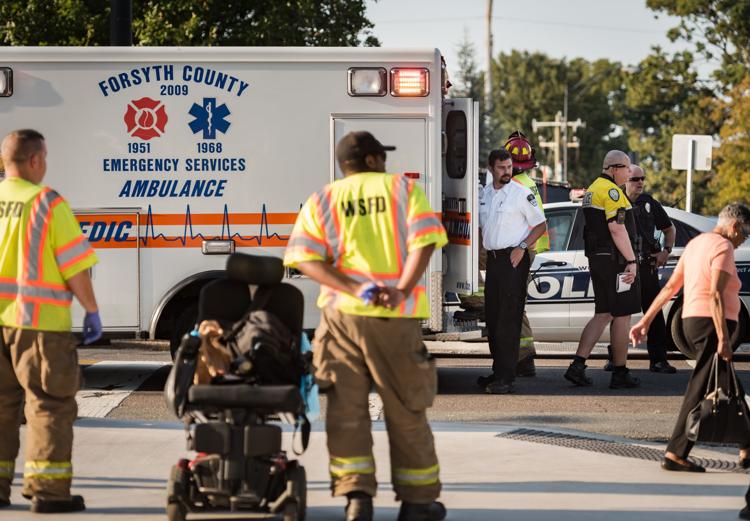 However, a city-generated map showing where pedestrian crashes are most common actually shows downtown Winston-Salem, which has the most pedestrian infrastructure of anywhere in the city, is where most of the city's pedestrian crashes happen.
Burczyk said a closer examination of the data is required. He notes that more people are hit downtown because more people are walking downtown than anywhere else, and of the multitudes of crashes downtown, none were fatal and only one left the pedestrian severely disabled.
Lower speed limits and pedestrian density help reduce the number of serious crashes, Burczyk said.
$2 million in improvements
As a result of Burczyk's study and mounting traffic fatalities, the city's Public Works Committee in May delegated $2 million in limited obligation bonds to improving 22 intersections across the city for pedestrian use.
Eight of the locations scheduled for improvement are intersections where pedestrians were killed, and one of those is the intersection of Healy Drive and Stratford Road, 1,500 feet away from where Evangelos Manginas died. Of the eight intersections, seven don't have pedestrian signals and crosswalks. 
Work is scheduled to begin on the first of the 22 intersection projects sometime this fall, Burczyk said, and the rest are still in the design phase.
These 22 intersections are the first in a long list of intersections in the city that need work — Burcyzk has identified 89 intersections needing work to be made safer for pedestrians.
There are about 400 intersections with traffic lights in Winston-Salem, and less than half of them have pedestrian signals, Burczyk said.
"We could double or triple this list if we wanted to," Burczyk said. "We're not in any other situation from other cities in North Carolina.
"Transportation systems are very focused on automobiles."
For some of the intersections, it can be as simple as painting crosswalks and retro-fitting the existing traffic signals to accommodate pedestrian signals. Other intersections will take collaboration with the North Carolina Department of Transportation to re-engineer the streets in order to slow traffic and make crossings more feasible. Because most of the city's roads are state-maintained, NCDOT approval is required, which can be a time-consuming process.
"Any time you do work on state roads or state rights-of-way, it's a process certainly," Burczyk said.
Burcyzk said he's appreciative of city council's receptiveness to proposals for pedestrian infrastructure improvements.
"They've definitely made it a priority," he said.
More than anything, distracted driving contributes to pedestrian crashes, and no amount of infrastructure improvements can help that.
"Drivers are not yielding when they should be," Burczyk said. "It's maybe an enforcement and education campaign."
Victoria Manginas said she and her family are in favor of strict laws that penalize drivers for using a cellphone or other electronic device behind the wheel, in the hopes it will discourage distracted driving and save lives.
Even with her father's death, she said she still finds herself using her phone from time to time behind the wheel, as much as she tries not to.
"It could be tomorrow, and here I am talking about this, and it's like oh my God I'm a hypocrite," she said.