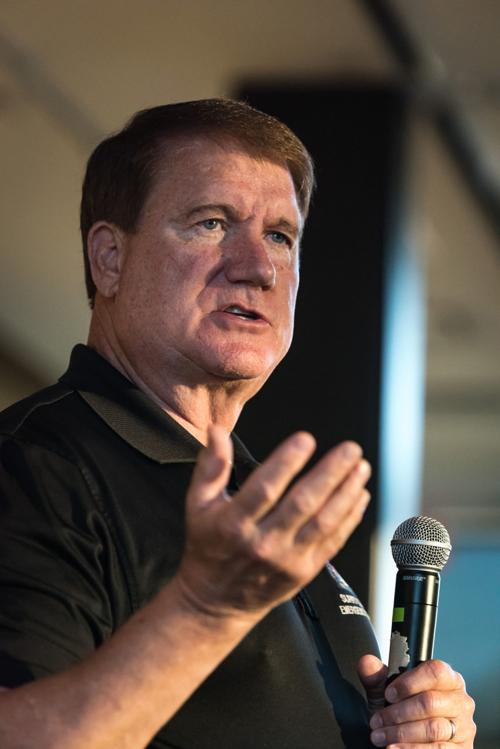 John Shelton, longtime emergency services director for Surry County, died from a self-inflicted gunshot wound, an autopsy report released Tuesday said.
Shelton, 67, died on Jan. 17, a Sunday. The autopsy report said that the manner of death was suicide.
On Jan. 17, Shelton was in the basement with his family, including his wife, Andrea, according to an investigative report from the N.C. Office of the Chief Medical Examiner. His wife told Surry County Sheriff's deputies that they were setting up a television in the basement when Shelton became frustrated, the report said.
Shelton then went upstairs and family members heard a gunshot, according to a report. The family called 911, and Shelton was found in the bedroom, lying on his left side. A .45-caliber handgun was found near Shelton's feet, the report said.
The autopsy report said that Shelton shot himself on the right side of his head. His wife told authorities that Shelton had no chronic illnesses and had no history of substance abuse, the investigative report said.
Shelton served as Surry County's emergency services director for nearly 35 years. He was also the county's chief medical examiner, a rare arrangement in North Carolina.
Nathan Walls, assistant to the county manager, issued this statement on Tuesday:
"Surry County still has John Shelton's family and friends in our thoughts and prayers. Mr. Shelton served the County for over 40 years and touched many lives."
People miss seeing and talking to Shelton, Walls said.
"His career meant everything to him and he left behind a very well trained staff with a wealth of experience, which is a testament to the passion he had for the Emergency Services Department and Surry County citizens," Walls said in the statement.
David Speight is the county's interim emergency services director.
Officials have praised Shelton for his dedication to his job and professionalism.
"Johnny was perhaps the best paramedic I ever knew," Wayne Ashworth, who hired Shelton as the county's emergency services director, told the Winston-Salem Journal in January. "He was completely engrossed and dedicated to his work."
A family emergency propelled Shelton into his life's work. He had been working in 1976 at his father's business, J.Q. Shelton Auto Parts and Sales in Mount Airy, when his father had a heart attack. His father survived and the experience motivated him to start taking EMT classes at Surry Community College. He finished in 1977 and he eventually joined Surry County Emergency Medical Services.