Officials say an earthquake — the strongest in more than 100 years — shook much of North Carolina early Sunday, rattling homes, buildings and residents.
The 8:07 a.m. earthquake centered near the North Carolina-Virginia border was felt throughout the Triad and aftershocks are possible, according to the U.S. Geological Survey.
The 5.1 magnitude earthquake occurred 2 1/2 miles southeast of Sparta, the USGS said.
Alleghany County Sheriff Bryan Maines said there is significant damage near the earthquake's center.
"We're having some structural damage to several buildings," Maines said. "There are several residences that have some structural issues. There are some folks that have been displaced from their homes. There have been some roads that have significant cracking and pavement separations."
No longer safe
Maines estimated a handful of homes in some housing developments in the area are no longer safe for occupancy.
He has found less damage the further he goes from the center of the quake.
"We have a lot of chimneys and structure issues where the homes have slid a couple of inches off the foundation," he said.
While there have been a few people with scratches, he said he is thankful there have not been any significant injuries reported so far.
"We're hopeful that that is going to continue to be the case," Maines said.
He expects local officials to have a better assessment of the situation in the coming days.
"Right now, we're still just trying to reach out and do as much as we can to make sure everyone is safe," Maines said.
Foreshocks
Shana Whitehead lives near downtown Sparta.
She and her partner, Bill Heath, felt three mild foreshocks on Saturday.
"They were so quick that the minute they happened they were over," Whitehead said.
On Sunday morning, she was at her computer and the whole house started shaking. This time, the shocks just didn't seem to stop.
"This one kept going and going and going," Whitehead said, saying it felt like a minute. "I'm hearing pictures fall off the wall, dishes fall out of the cabinets. I started screaming because it just would not stop."
Whitehead said she froze, not knowing what to do, and Heath, who was in a different room, got totally still.
Their pets — a dog and two cats — could not get out of the house fast enough.
"The cats came back after a little while, but our poor dog would not come back in the house," Whitehead said.
She said the craziest thing was that they found two big bolts on the floor in the bedroom.
The bolts came from a mirror attached to an antique dresser.
"They had shimmied out and had flown across the room," Whitehead said.
Largest since 1916
Randy Baldwin, a USGS geophysicist, said the shaking also was felt in most of South Carolina as well as in Lexington, Ky., Atlanta, Ga., and Knoxville, Tenn.
"Quakes of this size don't occur this often," Baldwin said.
It was the largest earthquake to hit the state since 1916, when a magnitude 5.2 quake occurred near Skyland, according to the USGS.
On, Aug. 23, 2011, there was a 5.8 magnitude earthquake in Louisa, Va.
"So you do get quakes of (this) size occurring every now and again," Baldwin said. "On a weekly basis, quakes are much smaller. Of course, it's the bigger ones that get felt."
There is a 45 percent chance of one or more smaller aftershocks within the next week, according to the USGS website, and a much smaller chance — 1% — of an aftershocks that is a magnitude 5 or greater.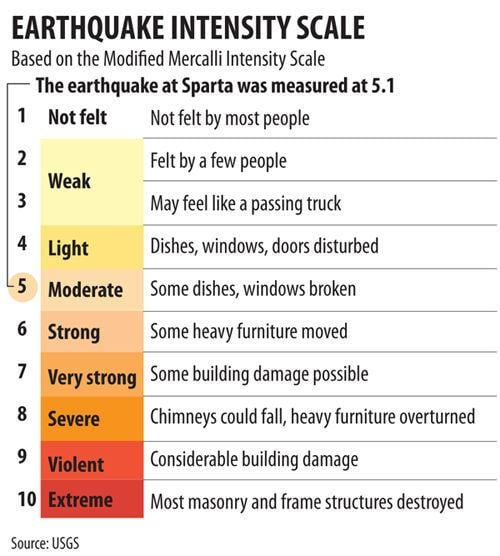 Michael Hull was standing in his driveway at his home in Sparta when he noticed a group of deer running.
"Not even a minute passed and the side-to-side motion started," Hull said. "It takes you a minute to realize what's happening, and you just can't believe it. Then it was over. It was loud, like God was shaking a mountain at you, literally."
Georgia Roach of Greensboro was standing at her stove when she felt the house begin to shake.
"I didn't know whether to leave or stay," Roach said. "Standing by the door I was very nervous wondering if I was going to make the right decision."
'Rumbling'
Misty Benzinger, 39, of Oak Ridge, said she had gone back to bed when the earthquake struck.
"It was just like the bed was rumbling," she said. "I live in an apartment and I thought 'what is that guy doing up there.'"
Then she thought it might be a sinkhole — "that's just a fear of another fear of mine," she said, laughing. "I'm glad it wasn't!"
Kelli Ah-Keen of Greensboro was lying in bed next to her husband when the earthquake struck.
"Will you stop moving," she asked him. "It's not me," he replied.
Then the couple thought it might be a nearby train. "We definitely felt it shaking," Ah-Keen said.
Her 6-year-old son and 11-year-old daughter slept through the earthquake. Her son was disappointed he missed it. "He's very obsessed with weather and stuff," Ah-Keen said.
Maria Johnson of Greensboro was sitting on her couch reading the paper when she felt the whole house start shimmying.
"You know those old-fashioned weight reduction machines with a belt that shook the bejesus out of you?," Johnson said. "It felt like the house was sitting on one of those. It lasted several seconds. Stuff on the walls and shelves clattered."
Karen Backer was in her Greensboro apartment when she initially mistook noise in her kitchen for her roommate.
"Nope, it was the cabinet doors 'clinking' open and closed! My neighbors on the other hand said they felt our apartment building shaking," Backer said. "Well, sadly, nothing surprises me in 2020, but a hurricane and an earthquake in the same week is crazy."
Jeff Cayton, the owner of Midtown Café & Dessertery on Stratford Road in Winston-Salem, was at home sitting at his breakfast table in Pfafftown having a cup of coffee and wondered if his pipes were rattling and shaking.
"I visually saw the shaking and felt the shaking," Cayton said, figuring out quickly what was happening. "My coffee cup was moving."
He expected his home alarm to go off but it didn't.
Then his father-in-law in Kernersville called about the earthquake.
"He felt it," Cayton said.
When Cayton arrived at Midtown Café, he was surprised to find out that just three out of 30 of his employees felt the quake.
Kimberly Vega, the co-owner of Omega House on Peters Creek Parkway in Winston-Salem, was at home in Clemmons. At the sound of noises, she thought someone was rolling a trashcan down her driveway.
"It sounded like the rollers and I have a concrete driveway," Vega said. "The wall was making a noise and I thought the wind was blowing outside. I was very puzzled."
She did not feel her two-story, brick house shake.
"I just heard noise, mostly for me," Vega said. "I even went outside to see what was going on."
None of the four employees at Omega House at the time of the quake noticed anything.
Aftershocks
USGS received more than 30,000 reports within an hour of the earthquake from people who felt it. 
View the USGS details and interactive map here.
The eight foreshocks leading up to Sunday morning's event ranged from a 1.8 magnitude to a 2.6 magnitude, according to USGS data.
As of Sunday evening, there had been two aftershocks — a 1.7 magnitude and a 1.8 magnitude.
The Associated Press contributed to this report.
This is what the Food Lion in Sparta is dealing with this morning! Thanks to Mikey Whitt for letting us share these. He works for Pepsi and was making a delivery when the earthquake began @wsoctv pic.twitter.com/zoShgPWR6M

— Susanna Black (@SusannaWSOC9) August 9, 2020
336-727-7366
@fdanielWSJ
336-373-7082
@kcaranna
Get local news delivered to your inbox!
Subscribe to our Daily Headlines newsletter.