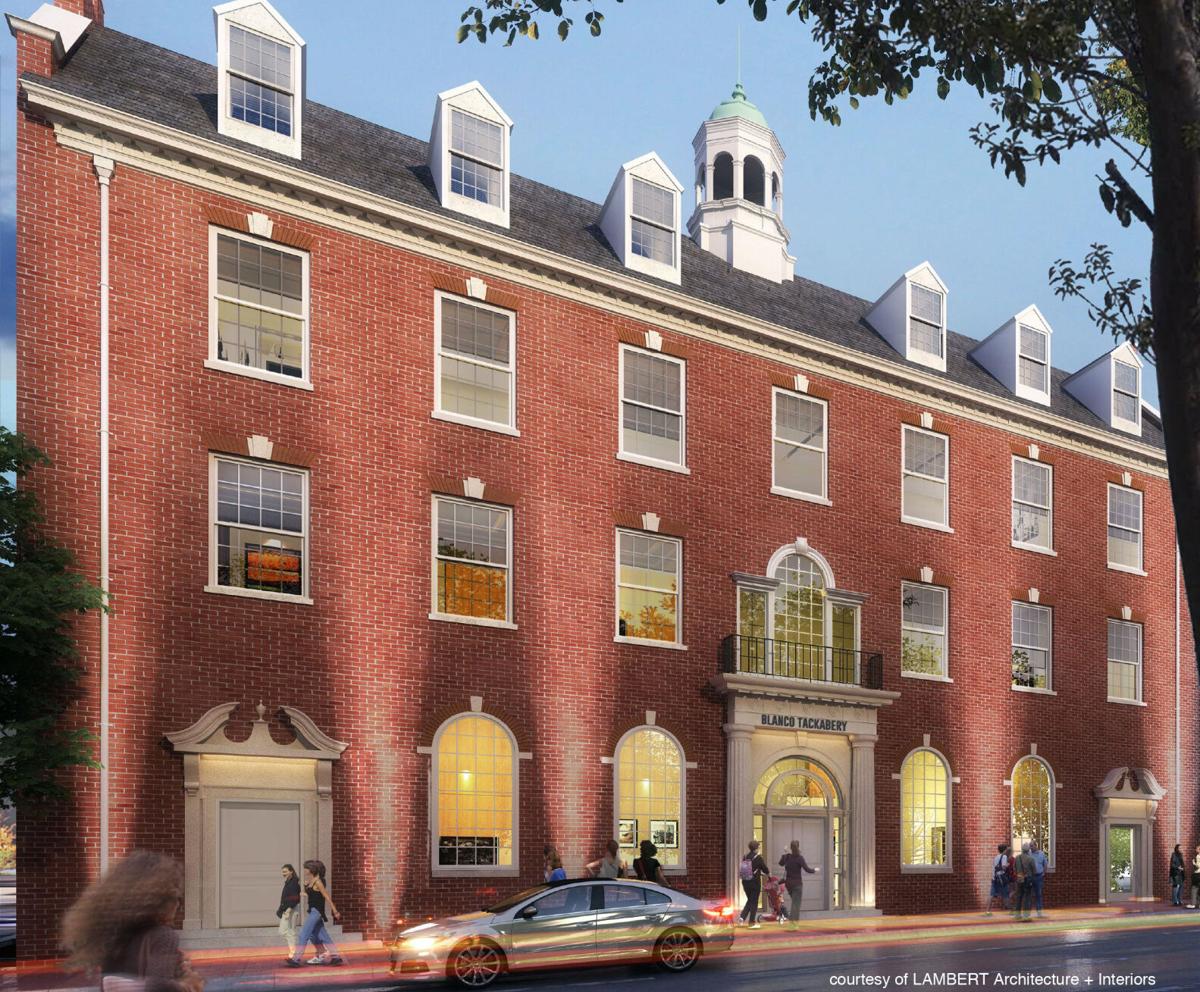 The Sentinel Commons building in downtown Winston-Salem is gaining a tenant in business law firm Blanco Tackabery.
The firm plans to move from its 110 S. Stratford Road office by mid-summer. It lists 26 attorneys with an overall workforce of 60.
The law firm is taking 23,000 square feet on the ground and second floors at 404 N. Marshall St.
"The move of the firm to downtown will allow for the firm's growth and enable Blanco Tackabery to continue to play a central role in Winston-Salem's business community," George Hollodick, vice president of Blanco Tackabery, said in a statement.
Sentinel Commons is the newest name for the former Winston-Salem Journal property, bounded by Marshall, Fifth and Spruce Streets. The building gets its name from the Journal's companion afternoon newspaper, which ceased publication in 1985.
The Journal is a tenant on the ground floor facing Spruce.
Other tenants include Lambert Architecture + Interiors, which is redesigning the building's infrastructure, along with Gemcap Development and Parks Cos., which owns the building.
Hollodick said that "over the years, our firm has grown, yet we still combine the experience and sophistication of a large firm with a level of personal service that our clients appreciate."
"This new office space will allow us to expand on that tradition."
Blanco Tackabery's practice includes groups that handle commercial real estate, civil litigation, estates/trusts, business law, bankruptcy/creditor's rights, affordable housing and renewable energy development.
Kane Wilkerson, building manager and project developer for 418 Marshall Street Properties, said that attracting the law firm "as a prime tenant represents a tipping point for the redevelopment of the property."
"We have made incremental progress over the past four years with interior infrastructure improvements, as well as stunning interior spaces for the other tenants here."
Stuart McCormick, president of Lambert, said the law firm's entrance and reception lobby will occupy the ground floor of the historic 1927 building.
The space features original paneled wainscoting and 13-foot-tall arched windows. There will be three conference rooms for client meetings, while the majority of the attorney and legal staff offices will be on the second floor.
Leasing the 23,000 square feet to the law firm "will allow us to turn our focus to key renovations on the exterior of the building," Wilkerson said.
"We are in final negotiations with additional tenants and will announce more details within the next few months, along with plans for the exterior improvements."