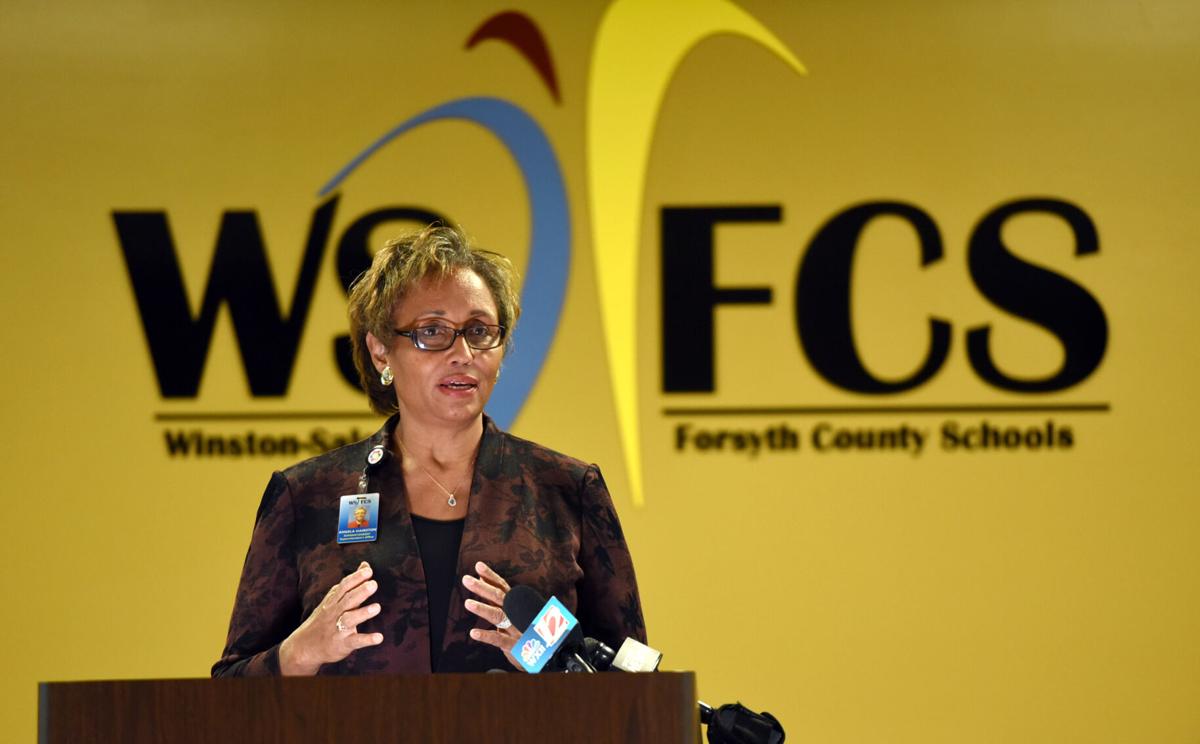 Whatever Angela Hairston wanted to accomplish in her first year as superintendent of Winston-Salem/Forsyth County Schools was pushed to the back burner seven months into her tenure.
The COVID-19 pandemic created a historic disruption to the local education system, leaving Hairston and her team scrambling to come up with solutions. Those solutions — whether to return to in-person learning, install a hybrid model or go fully remote — had supporters and critics. 
Pleasing everyone, or even a majority, proved impossible. 
On Thursday, Hairston unexpectedly resigned from the school district after 14 months to take a job as superintendent of Danville City Schools, which has about 50,000 fewer students than WS/FCS. Her last day will be Nov. 13.
Though the call to return to her hometown was strong, Hairston alluded to the mounting pressure that superintendents across the country face as they weigh the risks and benefits of keeping children out of school.
Among local parents, Hairston said, one-third wanted to return full-time school, one-third wanted a hybrid model and one-third wanted to be fully remote. The local district has begun the hybrid model, with thousands of elementary-aged children returning to school buildings next month. But there are many detractors who say returning to school as COVID cases are rising is unsafe for children and teachers.
Hairston was asked to respond to a tweet from Guilford County Superintendent Sharon Contreras. On Friday morning, Contreras linked to a story about Hairston's resignation and wrote: "This is such a loss for children. The toxic & hostile work environments that female superintendents endure in NC and across the US must be investigated & addressed. Silence = Complicity."
"This prolonged change in our lives causes emotional reactions," Hairston said at a news conference on Friday. "It's prolonged. It's not a weekend. It's not a hurricane. It's not flu season. And prolonged change causes stress. Unfortunately across the nation, superintendents become the sponge if you will, the target for so many emotions... and we unfortunately smile sometimes, and say it's not about us, and it's often times about the position we represent. So I encourage people across the nation, across North Carolina to understand, it's tough on us, too."
The Danville job opened in June. It appealed to Hairston for several reasons. She's from the area, began her teaching career there, and her husband is on the Danville police force. Her parents also live in Danville.
"It would be nice to take my parents out to lunch," she said.
Hairston was the second woman and first African-American to lead the local district. 
Deciding to leave as the district moves into hybrid learning was a struggle, she said.
"But knowing the opportunity was there, and that there was a timeline associated with it, I had to make a choice," Hairston said.
Board chairwoman Malishai Woodbury said the board would move quickly to name an interim superintendent, then launch a national search for a permanent replacement. Community stakeholders will be involved in the search.
"We do not plan to rush this process. We want to be deliberate and take our time to find a pool of diverse and qualified candidates," she said.
Tricia McManus, the deputy superintendent, is the likely candidate to step into the interim role. The school board has called a meeting for Monday morning to discuss personnel issues. The meeting is closed to the public.
On Tuesday, the school board's COVID-19 special committee will meet to discuss reopening, including the metrics that will guide the district. 
Board member Deanna Kaplan said Hairston's resignation was a surprise. She praised Hairston for filling several key positions. 
"We're going to pull together as a board and find a capable and excellent interim superintendent to guide us," Kaplan said. "She has an excellent team in place, and we're going to move forward together."
Woodbury said Hairston made an impact in her short tenure, securing funding for new textbooks, creating a new equity committee, buying property for a new Ashley Elementary School and starting an outreach team to connect with students who failed to log into online classes last spring. 
"I want to assure families as we move forward toward a safe reopening, we will have a strong leadership team in this district that is committed to carrying out a reentry plan safely," Woodbury said.
Dana Caudill Jones said though she was surprised by the announcement she understands that Hairston had a rare opportunity to work in her hometown. 
"I will say she worked extremely hard the year she was here and really stepped in and filled in a lot of gaps we had in the district. And she leaves us with a strong leadership team and a strong strategic plan, which we did not have," Caudill Jones said.
Get local news delivered to your inbox!
Subscribe to our Daily Headlines newsletter.