Though his heart is clearly in the right place — seriously, who could have a problem with increasing voter registration? — Conan O'Brien clearly has a lot of time on his hands.
Perhaps it's a glut of pandemic-forced downtime. Maybe it came from a deep reservoir of civic goodwill. Or more likely, some combination.
Whatever the reason, the late night talk show host has dropped a series of public-service announcements encouraging people living in swing states — including North Carolina, Florida and Arizona — to participate in the looming election.
"Conan O'Brien here reminding you to vote and make your voice heard," he says in the 45-second North Carolina spot.
So far, so good. Then, though, the comic took aim at our fair city and delivered a shot below the belt.
"The last time North Carolina citizens didn't vote, you got the Winston-Salem building," he said, referring no doubt to the Wells Fargo Center that looms large over downtown. "You wanna get that? You wanna get Winston-Salem'd this year?"
Looming large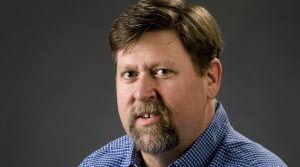 The thing is, O'Brien isn't wrong.
The $80 million building was completed in 1995 — I cannot bring myself to use the verb 'erected,' which, while technically correct, might prompt a stern round of tsk-tsking and uncontrollable giggling among the less mature set.
A central idea behind the design was for the building to incorporate Moravian architectural themes including the Moravian arch used in the design of the 59-foot white granite dome and the better known Moravian star that is prominent in the lobby.
Cesar Pelli, the architect, has said that the tower design was intended to resemble a rosebud about to bloom.
Other observers, in particular males whose senses of humor range from the scatalogical to eighth-grade anatomical, see something else entirely. And that clearly includes our new friend Conan.
A list of nicknames for the building, edited to suit a family friendly publication, is sensibly condensed to just the one: "Phallus Palace."
The word "phallus," by the way, comes from the Latin, which borrowed from the Greeks, who in turn lifted the concept from even older civilizations. It would seem that this particular fixation transcends all cultures.
Phallic depictions, I'm informed by 10 minutes of dubious online research, were symbols of strength and power to caesars, senators and the Roman ruling classes. Which, if you think about it, really isn't all that different from American bankers rushing to put up skyscrapers that resemble … well, you know.
Anyhow, the "Winston-Salem Building," now known as the Wells Fargo Center following a whiplash-inducing series of bank mergers and closings during the Great Recession, remains the tallest in the Piedmont Triad.
It was flipped in 2018 for a cool $62 million, 3/4 of its original construction cost, to WFC Property LLC of Oklahoma City.
At 34 stories and 460 feet, the Wells Fargo building is the 12th tallest in North Carolina.
The Winston Tower, on North Main Street, ranks 18th at 410 feet. But with its sturdy, traditional rectangular shaping, that tower largely escapes the ridicule (and tittering) inspired by the palace.
The latest proof, of course, evidenced by Conan's mockery of the city's architecture.
"You wanna get Winston-Salem'd this year?" he said. "I don't think so."
'A little distressing'
Sixteen of North Carolina's 20 tallest buildings live in Charlotte, most of which were financed by and built as homage to big banks. (Maybe the Romans were onto something.)
Still, seeing as how Conan saw fit to single us out, it's only fitting for locals — with time and inclination — to respond.
"I love the message about getting out the vote," Mayor Allen Joines said Wednesday. "Though it was a little distressing to be turned into a verb."
As for me, well, it's hard to disagree with Conan's basic premises. Voter registration matters, and the Wells Fargo Center is rather distinctive.
To use another analogy, it's like having a little brother. The unwritten code in my neighborhood had it that only older siblings were allowed to pick on the younger ones. Until they were big enough to fight for themselves.
Mark Murphy could slug Glen, and Shawn O'Keefe could torment Timmy. But no one else.
So if Conan O'Brien wants to try and turn our fair city into an active verb, so be it. And if it drives people to register, OK.
At least our river hasn't caught fire. Hello, Cleveland.
Get local news delivered to your inbox!
Subscribe to our Daily Headlines newsletter.