The headline read, "U.S. to screen passengers from China for new illness."
It was for a story on page B6 of the Winston-Salem Journal. The date on the paper was Jan. 18, 2020.
The story didn't have the biggest headline on the page: That went to an article about the importance of the 2020 Census.
The article said the new virus had sickened dozens and killed two — in China.
"So far, the risk to the American public is deemed to be low, but the CDC wants to be prepared and is taking precautions," the story said, quoting a doctor.
A few days later, the N.C. Department of Health and Human Services said it was checking out someone who arrived in Raleigh from China on Jan. 23. Dr. Christopher Ohl, an infectious disease expert at Wake Forest Baptist Health, said the risk to North Carolinians was "extremely low."
"I don't think anyone needs to worry about it," he said. "If I was traveling to China, I would worry about it."
When the traveler from China to North Carolina tested negative, the news only made it to a "brief" on Jan. 26. It was one up from the bottom, above an item about how new technology was going to help count cars in the Interstate-77 toll lanes near Charlotte.
China reported a surge in cases and the stock market fell 453 points on Jan. 27.
It didn't take long for COVID-19 to take over, not only in the news coverage in the Winston-Salem Journal, but in the lives of every one of us.
Cases spread to the U.S., Canada, Thailand, Japan, Malaysia, Nepal, France, Australia and others before January turned into February. February brought tournament cancelations, quarantined ship passengers (including one originally from Winston-Salem), airlines flying evacuees from distant locations and, on Feb. 24, a 1,000-point drop for the Dow. 
On Feb 28, Wake Forest University announced it was bringing home students studying in Italy.
North Carolina got its first confirmed case on March 3. Forsyth got its first on March 13. Schools suspended activities. The governor banned gatherings of over 100 people. Libraries closed. Dining in restaurants stopped. Schools were shut down. Old Salem laid off workers. 
The headline on the April 1 newspaper announced that the first Forsyth County resident had died from COVID-19.
Coronavirus restrictions eased over the summer as phased reopening plans appeared. But a late surge has caused a spike in the toll the disease is taking: The death total on Dec. 24 was 212.
A glimmer of hope rounds out the end of the year: Ohl was the first in Forsyth to get a COVID-19 vaccination on Dec. 15, with thousands more doses on the way.
The coronavirus was the biggest story of the year, hands down. It dominated news coverage from Feb. 25 to the present.
Election season 
Politics would have kept 2020 busy even if COVID-19 had never reared its ugly head.
The year featured a March primary that came along with a quarter-cent sales tax proposal for higher teacher pay, followed by a fall campaign that had everyone from President Trump to Winston-Salem City Council members competing for the votes of local residents.
Democrats started the year with big hopes of flipping the N.C. General Assembly from red to blue.
In January, Swing Left, a left-wing group, rated two districts in Forsyth County — N.C. House 74 and Senate 31 — as potential Democratic pickups. Though both districts had strong Republican incumbents, court-ordered redistricting in 2019 had made the districts more competitive for Democrats. One GOP incumbent Rep. Debra Conrad, R-74th, had announced she would not run.
On the presidential level, there was no question but what Trump would be the GOP nominee, but the Democratic race was still wide open as the March 3 primary approached: Joe Biden, the eventual nominee, had faltered in Iowa and New Hampshire, only to come roaring back by sweeping the South Carolina primary on Feb. 29.
Closer to home, former Winston-Salem City Council member and now state Rep. Derwin Montgomery, D-72nd, found himself in a tough five-candidate contest for the Democratic party nomination for the Sixth Congressional District.
Mark Johnson, the GOP state superintendent of public instruction and a former member of the local school board, was one of nine candidates duking it out run for lieutenant governor.
Renita Thompkins Linville, a Democrat appointed in 2019 to fill out the term of retired Forsyth County Clerk of Court Susan Frye, found herself receiving an in-party challenge from Denise Hines, the chief magistrate.
Rematches and open seats helped make for lively competition on the Winston-Salem City Council, at least in the Democratic primary.
Longtime Mayor Allen Joines faced a challenge from veteran critic JoAnne Allen; Annette Scippio, appointed to fill Montgomery's East Ward seat when Montgomery went to the state House, had three challengers; South Ward's John Larson had a rematch with challenger Carolyn Highsmith, with a third candidate in the mix; three candidates, including the daughter-in-law of incumbent Northeast Ward Council Member Vivian Burke, were in the running for that seat when Burke decided not to run. Two candidates vied for the Southwest Ward seat that was opening up because the incumbent, Dan Besse, had decided to run for N.C. House 74. D.D. Adams in North Ward also faced a challenge.
When the votes were counted on March 3, Biden carried the county and the state. Montgomery came in second place to Guilford County's Kathy Manning in the Sixth Congressional District, and Johnson came in second to Mark Robinson of Greensboro.
The closest local primary contest was in the clerk of court's race, where Hines beat Linville by only 766 votes.
In the city contests, Joines beat Allen, and Adams, Larson and Scippio all emerged victorious from their challenges. 
Barbara Hanes Burke, Vivian Burke's daughter-in-law, grabbed the Northeast Ward nomination, while Kevin Munday won in Southwest Ward. In the sole GOP city primary, incumbent Robert Clark saw off a challenge from George K. Ware.
School sales-tax supporters could cheer when they carried the day in the vote on that proposal. The measure passed with support from 60% of the people who voted on March 3.
In the fall, while Biden carried Forsyth County and won the presidency, Republicans successfully held off statehouse challenges in House 74 (where Jeff Zenger beat Besse) and in Senate 31 (where GOP incumbent Joyce Krawiec beat Democratic challenger Terri LeGrand). Paula McCoy mounted a write-in effort against Barbara Burke in Northeast Ward, but Burke easily won the ward. 
Joines beat GOP challenger Kris McCann by gathering slightly more than 70% of the vote in that race. 
Remarkably — or maybe not so much, because of the coronavirus — Winston-Salem received only one visit from a presidential candidate, when Trump came to Smith Reynolds Airport on Sept. 8.
Protests
2020 was the year of the protester in Winston-Salem, as anger over the police killing of George Floyd in Minnesota turned into a wave of daily protests here and elsewhere. In Winston-Salem, though, the protests all had a decidedly peaceful character in contrast with the story in many cities where violence accompanied the protests.
Floyd died on May 25. On May 30, a Saturday, the first of many daily protests took place in Winston-Salem. At first, the protests were rather small and at scattered locations. But the number of protesters and the scope of their protests grew quickly.
Protesters began marching down city streets and blocking intersections to take a knee. They would lie on the pavement in a silent miming of the nearly nine minutes that the police officer put his knee on Floyd's neck. Floyd died after.
Protesters blocked U.S. 52. They listened to an impassioned plea for non-violence from Winston-Salem Police Chief Catrina Thompson. They fanned out to different locations and neighborhoods: West End; Hanes Mall Boulevard; Five Points; the Publix store; and even the home of Mayor Joines.
As time went on, the protests morphed in different directions: when the death of John Neville in the Forsyth County jail was revealed, it gave a local focus to protests against law enforcement. Groups such as the Triad Abolition Project called for the defunding of police. Housing Justice Now protesters called for an end to evictions and even staged an "eviction" of clerk of court Linville.
In late July, a group of Winston-Salem firefighters came out to protest what they called entrenched racism in the Winston-Salem Fire Department. The group demanded the ouster of Chief William "Trey" Mayo, and that the city allow them to pick people to investigate racism in the department.
While Winston-Salem hired an outside consultant to look into the department's racial climate, the firefighters said they were unhappy with the arrangement. As fall approached, Triad Abolition Project protesters stepped up calls on both city and county officials to reduce funding for law enforcement.
Winston-Salem came close to shifting some money away from the police department in a move that proved controversial.
The shift of $1 million from a $78 million city police budget was proposed by Southeast Ward Council Member James Taylor, though the catch was that the dollars were in the budget for unfilled police positions. It turned out that the money was still planned for paying police overtime, so the concept was shifted to finding $1 million to give to anti-poverty programs from elsewhere in the city budget. Proposals for spending the money were still being discussed at year end.
More policing controversy broke out in November when a video emerged of a white Winston-Salem police officer tackling a Black teenage girl who was being questioned during an investigation of a house break-in.
Council Member Adams condemned the officer's actions as racist, and the Ministers' Conference of Winston-Salem and Vicinity, and other groups, also denounced the police action.
The executive director of the N.C. Police Benevolent Association then condemned Adams' comment in making the accusation of racism.
John Neville
The news on June 26 that John Neville had died in late 2019 after being placed in a prone restraint in the Forsyth County jail was a stunning revelation that riveted attention on law enforcement practices at a time when they were already under heavy scrutiny during a summer of protests.
Less than two weeks later, Forsyth County District Attorney Jim O'Neill announced that five former detention officers and a nurse at the county jail had been charged with involuntary manslaughter in the death. The medical examiner said Neville's heart had stopped beating because the prone restraint that was used prevented him from breathing. That in turn caused the brain injury from which he died at Wake Forest Baptist Medical Center.
News of the death rapidly became one of the central focuses of the protests objecting to police action. Days later, a number of Neville protesters were arrested for blocking traffic. In late July, the Winston-Salem Journal and other media went to court seeking the release of video footage from Neville's time in the jail before he died.
The video, released Aug. 5, prompted demands for a ban on the kind of restraint used on Neville, something that happened in early September and prompted Triad Abolition Project protesters to end an "occupy"-type encampment at Bailey Park in the Innovation Quarter.
As the year drew to a close, hearings for the five charged in Neville's death had been postponed to January.
Salem Parkway
It seems like a different era now, but one cloudy Saturday in February, hundreds of people gathered at BB&T Ballpark to celebrate the coming reopening of Business 40 as Salem Parkway, and to get a chance to walk on the new asphalt of the refurbished downtown freeway.
That celebration came after months of closure, traffic jams, and yes, fascination as people watched heavy construction equipment tearing up the old Business 40 and digging down to the new level Salem Parkway would assume.
Business 40 closed to traffic on Nov. 17, 2018. Originally slated for a two-year closure, the period was shortened to a little over 14 months with incentives given to the contractors to finish early.
The last bridges over Salem Parkway were reopened before the freeway itself, although there were still remaining details to finish: In the coming months, the pedestrian bridges took shape and opened, and contractors dealt with signposts and other final touches.
Highway officials said late in the year that it would actually not be until early 2021 when every last detail on the new road is done. Even then, future phases of work will be needed in the coming year to advance construction on another phase of the project, a pedestrian and bicycle path alongside the new freeway.
Baptist, Atrium merge
In what seemed like a case of never say never, Wake Forest Baptist Medical Center and the Charlotte Mecklenburg Hospital Authority announced on Oct. 9 that they had combined into one entity to be called Atrium Health, after the brand name for the Charlotte hospital system.
The two hospitals had signed a memorandum of understanding in April 2019 to create a "next-generation academic health care system." One of the key features of the arrangement was that Charlotte would be getting a second campus of the Wake Forest School of Medicine, but officials were also not ruling out wider joint efforts.
The combination announced Oct. 9 took effect immediately, with Dr. Julie Ann Freischlag, Wake Forest Baptist's chief executive and dean of the medical school, becoming chief academic officer for Atrium.
Hospital officials and Mayor Joines touted the new arrangement as promising significant investment in Winston-Salem's Innovation Quarter. Within weeks, Atrium announced it would spend $2.8 billion building a new care tower at Wake Forest Baptist and an eye institute in the southern portion of the Innovation Quarter.
Atrium has even talked about creating a Silicon Valley-type innovation corridor between Winston-Salem and Charlotte. 
Gun violence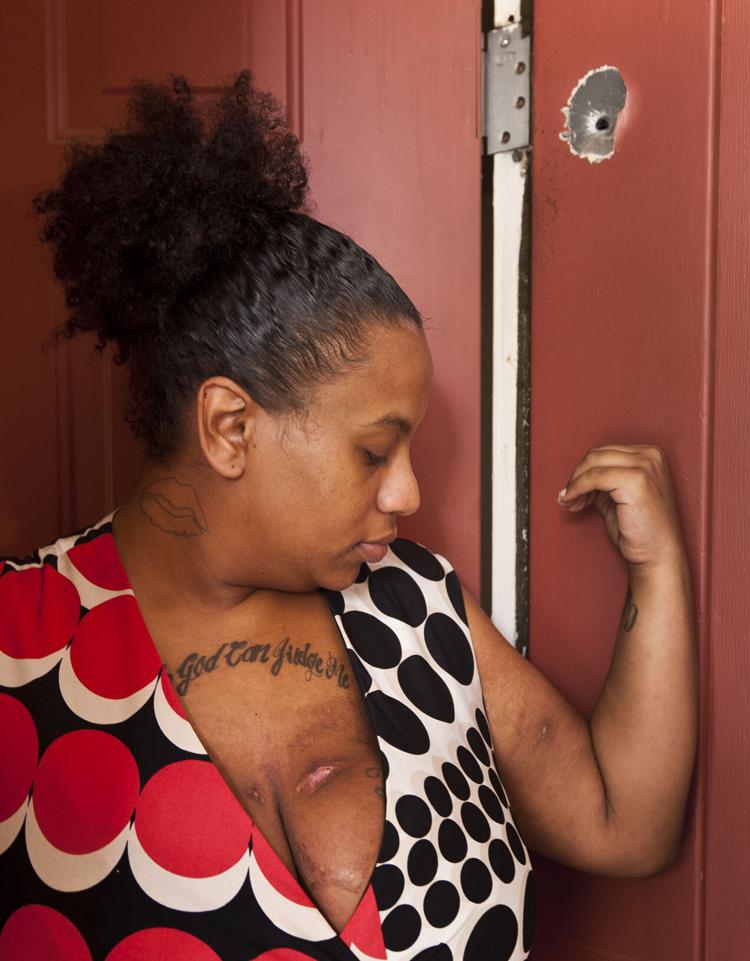 Gunfire continued to cause injuries and claim lives during 2020, with gang violence frequently fingered as one of the fundamental problems. So much so that, when Forsyth County officials decided to pass out surplus money, they earmarked $400,000 to fight gang violence.
Hanes Mall was the scene of some of the troubling violence. On Jan. 24, 18-year-old Isaac Banos-Salazar fired a gun at a younger male, injuring him outside the Forever 21 store. At his sentencing, his attorney said others had been bullying Banos-Salazar to join a gang.
In July, bedlam erupted when two groups of young males began firing guns in the mall's lower level. No one was hurt, but people were screaming or running away. Then in August, three teens were arrested after about 50 of them got into a fight inside the mall.
In November, two groups of teenagers were fighting in the parking lot near Forever 21 when one of them pulled out a gun and fired a shot, causing minor injuries to another teen.
When teenagers attacked a couple who had come to the mall to pick up the teen daughter of one of them, Sheriff Bobby Kimbrough came out with a statement about how "disgusting" the attack was, and promised beefed-up holiday patrols. For their part, mall officials tightened up their policy forbidding unaccompanied teens from wandering the property.
But it's not like Hanes Mall was an epicenter of violence in 2020: There was plenty to go around elsewhere.
On one particularly bloody weekend in late July, six people were wounded in three shootings. While some people were calling for less policing, East Ward Council member Annette Scippio said people in her ward were fed up with violence and needed protection. She singled out Rolling Hills Apartments on Ferrell Court as one source of ongoing problems.
The city took the owner of Rolling Hills to court in late August, calling the 110-unit complex "indecent, dangerous, disgraceful and intolerable" for the residents because of the high amount of crime. The city wants to seize the property as a public nuisance.
Gun rights
Earlier in 2020, some people were talking about the right to own guns rather than the number of people getting shot by them.
Spurred by new gun restrictions in Virginia, citizens in that state descended on county courthouses away from the big urban centers to demand that their counties become "Second Amendment sanctuaries" with resolutions supporting the right to keep and bear arms.
The movement inevitably spread to North Carolina, with Davidson County among the initial batch of counties voicing support for the Second Amendment.
The debate came to Forsyth in February, with the county Board of Commissioners approving a pro-Second Amendment resolution on a 4-3 vote that broke on party lines. Republicans favored the measure, while Democrats backed an alternative that would have supported the entire Bill of Rights without singling out the Second Amendment.
A big crowd turned out for the debate. More than 70 North Carolina counties eventually passed some sort of resolution in favor of gun rights.
Sampson case
The Aug 6, 2019 shooting death of Julius Sampson continued to reverberate in 2020, in a case that took on racial overtones as some people believed he was shot because he was Black.
In January, bond was set at at $500,000 for Robert Anthony Granato, the white man charged with first-degree murder in Sampson's death. Granato, through his attorney, claimed self-defense: His version was that Sampson jumped him and took him to the ground before Granato fired his gun.
Forsyth County prosecutors said Granato lay in wait for Sampson outside BJ's Restaurant and Brewhouse near Hanes Mall.
In July, 911 recordings revealed a restaurant employee telling a police dispatcher that two men were arguing and that "this is going to be bad." After the shooting, an employee told the dispatcher that "We have him (Granato) pinned down."
July also brought Granato's indictment for murder from a Forsyth County grand jury. No date has been set for the trial.
School changes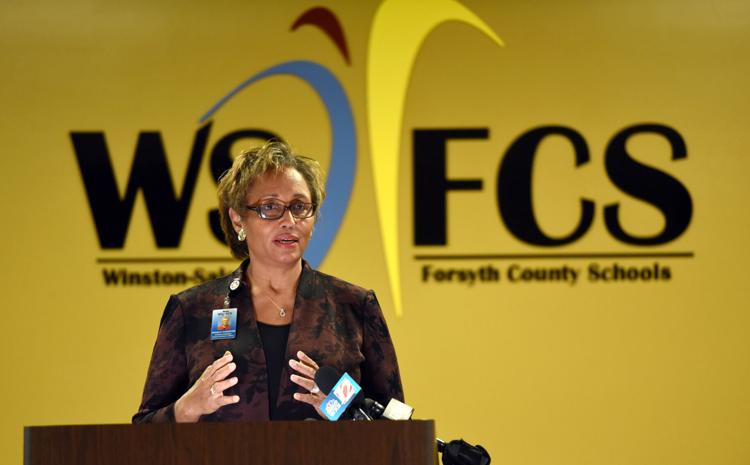 It was a year unlike any other in the schools, with closures, controversial reopening plans and the departure of the superintendent among headline events.
Gov. Roy  Cooper issued an executive order on March 14 closing all public schools for two weeks. It didn't take that long to turn into a closure through May 15. Local schools moved to online learning. But the price was high: In April, it was reported that 5,000 students had not logged on to one of the online programs.
As summer rolled around, debate arose returning to in-person classes. In advance of a vote on what to do, high schoolers protested the lack of in-person options. But the school board voted 8-1 on July 17 to have online learning only for the first nine weeks of the 2020-21 school year.
Another controversial vote on Oct 1 favored a phased-in return to in-person classes. That got delayed by Superintendent Angela Hairston, but the school board reversed her decision Oct 27 in favor of a plan to bring back Pre-K and exceptional children program students, with kindergarten and first-grade classes coming back later. On Nov. 17, the board voted to delay the return of students at grades higher than first grade until January.
In the meantime, Hairston on Oct. 15 announced she was resigning a little more than a year after taking the local system's top job. Hairston took the superintendent's job in Danville, Va., where she has family ties. Tricia McManus took over as interim superintendent.
Burr probe
U.S. Sen. Richard Burr, a Winston-Salem Republican and chairman of the Senate Intelligence Committee, found himself under fire in March when it was revealed that he had told a private group that COVID-19 would have dire effects on the U.S. economy, days after unloading $1.72 million in stocks, including shares in the hotel and hospitality industry.
It was also reported that the sale came six days after Burr wrote an opinion piece saying that the U.S. had the tools in place to combat the coronavirus, and seven days before the first major stock market decline brought on by the pandemic.
Multiple media outlets reported that there was no evidence that Burr had sold any stock based on insider information gathered from his chairmanship. 
Burr was quick to denounce the report as a "tabloid-style hit piece," and released a statement saying that he had relied solely on public news reports to make his decision to sell stocks.
Burr went on to say that he had asked the Senate Ethics Committee to do a complete review of the matter and with full transparency. 
Within days, the U.S. Justice Department and the Securities and Exchange Commission were also reported to be checking into Burr's stock transactions.
In April, the group ProPublica reported that in 2017 Burr had sold his Washington town house to a pharmaceutical lobbyist for $900,000, a price "tens of thousands above some estimates of the property's value," the group said. The month of May brought the seizure of Burr's cellphone by the Federal Bureau of Investigation. On May 14, Burr resigned as chairman of the Senate Intelligence Committee. He's also faced calls for his resignation.
Burr's term runs through 2022. Burr announced in 2016 that this term would be his last in office.
Beltway opens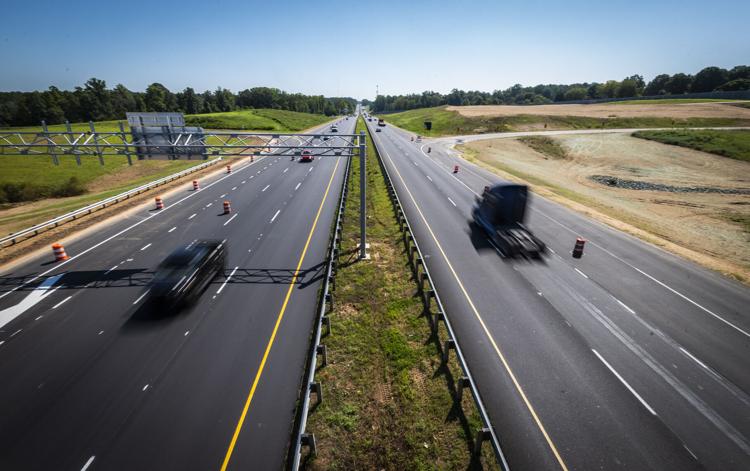 The first segment of the Winston-Salem Northern Beltway opened Sept. 5 to run between Salem Parkway and Reidsville Road, with a second segment opening up in late December to stretch the freeway to New Walkertown Road.
Local officials hailed the opening of the first beltway segment as a long-awaited project that has the potential of opening up the northeastern side of Winston-Salem for development, as well as easing traffic flows in the affected area.
A third segment is already under construction along the seven miles from New Walkertown Road to U.S. 52 on the north side of Winston-Salem. That section of the beltway should be finished sometime in the summer of 2022, if all goes to plan.
Eventually, the eastern leg of the beltway will carry the Interstate 74 designation and link to the existing section of I-74 between Winston-Salem and High Point.
Statue status
Winston-Salem's Confederate statue remained in storage during 2020, although legal wrangling over the fate of the monument continued.
The city had declared the statue standing at the corner of Liberty and Fourth streets a nuisance and had it removed in 2019, during a period when it had become the scene of protests pro and con. The city labeled the statue a safety hazard.
The United Daughters of the Confederacy, which raised money to put up the statue in 1905, through its state chapter appealed a local court's decision against it in a 2019 lawsuit against the city, county and the developer who now owns the former courthouse building where the statue stood.
While waiting for that appeal to be heard, the local chapter of the UDC filed its own suit in regard to the statue's removal.
The state chapter's appeal was dismissed in December by the N.C. Court of Appeals, although the 2-1 decision means that the UDC can appeal to the N.C. Supreme Court. The suit by the local chapter is still pending in Forsyth Superior Court.
Hatch retiring
It hasn't actually happened yet, but the announcement by Wake Forest University President Nathan Hatch that he is retiring next year was enough to grab the attention of city residents during 2020.
Hatch said in October that he had actually intended to make his announcement earlier, but those plans, like many people made in 2020, were pushed aside by the coronavirus: Hatch said postponed his plans to help Wake Forest deal with the pandemic.
Hatch was named the university's 13th president in 2005. The university said that under his leadership, Wake Forest had mobilized alumni, supporters and parents to support Wake Will Lead, the largest fundraising effort in the school's history. 
Hatch led the integration of Wake Forest University Health Services with N.C. Baptist Hospital in 2010, and more recently oversaw the combination with Charlotte's Atrium Health. Hatch apologized for the university's historical connection with slavery in February.
Major Funding
The Housing Authority of Winston-Salem and Winston-Salem State University were each the beneficiaries of unrelated $30 million grants during 2020.
HAWS received its $30 million grant from the U.S. Department of Housing and Urban Development for the transformation of the Cleveland Avenue neighborhood. It took four tries for HAWS to get the grant, but officials said they should be able to leverage the $30 million with other funds to generate more than $100 million in new development for the city.
The grant will go to replace the aging Cleveland Avenue Homes public housing project, with money set aside for education, workforce development, small business assistance and other programs.
WSSU officials said that the announced $30 million gift from philanthropist MacKenzie Scott is the largest in the school's history. They said the donation is unrestricted and that the school can use it for any purpose, although none has so far been announced.
Scott, a novelist and the former spouse of Amazon founder Jeff Bezos, announced $4.15 billion in donations in mid December. NCA&T received $45 million from Scott.
Manning fired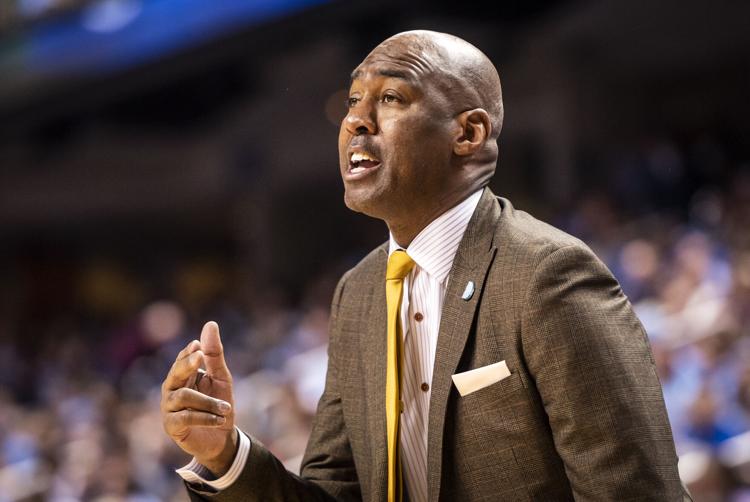 Forty-five days after becoming the first team eliminated from the ACC basketball tournament, Wake Forest University on April 25 announced the firing of coach Danny Manning, who compiled a 78-111 record over six seasons at Wake Forest.
Beyond the won-lost record, the school was concerned that so many players were transferring away before their eligibility was up. And attendance at games was also down.
Manning's replacement, named less than a week later, was Steve Forbes, who compiled a record of 130-43 at East Tennessee State University.
Wes Young's most memorable trips outside in 2020
I like stories that get me outside the office and into some interesting environment. It can be nature, people or events. Something that surprises me is always best.