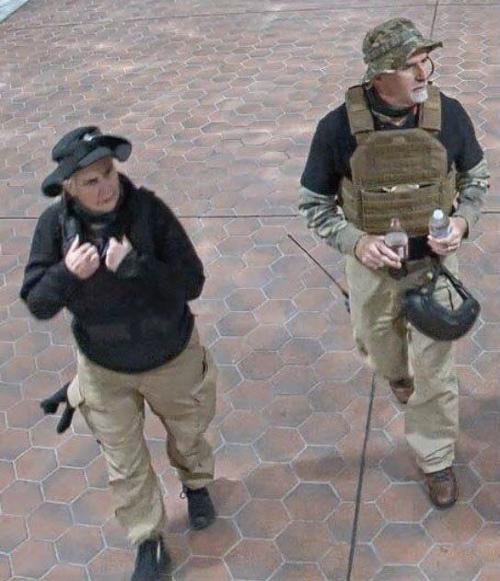 A former High Point police officer from Davidson County is facing charges for her alleged role in the Jan. 6 insurrection at the U.S. Capitol.
Laura Lee Steele, 52, of Thomasville, was arrested on Wednesday in Greensboro. Along with five other people arrested this week, she faces a slew of charges, including conspiring to obstruct the U.S. Congress' certification of the presidential results. According to court documents, she dressed in paramilitary clothing, joined with others in a military-style "stack" formation and forced her way into the Capitol.
She's also accused of destroying federal property. The U.S. Department of Justice announced the charges against Steele and five other people on Friday.
The insurrection on Jan. 6 culminated after months of false allegations, many promoted by former President Donald Trump, that the presidential election was stolen through voter fraud. Thousands of people pushed through Capitol police officers and broke into the U.S. Capitol in an apparent effort to stop the certification process. Hundreds of police officers were assaulted, and five people died.
Steele worked as a High Point police officer, including a period where she was a school-resource officer, and is currently married to Kenneth Steele, who has been assistant police chief for the High Point police department. She also listed herself as a public safety officer for Novant Health on her LinkedIn page, which appears to have since been deleted.
Novant Health Inc. said in a statement that "it does not comment on personnel matters."
"We cannot speak to any legal investigation and refer you to the appropriate investigating party for further comment," the statement said.
While she was a school-resource officer for High Point police, Steele was investigated and cleared in two incidents in which she pepper-sprayed students in 2001. In 1994, she was involved in a car chase that resulted in her patrol car being totaled, according to articles in the News & Record of Greensboro.
It was not immediately known when she left the High Point Police Department.
Officials with High Point Police could not immediately be reached Friday.
The other co-defendants included Steele's brother, Graydon Young, 54, of Englewood, Fla.; Kelly Meggs, 52, and his wife, Connie Meggs, 59, both of Dunnellon, Fla.; and Sandra Ruther Parker, 62, and her husband, Bennie Alvin Parker, 70, of Morrow, Ohio.
Federal authorities had earlier arrested three other people — Thomas Caldwell, 65, of Clarke County, Va.; Donovan Crowl, 50, of Champaign County, Ohio; and Jessica Watkins, 38, also of Champaign County, Ohio. They were also accused of conspiracy in connection to the insurrection, breaking into the Capitol and destroying property. 
All nine defendants belong to the radical far-right anti-government group called the Oath Keepers. The Southern Poverty Law Center said Oath Keepers is one of the largest radical anti-government groups in the U.S.
Kelly Meggs is a self-described leader of the Florida chapter of the Oath Keepers. Steele submitted an application a few days before the insurrection to become a member of the Florida chapter of the Oath Keepers.
In late December, Kelly Meggs wrote in a Facebook message, "Trump said It's gonna be wild!!!!!!! It's gonna be wild!!!!!!! He wants us to make it WILD that's what he's saying. He called us all to the Capitol and wants us to make it wild!!! Sir Yes Sir!!! Gentlemen we are heading to DC pack your s***!!" He later said in the Facebook post that there would be 50 to 100 Oath Keepers there.
Young also arranged for himself and others to be trained by a Florida company that specializes in firearms and combat training, according to the news release.
Steele is the third person from the Piedmont Triad to be arrested in connection to the Jan. 6 insurrection. A Pilot Mountain couple — Christopher Raphael Spencer and Virginia Spencer — were arrested for their alleged role in the insurrection.