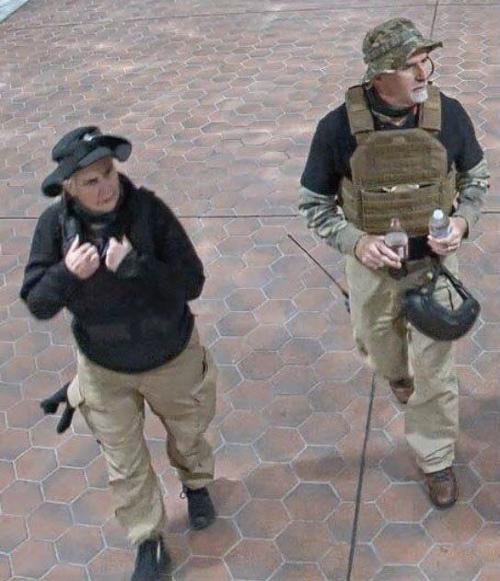 Laura Steele, a former High Point police officer facing charges in the Jan. 6 U.S. Capitol riot, will be released from federal custody but won't be able to leave her house, a federal judge ruled Wednesday.
Steele, 52, of Thomasville, and nine other people, including her brother, Graydon Young, 54, of Englewood, Fla., are facing several charges, including conspiracy and destruction of property, in connection with the Jan. 6 violence at the Capitol.
They're accused of conspiring to break into the U.S. Capitol in an effort to stop the U.S. Congress from certifying the results of the presidential election. Rioters assaulted 139 law-enforcement officers and caused millions of dollars in property damage, federal prosecutors have said.
Steele and her co-defendants were members of the far-right, antigovernmental group called the Oath Keepers. The loosely-organized group recruits from military and law-enforcement. The group believes that elites are trying to strip Americans of their rights.
U.S. District Judge Amit Mehta made the ruling after a hearing Wednesday morning via video conferencing in U.S. District Court in Washington, D.C.
Her attorney, Peter Cooper, argued that Steele doesn't have a criminal record and has lived in Thomasville for 40 years. She is married to Kenneth Steele, a former assistant chief of the High Point Police Department. They have two children, Jacob and Seth. Jacob is a police officer with the High Point Police Department, and Seth plans to join the department soon, according to court documents that Cooper filed.
Cooper also said that Steele had worked as a public service officer with Novant Health since 2014. She had been registered with the Private Protective Services Board since 2018, but that registration was suspended due to the federal charges. According to court documents, she is on leave from her security job.
Cooper said on Wednesday that federal prosecutors had failed to provide convincing evidence that Steele played a significant role in the conspiracy. He also said prosecutors had not presented any evidence that Steele had damaged property or confronted law-enforcement officers.
"She seems to have had the least involvement in a common scheme or plan," Cooper said at the hearing. "It's always about other people. It's not about Ms. Steele."
In fact, Cooper said, prosecutors only have emails that Steele sent just a few days before the Capitol riots, asking to become a member of the Oath Keepers. She touted her 13-year experience as a law-enforcement officer, including being a member of SWAT, court documents said.
Laura Steele was a police officer with the High Point Police Department from 1992 to 2004, when she was fired for conduct toward superior personnel, absence from duty and violation of communications policy. While at the police department, she worked as a school resource officer. Steele was investigated — and later cleared — in two separate incidents where she pepper-sprayed students, an 11-year-old girl and a 16-year-old boy.
U.S. Attorney Jeffrey Nestler said that the lack of evidence only proves how wrong Steele must have known she was. After she and her brother came back to North Carolina, she deleted Facebook posts, call logs and text messages from her phone, Nestler said.
It also appears that she got rid of the clothing she wore, including clothing with Oath Keepers insignia, in the days after she returned from Washington, D.C. Federal agents executing a search warrant on her home could not find the clothing.
Nestler said that's where her experience as a law-enforcement officer came in; she knew how to cover her tracks.
"She knew how to do that and why it was important to do that because of her law-enforcement background," Nestler said.
He also noted in court papers that when her husband texted her on Jan. 6, asking if she was OK and whether she had stormed the Capitol, she didn't immediately answer. She later answered, telling him that she was on the Metro.
Mehta said he was troubled by the allegations against Steele and added that they were serious. He pointed out that her presence inside the Capitol was not a minor thing. She was part of a group of people that broke into the Capitol and caused such a commotion that legislators and Vice President Mike Pence had to be evacuated.
But Mehta concluded that based on the government's own evidence so far, Steele didn't play as large a role as her other co-defendants. And unlike her other co-defendants, she did not make any statements that she was planning to continue the same alleged conduct at other events, he said.
Mehta said in his ruling that Steele will be under house incarceration, meaning she will not be able to leave her house, except for medical emergencies or appointments, court appearances and to talk to her attorney. She cannot have any contact with her co-defendants and that includes her brother. And she cannot have access to any electronic device, including cellphones and computers.
She also cannot possess any guns or destructive devices. Family members, including her husband and her two sons, cannot have guns in the house where she will live.
Her next court date is scheduled in U.S. District Court in Washington, D.C. on April 6.