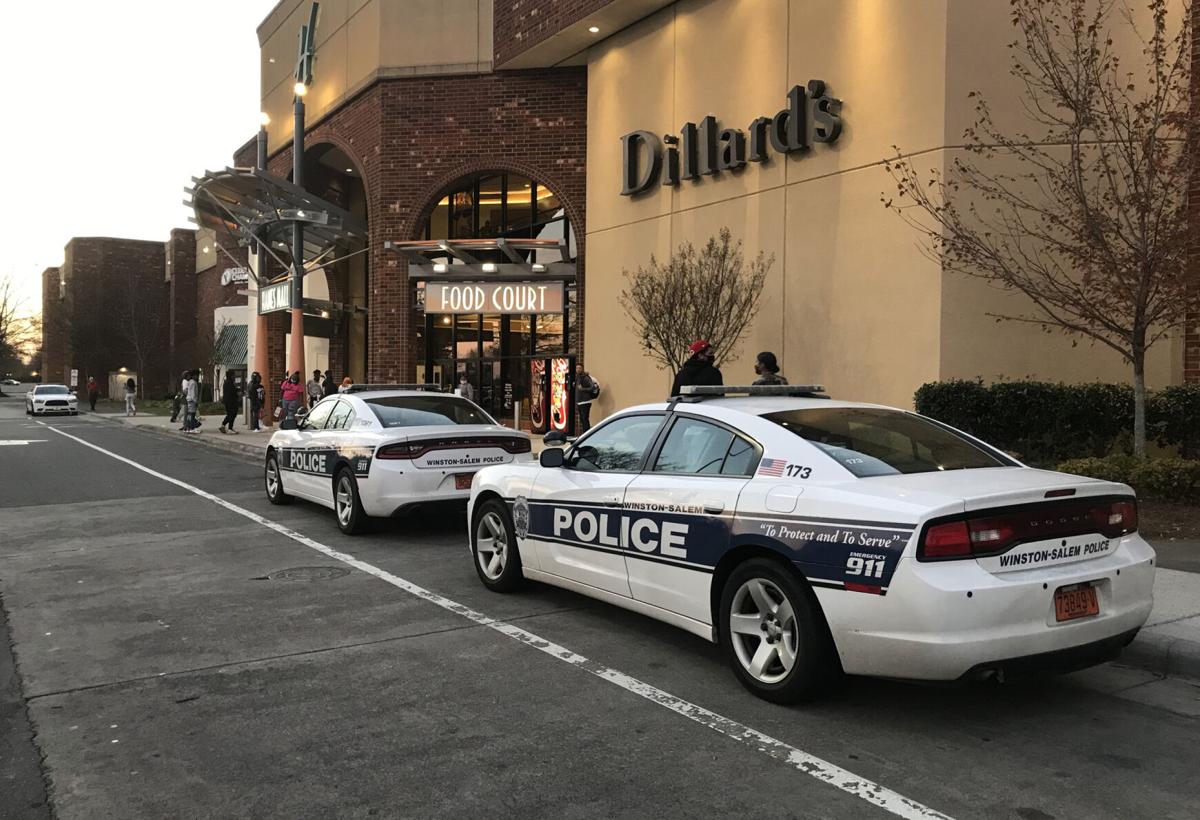 A policy that requires teenagers under 18 at Hanes Mall to be accompanied by someone over 21 years old has been extended to cover all hours of mall operation from Fridays through Sundays, after a Saturday incident in which a man and a woman were assaulted near a mall entrance.
During the incident, which someone posted on YouTube, teenagers can be seen arguing with and then assaulting a man and a woman. Police said the people committing the assault appeared to be in range of 15 to 20 years old. 
Both adults were knocked to the asphalt. Winston-Salem police identified the victims as Greensboro residents LaTina Nicole Melton and Vincent Antonio Pearsall. The teens also stole a purse from the victims, police said.
Police said the man and woman were not seriously injured during the assault, which took place in the parking lot in front of the TGIF restaurant around 6:30 p.m. Saturday.
Lt. John Morris of the Winston-Salem Police Department said officers are working to identify the people responsible for the assault.
Melton said Pearsall is her boyfriend, and that the incident began as Pearsall's 13-year-old daughter and her best friend were shopping and walking around inside the mall.
A group of teenagers was being disrespectful and were threatening to attack the 13-year-old, Melton said. Melton and Pearsall came to the mall to try to get Pearsall's daughter safely away, Melton said.
"We were doing our best to de-escalate the situation," Melton said. "In the beginning it was working, but then some of the ones that didn't have anything to do with the situation went haywire. The guys jumped on my boyfriend, and I was told that 15 minutes prior to this they were jumping another girl. It is a constant problem at that mall."
In the video posted to social media, the assault takes place near an empty Winston-Salem police cruiser that is parked in front of the mall.
Morris said the police car in the video was used by an off-duty officer working security at the mall, as many police officers do. The officers are armed and wear their uniforms, and park their cars in front of the mall as they do their jobs.
"They were inside the mall and had no idea what was going on out there," Morris said. When the call of an assault came in to police dispatchers, a unit on active patrol responded to the scene.
Melton said she was troubled that police were not around during the assault. She said the people who were bothering Pearsall's daughter and who assaulted her and her boyfriend claim to be gang members.
"I am publicly humiliated," Melton said. "I am disgusted. I am angry. I am tired of hearing that our kids can't go anywhere and do anything. I want everyone to try to figure out what it is going to take to get these kids some actual help. If one of them has a beef with somebody, they all have a beef. Being part of a gang, they all stand up and fight together. I don't know why they jump people."
Melton wasn't the only person disgusted: Sheriff Bobby Kimbrough issued a statement over the weekend in which he said he called the assault "a disgusting, deplorable act of violence." 
Although sheriff's deputies were not involved in the incident, Kimbrough said sheriff's deputies would be collaborating with Winston-Salem police to increase patrols in and around the mall from Thursdays through Saturdays through the end of the year.
Morris said Winston-Salem police typically increase their visibility around the holiday shopping season, and began heightened patrols the day after Thanksgiving.
"We increase our visibility around all the shopping areas," Morris said. 
Mall owner CBL Properties, based in Chattanooga, Tenn., said it has updated its unescorted teen policy in response to the Saturday assault. Where formerly teenagers could not be in the mall after 3 p.m. on Fridays through Sundays, they must now have an escort anytime they are on mall property during those days.
For Mondays through Thursdays, the policy is unchanged and requires someone over the age of 21 to be with anyone under 18 after 3 p.m.
"In addition to employing a full-time third-party security provider, we maintain open lines of communication with the Winston-Salem Police Department and will continue to do so," mall officials said in a release. "Our strong relationship with the WSPD includes having additional police coverage during high-traffic times."
Melton said she's written to both N.C. Gov. Roy Cooper and to Winston-Salem Mayor Allen Joines about the troubles at the mall.
"There is a lot that needs to be done with these kids," she said. "This group of kids has been a constant problem."