Winston-Salem police have identified a man who was shot and wounded inside Hanes Mall on Tuesday.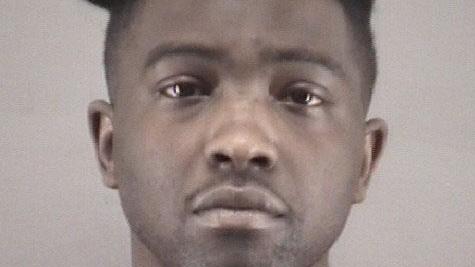 Reginald Dewayne Gray, 26, of East Fifth Street was one of the people involved in the shooting, police said. Gray wasn't charged with firing any of the shots that led to a lockdown of the mall.
He is charged with possessing a firearm as a felon, police said, and was being held Thursday at the Forsyth County jail with no bond allowed.
Gray was arrested after he was released from Atrium Health Wake Forest Baptist Medical Center, police said.
Gray was shot in his upper arm in the gunfire involving another man in a common area of the mall shortly before 2 p.m., police said.
Police did not say where in the mall the shooting took place, but a worker at Hot Topic told a Journal reporter that the shooting occurred near a kiosk outside the clothing store, which is on the lower level of the mall near Dillard's.
Prior to the shooting, Gray and the other man were involved in an argument, police said.
After the shooting, Gray ran from the mall toward the Golden Corral restaurant on the mall perimeter road. Officers found him outside the restaurant suffering from the gunshot wound, police said.
Gray was taken to Wake Forest Baptist with a non-life-threatening injury, police said.
Officers are looking for the other gunman in the incident, which caused panic Tuesday afternoon among the mall's employees and customers. Witnesses said they heard 15 to 20 gunshots.
No bystanders were injured in the incident.
"This investigation is still on-going, and therefore, specific details related to the investigation will not be released at this time," police said in their statement about the shooting.
When asked if police detectives have identified the second shooter, Kira Boyd, a police spokeswoman replied, "I do not have any updates on this case at this time."
The entire mall was closed immediately after the shooting, and portions of it remained closed for about four hours while police gathered evidence.
Sarah Kotelnicki, a spokeswoman for Hanes Mall, issued a statement Wednesday regarding security at the mall.
"Our top priority is to provide a comfortable experience for our guests and employees," Kotelnicki said.
"In addition to employing a full-time third-party security provider, we maintain a close working relationship with the Winston-Salem Police Department including hiring off-duty WSPD officers to patrol during high-traffic times.
"We appreciate their continued partnership as well as their quick response during (Tuesday's) incident," Kotelnicki said. "We evaluate our security procedures on an ongoing basis making adjustments as necessary."
A Journal reporter asked Kotelnicki Thursday about whether Hanes Mall officials have estimated the damages at the mall related to the shooting, whether any stores are temporarily closed, and whether changes are being considered about the locations of kiosks at the mall.
Kotelnicki declined to comment further on Thursday about the mall's security matters.
Boyd said in an email, "The police department has policies and procedures in place based on best practices to respond to incidents such as this. These response procedures are constantly being evaluated to ensure we are providing the highest level of service to the citizens of Winston-Salem."
Before Tuesday's shooting, at least five other shootings have occurred in or at Hanes Mall over the past five years, including a fatal shooting in August 2019.