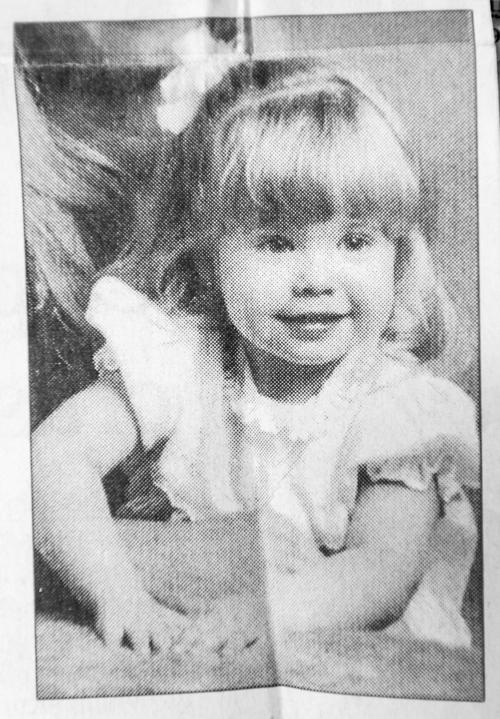 In 2006, North Carolina executed Samuel Russell Flippen for the murder of his 2½-year-old stepdaughter, Britnie Hutton. Nearly 15 years later, Britnie's biological father, John Hutton, is raising questions about whether Flippen really killed her.
Flippen was the last person North Carolina executed. Executions have been put on an indefinite hold due to litigation over several issues, including the Racial Justice Act, a now-defunct law that allowed death-row inmates to challenge their sentences based on allegations of racial discrimination.
Hutton was in Forsyth Superior Court on Wednesday on a motion filed by his attorneys, Andrew Chamberlin, Michelle A. Liguori and Mark Rabil, asking a judge to order the Winston-Salem Police Department, the Forsyth County Sheriff's Office and the Forsyth County District Attorney's Office to turn over their investigative files. In the motion, Hutton's attorneys point to an allegation that Britnie's mother beat one of her other children years after Britnie's death, suggesting that she might have killed Britnie and not Flippen.
The mother, Tina Gibson (also known as Tina Harvell), has previously denied those allegations, and no criminal charges were ever filed against her in either Britnie's death or the alleged assault on her son. A woman answering the number for what is believed to be her business hung up the phone when a Winston-Salem Journal reporter asked to speak to Gibson.
Judge David Hall of Forsyth Superior Court reluctantly granted part of the motion, saying he was concerned about wasting the court system's resources on a case where the defendant has already been executed and that he wasn't sure what kind of remedy he could provide.
"I believe the remedies are limited," he said.
Winston-Salem Police Department had two pages of documents. The police department initially investigated Britnie's death in 1994. There was some confusion about jurisdiction before authorities determined that Britnie died in Clemmons. The case was turned over to the Forsyth County Sheriff's Office. The sheriff's office said it had 50 pages of documents from the investigative file.
Chief Assistant District Attorney Jennifer Martin said in court Wednesday that personnel in her office searched the sixth floor, where the case file would be and could not locate it. Hall said he would not issue an order for a more thorough search, saying he took Martin's word that her office did not have the file anymore.
Chamberlin said Shelagh Kenney, then an attorney for the Center for Death Penalty Litigation, had seen the file on Samuel Flippen in 2011 as part of litigation over the Racial Justice Act. Chamberlin said those files on death-penalty cases were supposed to be kept due to the litigation. It's not clear what happened to the file.
After a brief hearing, Hall ordered the Winston-Salem Police Department and the Forsyth County Sheriff's Office to provide documents from the investigative file to Hutton's attorneys under seal.
After the hearing, Martin issued a statement, saying she respected Hall's decision and that her office extends its sympathy to Britnie and her family.
"Brittnie's murder was especially heinous, atrocious and cruel," she said in the statement. "This office is here to protect the innocent and hold the guilty accountable. That is what occurred in this case."
Christina Howell, a spokeswoman for the sheriff's office, said current Sheriff Bobby Kimbrough was not involved in the original investigation and was not aware that Hutton had concerns. She said the sheriff's office extends its condolences.
"We are willing to meet with Mr. Hutton and share anything with him that we are legally able to disclose," she said. "As always, we are committed to transparency while remaining steadfast in our legal obligations as a law enforcement agency."
Brutal murder
In 1994, Britnie Hutton lived with her mother, Tina Marie Gibson, and her stepfather, Samuel Flippen, in a trailer that Flippen owned in a mobile home park off Peace Haven Road in Clemmons, according to court papers.
At the time, John Hutton had joint custody of Britnie and had planned to pick her up on the morning of Feb. 12, 1994, so that she could spend that weekend with him. Gibson got up around 8 a.m. that morning.
Britnie was already awake, according to court documents. Flippen was still asleep. Gibson woke up Flippen and left the trailer to go to work around 9:30 a.m. Forty-one minutes later, Flippen called 911, saying that Britnie had fallen from a chair and was having trouble breathing. She was taken by ambulance to the hospital, where she died at 10:51 a.m. on Feb. 12, 1994.
Flippen said Britnie had fallen from an 18-inch chair, but an autopsy showed Britnie had blunt-force injuries all over her body, including abdomen, head, back, right forearm and right thigh. Those bruises were fresh and could have been inflicted up to eight to 12 hours before Britnie died. Britnie's pancreas was cut in half and there were lacerations on her liver. The medical examiner, Dr. Donald Jason, concluded that Britnie was punched with such force to cause the injuries to her pancreas and liver. She died of internal bleeding. He said that the injuries to her organs occurred approximately up to one hour before her death, court papers said.
Flippen was charged with first-degree murder. He went to trial in 1995, where a jury convicted him and he was sentenced to death. But the N.C. Supreme Court overturned his sentence because the trial judge failed to include a jury instruction about Flippen's lack of a criminal record. He was retried in 1997 and again sentenced to death. In the second trial, prosecutor Eric Saunders described Flippen as a "low-life sniveling coward" for not admitting he killed Britnie.
Flippen, who maintained his innocence, was executed on Aug. 18, 2006, after his appeals, including to the U.S. Supreme Court, failed. Then-Gov. Mike Easley rejected a clemency petition.
Father seeks answers
John Hutton, who opposed the death penalty for Flippen, said in an affidavit filed with the motion that he has continued to have questions that officials with the Winston-Salem police, Forsyth County sheriff's office and the district attorney's office have not answered.
He said in the affidavit and the motion that prosecutors and law-enforcement agencies did not consult him during the investigation or the prosecution.
"I was not informed during the investigation nor during any of the criminal proceedings of any rights that I had as a victim of the case," Hutton said in the affidavit.
His concerns increased, he said, when he found out about allegations that Tina Gibson, his ex-wife and Britnie's mother, had physically abused a son, who was born after Britnie's death.
Deborah Shaw signed an affidavit on Aug. 13, 2006, that she had babysat the son. One day, during the summer of 1999, the son called Shaw into the bathroom and pulled down his pants. She said he was black and blue from his buttocks to his ankles. When she asked, he said said his mother did it. Shaw said in the affidavit that she contacted his grandparents, who told her that Tina Gibson had whipped her child at a store because he wouldn't stop playing with a toy.
"I believed in spanking children but it was clear to me that spanking would not have caused such bruising," she said in the affidavit. "I was also familiar, based on my experience, with the normal types of bruises and abrasions children had, and (his) condition was not normal."
Flippen's attorneys raised this allegation during appeals to stop his execution, citing it as new evidence. Gibson denied those allegations.
Martin said in court that Tina Gibson was never charged and that both Gibson and her son are doing fine.
Rabil, the director of the Innocence and Justice Clinic at Wake Forest University's law school, said in a separate affidavit that he began working with Hutton after a Winston-Salem police officer approached him at a store. The officer told Rabil that "he was concerned about evidence that was not properly considered or investigated." Rabil said he did not remember the name of that officer.
Rabil sent a letter in August 2018 to then-Sheriff William Schatzman to set up a meeting to discuss the sheriff's investigation into Britnie's death. He later followed up with emails to Lonnie Albright, who was then the county attorney assigned to the sheriff's office, as well as to assistant city attorney Lori Sykes and Martin with the district attorney's office.
In February, Hutton made a written request for records based on his rights as a victim of Britnie's murder. In April, Rabil, Liguori and Chamberlin filed a motion in Forsyth Superior Court.
Chamberlin told Hall that Hutton's request was no different than when a criminal defendant requests records in post-conviction proceedings. Hutton is entitled to those records under state law regarding victims' rights, he argued.
Hall had reservations, pointing to the fact that Flippen was executed. He said he had sympathy for Hutton and his rights as the victim's father but believed that there wasn't a lot he could do to provide relief.
"This is an instance where there was an investigation that is over and closed," he said. "There was a prosecution that is over and closed."