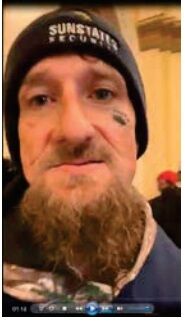 A Pilot Mountain woman will plead guilty to charges in connection to the Jan. 6 U.S. Capitol riot, according to online notes from a hearing in federal court held on Tuesday.
Virginia Marie Spencer, 38, is facing several charges, including obstruction of an official proceeding and disorderly conduct in a Capitol building. Her husband, Christopher Spencer, 41, faces the same charges.
The online notes indicate that federal prosecutors and her attorney, Jose A. German, said they had reached a plea agreement. Details of that plea agreement were not available on the federal court system's online database, Pacer.
U.S. District Judge Colleen Kollar-Kotelly set a plea hearing for Sept. 1.
No plea agreement has been announced for Christopher Spencer, who is proceeding at the moment toward a trial.
Christopher Spencer was the first North Carolina resident to be charged in the Jan. 6 Capitol riot. Federal authorities said he was an enthusiastic participant in storming the building. According to court documents, authorities said Spencer did a Facebook livestream where he is seen encouraging people to kick open the doors of the U.S. House chamber and yelling obscenities as police approached the mob inside an area in the Capitol.
Federal authorities said video showed Spencer in the Crypt at the Capitol, where he was part of a large crowd being held back by police officers. Spencer on the video says the crowd "stormed the Capitol, bro...pushed the cops out of the way, everything...took it over," authorities said.
He's also shown chanting with a crowd, "Who's House? Our House" and "Stop the Steal!" repeatedly. At one point, the video shows Spencer entering the corridor where House Speaker Nancy Pelosi's office is located and can be heard asking where her office is. He never went to Pelosi's office but went with the crowd into Statuary Hall.
Virginia Spencer, according to a criminal complaint, is alleged to have told investigators that she and her husband decided to go to Washington, D.C., as part of a caravan organized by ENoCh, a Twitter personality. The Spencers met up with a caravan but ended up driving by themselves to Washington, where they parked and walked to a rally in support of former president Donald Trump.
Virginia Spencer said that when Trump talked about marching to the Capitol, she and her husband made their way to the building. She said she and her husband were forced into the building by the force of the crowd. They said they left within 15 minutes. Investigators said video footage does not show the Spencers actively looking for a way out. They also said video shows Virginia Spencer using her phone inside the building in what appeared to be an effort to record the events.
She also wore a gray knit cap, a black facemask and a jacket with the anti-gun-control message: "F*** gun control," with the letters F and K formed by weapons positioned accordingly.
Christopher Spencer's next court date is Oct. 8.