A Pilot Mountain woman who took her 14-year-old son into the U.S. Capitol building on Jan. 6, 2021 was sentenced Friday to three months in federal prison and three years of supervised probation.
Virginia Marie Spencer, 38, pleaded guilty on Sept. 9, 2021 to a misdemeanor charge of parading, demonstrating or picketing in a federal building. The maximum sentence for that charge is six months in prison. She also had been facing three other misdemeanor charges — entering and remaining in a restricted building or grounds, disorderly and disruptive conduct in a restricted building or grounds and disorderly in a Capitol building. Those charges were dismissed Friday.
U.S. District Judge Colleen Kollar-Kotelly said she could not comprehend why Spencer, a mother of five who works as a cashier at a restaurant, would bring her 14-year-old son into a U.S. Capitol building during a violent insurrection where rioters were seen assaulting armed law-enforcement officers.
Kollar-Kotelly said she hoped the child was not permanently traumatized by what he witnessed that day.
"It's a complete lack of judgment on your part," she told Spencer on Friday. "I really hope he's alright."
Her husband, Christopher Raphael Spencer, 41, is charged with similar charges. In addition, he is also facing a charge of obstruction of an official proceeding. He has pleaded not guilty. Christopher Spencer was the first person from North Carolina to be arrested in connection to the Jan. 6 insurrection. His next court date is Jan. 13.
Virginia Spencer must report to federal prison by Feb. 25, according to the Associated Press. She also was ordered to pay $500 in restitution.
Spencer was among hundreds of people who stormed the U.S. Capitol on Jan. 6, 2021 in an effort to stop Congress from certifying the results of the 2020 presidential race. They falsely believed that the election was stolen from former President Donald Trump. Rioters assaulted 139 law-enforcement officers and caused $1.5 million in damage to the Capitol building, including broken windows.
More than 725 people from all 50 states and Washington, D.C. have been arrested on charges connected to the U.S. Capitol attack, according to the U.S. Department of Justice.
In court papers, federal prosecutors said Spencer and her husband took their 14-year-old son into the Capitol. They said that in initial statements to FBI agents, Virginia Spencer sought to minimize her involvement, saying that within 15 minutes, they tried to find an exit to get out.
But prosecutors and Kollar-Kotelly said that video evidence contradicts that account. Kollar-Kotelly said the couple spent more than 30 minutes inside the building and passed at least three possible exits.
Christopher and Virginia Spencer also joined several different groups of people within the Capitol. Christopher Spencer live-streamed via Facebook, and Virginia Spencer took selfies with her phone.
At one point, prosecutors said, Virginia Spencer took a phone call and smoked a cigarette.
The couple was part of a group that overwhelmed law-enforcement officers near the Crypt, a large circular room underneath the rotunda. Then they briefly entered the suite of offices belonging to House Speaker Nancy Pelosi before turning away, which Christopher Spencer caught in his livestream, court papers said.
In Statuary Hall, the Spencers joined another group of people outside the House Chambers as they tried to get inside. Members of Congress were inside at the time. Prosecutors said Virginia Spencer was not at the front and was not vocal but the group of rioters chanted "Stop the steal!" and "Break it down!"
Kollar-Kotelly said Virginia Spencer could have spoken up against such activities but she didn't.
Christopher Spencer joined one group, saying "Smile m*****f*****! Smile b****!"
Allen H. Orenberg, Virginia Spencer's attorney, filed court papers in which he argued that Virginia Spencer never planned to go into the U.S. Capitol building and only went to Washington, D.C. to attend a rally and exercise her First Amendment rights to question whether the election was fair.
He also said in court papers that Trump and the media led her to falsely believe that there were problems with the election. He also said that media coverage of the protests in 2020 over the death of George Floyd led her to believe that she could avoid criminal liability.
But Kollar-Kotelly said nothing about Jan. 6, 2021 was peaceful.
"This was an insurrection," she said.
Virginia Spencer apologized for her actions on Friday. Kollar-Kotelly acknowledged that Spencer was remorseful but doubted whether she fully understood the significance of her participation in an insurrection.
Kollar-Kotelly said that Virginia Spencer's participation in what she called an "attack on democracy" was inexcusable and a total disrespect for the rule of law.
"There has always been a peaceful transfer of power," she said. "This is the first time that has been challenged."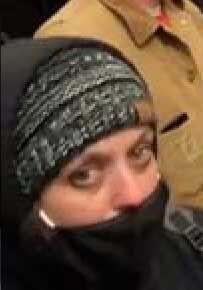 Triad area suspects in the Jan. 6 riot at the US Capitol