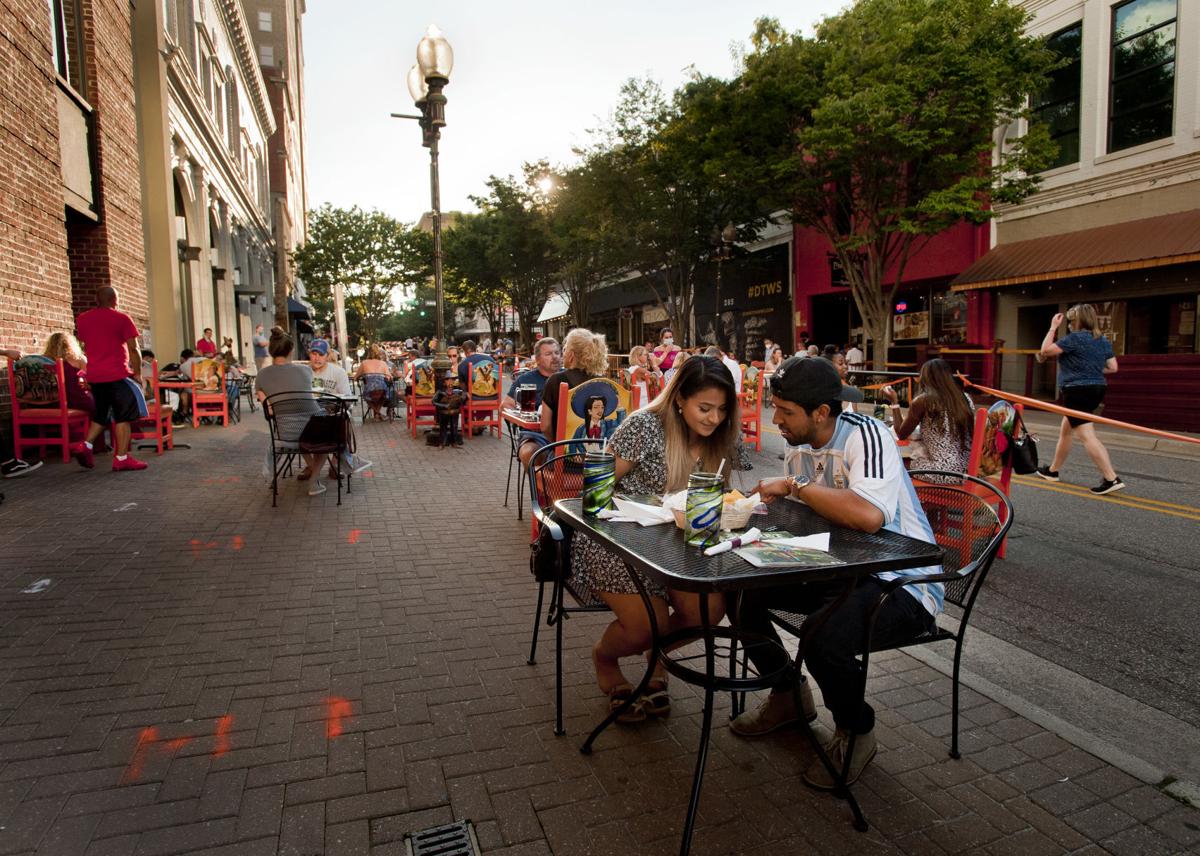 The streets were alive with the sound of clinking forks, spoons, plates and glasses Saturday, as diners celebrated Winston-Salem's first official Streatery event downtown on Fourth Street.
Four blocks of Fourth Street were closed Saturday evening to allow restaurants to set up tables in the street.
The idea — being repeated in cities across the country — came about as a way to help restaurants hurt by COVID-19 restrictions that limit their seating to 50% capacity. Extra seating in the street allowed restaurants to reclaim some lost seats while still maintaining proper social distancing.
The Streatery was organized by the Downtown Winston-Salem Partnership, with cooperation from the city of Winston-Salem. Saturday's event was organized after a trial run of a smaller section of Fourth on July 25.
Saturday's Streatery involved closing Fourth from Spruce to Liberty streets. About a dozen restaurants participated in those four blocks.
"Jeffrey Adams has been slammed," said co-owner Adam Andrews. "I'm happy."
Andrews also had street tables set up at his newer restaurant, Young Cardinal Café, which opened in late February just before the pandemic hit. Young Cardinal usually is open for breakfast and lunch only, but those two mealtimes have seen some of the biggest drops in diners during the pandemic, so Andrews opened for dinner Saturday in hopes of making up some lost revenue.
Just down the street, Lonnie Atkinson, a co-owner of Village Juice Co., was doing the same thing. This was Village Juice's first dinner service. "We just hired a new chef, Niki Farrington, and we're trying out a couple dinner entrees," Atkinson said. "We're a lunch-heavy business, so we've had a big dip downtown. But I love this idea. I think people want to get out if they can do it safely."
Restaurants' tables on the sidewalk and street were cordoned off so that pedestrians were not walking close to tables and diners. And all tables were well spaced apart. In addition, personnel were stationed at all entrances to check that everyone entering those closed blocks was wearing a mask.
"It's very nice, and the weather really cooperated," said Jason Thiel, the executive director of the Downtown Winston-Salem Partnership.
Thiel said that people have been good about wearing masks and following social distancing guidelines.
Souphab Daoheang, the owner of Downtown Thai & Pho, said that the Streatery definitely was giving his restaurant a "bump."
"This is fabulous. Weekdays are so slow," he said. "This helps. Anything helps."
Naznin Nasrin of Mystic Ginger was eager to do the Streatery after having such a good night during the trial run July 25, and she's looking forward to doing it again. "Jason Thiel has been really good about this, and when he asked if I wanted to do it, I said, 'Definitely.'"
Chelsea Hobbs, who stopped to eat at XCaret Mexican Grill & Cantina, said she had not been comfortable eating out much during the pandemic. Hobbs and friend Erica Brown said they felt a little nervous walking through the crowds even with a mask, and they had trouble finding nearby parking, but otherwise enjoyed the experience. "We're tired of being stuck in, so it's good to go out as long as we're eating outside," Hobbs said.
Guillermo Gonzalez and Erica Bennett, who live downtown, said it was "weird" to walk down Fourth Street with all the social distancing, but were happy to enjoy a meal outside Charm Thai. They said it has been equally weird on other nights during the pandemic when restaurants have not been busy. "It's been so quiet downtown," Bennett said.
Wendy Cumberland and her family drove downtown from Clemmons to eat at Mystic Ginger. It was the first time they had come downtown since the pandemic hit in March, and they seemed happy they did. "They've really spaced everything out, and we've seen people wiping down tables and everything," Cumberland said.
Thiel hopes to do more Streatery nights, possibly into September or longer. "It really will come down to the restaurants, and whether they are seeing a benefit. But this block works really well because there's a density of restaurants," Thiel said. "And I think Trade Street could be interesting, because there are opportunities for not just restaurants, but also other retail businesses."
The next Streatery is scheduled on Fourth Street from 5 to 10 p.m. Aug. 15. The DWSP has tentatively scheduled a Streatery for Trade Street, from Fifth Street to Martin Luther King Jr. Drive, for the evening of Aug. 21.
Get local news delivered to your inbox!
Subscribe to our Daily Headlines newsletter.