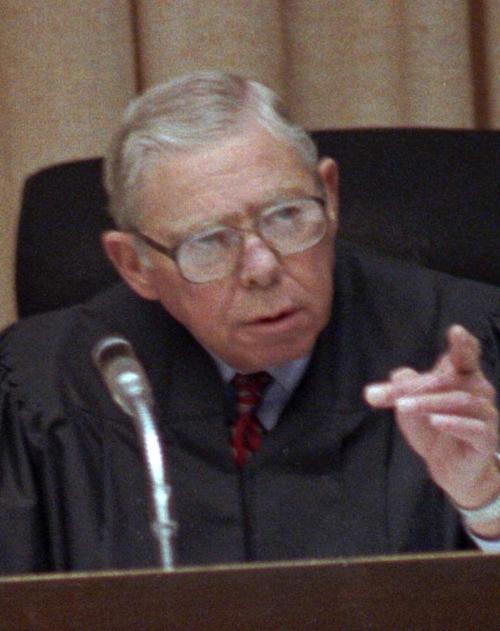 Doug Bland, at this stage in life, should be concerned with life's simple pleasures. His grandchildren. Tee times. Puttering around the house. A honey-do list. Maybe some volunteer work.
Things that fill a retiree's time; some for meaning and purpose, others for sheer enjoyment.
Yet many days, especially in light of recent tragic events where police and race have intersected, Bland finds himself looking back asking, "What if?"
"If we only knew then what we know now," he said echoing a familiar, time-honored lament.
For a week in the autumn of 1993, Bland and 11 fellow Forsyth County residents sat together as a jury, charged with deciding whether 39-year-old Paul Lyons should live or die after convicting him for shooting to death a police officer who, following orders, had used a battering ram to knock down an apartment door during an ill-advised raid.
"Whether it was police misconduct or just ill-conceived, it was totally inappropriate to do over $5 bags of marijuana," Bland said. "A police officer was killed and a man is spending the rest of his life in prison.
Differing accounts, testimony
By all accounts, Officer Bobby Beane was a well-liked, respected senior patrol officer. He'd been on the job for 15 years when he was instructed to be one of the first cops through a door to an apartment near Kimberley Park on April 23, 1993.
Beane, 40, was a big man and therefore the logical choice to smash down the door to Lyons' apartment.
Police had been tipped off to Lyons' by a 17-year-old informant busted with a handgun and a small amount of marijuana. Roll on the dealer, narcotics cops said, and we'll make it go away.
"In exchange for having the charges against him dismissed, (the 17-year-old) told officers he had purchased marijuana from the defendant several times," reads a 1995 decision by the N.C. Supreme Court denying Lyon's appeal.
The day before the raid, police gave the 17-year-old $30 and sent him back to the apartment on Kennerly Street to buy more weed. Once they confirmed it was marijuana, police obtained a search warrant and spent less than 30 minutes planning a raid, the court decision reads.
Seconds after the door came down, Beane was shot in the head. He died just inside the apartment.
"It was just a horribly tragic event," said Tom Fagerli, one of the attorneys appointed to defend Lyons on a first-degree murder charge. "Everybody knew Bobby Beane. He was such a nice guy. A lot of the people involved, including police officers, were never the same after that."
Several of those at the heart of state v. Lyons have died or moved away. Lyons passed away in prison in 2011. Assistant district attorney Eric Saunders, an aggressive, no-holds barred, old-school prosecutor, died in 2012. Presiding Judge Julius Rousseau died in 2019.
Still, records were preserved for Lyon's appeal and summarized by the state Supreme Court when it was denied. And some things just can't be forgotten.
One of those was the conflicting accounts about how police announced themselves at Lyons' door.
During the trial, individual officers testified that it was quiet enough in Lyons' apartment to hear men's voices right before police yelled "Police Search" and smashed the door open. Another witness, the Supreme Court noted, testified that he'd heard a man say "I'm tired of y'all trying to bust my house. Get the f—- away from my door."
Others, including Lyons himself, his brother and a third man with Lyons in the apartment, testified that they'd been watching an NBA game, playing loud music on Lyons' stereo and never heard police identify themselves.
And because Lyons had been robbed the week before, he bought a revolver and was afraid of a recurrence.
"The witness that was with him, Arthur Parks — I believe he's dead, too — said Paul's stereo was on loud," Fagerli said. "Young black men smoking reefer — that's what they were doing — sitting there on a Friday night not playing music? The (police) testimony, as I recall, was that there was no music being played.
"That's beyond ridiculous. Give me a break."
In the subsequent search of the apartment, police recovered about two-tenths of an ounce of marijuana, other items containing crack residue, a shotgun and a .38-caliber revolver among other items.
During his trial, Lyons testified that he was afraid he was being robbed again and that he'd fired as a warning.
"I didn't know you were policemen," he said.
Fagerli, in Lyons' appeal and in an interview last week, also said that the witness' statement about hearing Lyons say that he was "tired of y'all" was open to scrutiny.
"That witness was two blocks away … and the state's own evidence had an officer on the back landing say he didn't hear it," Fagerli said. "I find that to be incredible."
Then-Petty Officer Willie Lyons, another of Lyons' brothers who served in the U.S. Navy, struggled with discrepancies and the verdict as well.
"Within my heart, I don't think he killed that police officer intentionally," Lyons told a reporter in 1993. "I wear a uniform and people in uniform make mistakes when they don't follow procedure or deviate from the way things are done. ... Many times when you deviate from standard procedure, people get hurt."
Nonetheless, the state Supreme Court cited evidence of misfired rounds in Lyons' .38-caliber revolver and the witness' statement about Lyons saying he was tired as reasons to uphold the conviction and life sentence.
'On my mind for a long time'
Jurors had no doubt that Lyons had shot Officer Beane.
The evidence was overwhelming, and the only true task for lawyers to argue — and jurors to decide — was over intent and how to punish Lyons.
Because it involved the shooting death of a police officer, prosecutors pushed hard for first-degree murder and the death penalty.
The defense believed the search to be flawed and poorly executed. A conviction on a lesser charge of second-degree murder, with a chance at parole years later, might have been more appropriate.
Those arguments came to the fore in the jury deliberation room — hours that, to this day, still eat at Doug Bland, retired from Wake Forest University after 43 years.
"It's been on my mind for a long time," he said. "And with these cases of police misconduct — Louisville where police barged in and shot that woman in her home and that trial in Minnesota — it all came back."
(Those cases specifically would be the March 2020 shooting death of Breonna Taylor in her apartment during the botched execution of a so-called no-knock warrant and the trial of Officer Derrek Chauvin for killing George Floyd last May.)
Given that, it would be natural for a thoughtful, introspective man to think back to a momentous week when he and 11 of his peers were selected for jury duty.
The events are not exactly alike; no two are. But there are similarities too great to ignore.
Lives were lost and others ruined while waging a war on drugs that for too long has targeted Black Americans and helped breed the festering mistrust that exploded into nationwide demands for increased police accountability.
"A black guy killed a white police officer in Winston-Salem," Bland said. "Several (jurors) wanted (Lyons) from the get-go. It wasn't thoughtful, and it wasn't open-minded."
A guilty verdict for first-degree murder came back fast, a matter of hours. But the sentencing phase — determining whether Lyons would live or die by lethal injection — was more difficult.
"So many of them were concerned that he would be let out on parole," Bland said. "But nobody who kills a police officer would ever get out. You know how those parole hearings would go."
Bland and a few others had trouble overlooking whether loud music was being played or if police warnings were heard. A door was smashed open and shots fired in a matter of seconds, so questions about premeditation were natural, too.
"It was never a question of innocence," Bland said. "But the level of anger and resentment was stunning to me. The pressure inside that room was incredible. They wanted this guy hung. It was revenge. Pure and simple."
Jurors couldn't reach a unanimous decision — a hung jury — so Judge Julius Rousseau imposed a life sentence, the only option available.
After bailiffs led Lyons from the courtroom, Rousseau sharply criticized police actions.
"It is very disturbing to me that at the briefing the officers had that night that the officers ... planned to go to the apartment, announce 'Police Search,' then knock the door down with a 75-pound battering ram without waiting any appreciable time," Rousseau said. "And this — I thought — all based on the information of a 17-year-old informant, a 17-year-old boy who had been caught for the possession of drugs. And the officers say 'Well if you have some information about somebody selling, we'll let you go.'
"And even if there had been 10 pounds of marijuana in that apartment, it's not worth the life of one police officer."
All these years later, the judge's strong words still stand out to Bland. He reflects on them to this day.
"I just don't understand why (police) couldn't wait until he left," he said. "Why not arrest him when he went into a 7-Eleven or something?"
Another puzzling aspect, especially when compared to today's climate, was the lack of a public outcry.
Many, if not most, residents just accepted police actions without question or complaint. The introduction of body cameras and cell-phone video has changed the landscape, forcing questions about accountability to the fore.
Without the wide release of video showing Chauvin kneeling on George Floyd's neck for nearly 9 minutes would we even be talking about a murder trial?
Contemplating that and other larger societal questions has caused Bland renewed heartache during a time when he deserves to be thinking about slices or duffed putts.
"As difficult as this has been, I still view jury service as the highest act of citizenship," he said. "I am glad I did it. It was my civic duty."
That said, those heated deliberations more than 25 years ago left memories that will never fade.
"I just regret that I wasn't stronger," Bland said. "I felt great sympathy for (Lyons) and that police officer. It was a tragedy on all levels from the beginning."