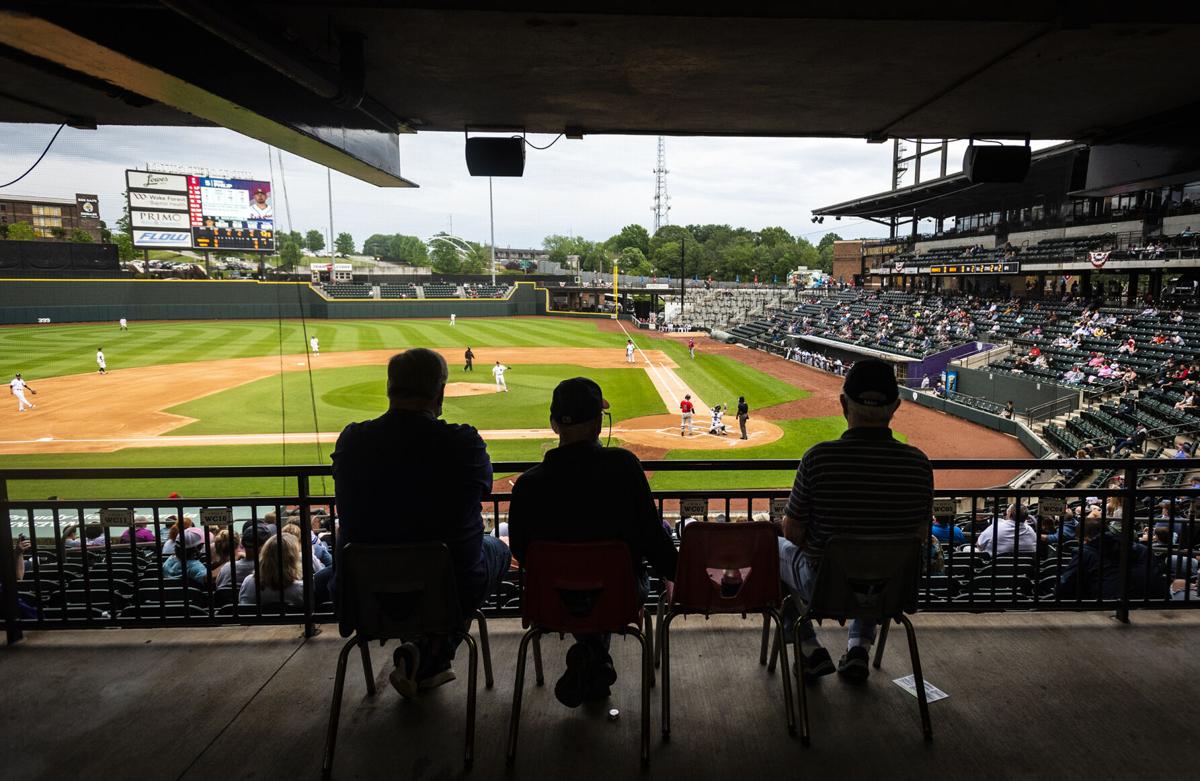 In the event that you didn't spend an inordinate chunk of your Monday looking in on a meeting of the City Council Finance Committee — a safe bet — the highlight reel indicates actual dissension in the ranks.
Specifically as it pertains to the local baseball franchise coming to elected officials looking for a cut in the payments it makes to lease the downtown ballpark.
"It's the gift that keeps on giving," Council Member D.D. Adams said Monday. "Maybe it's me, but I don't have a warm fuzzy about this. We are all hurting. We are all trying to get back to some sense of normalcy."
In this town, when it comes to the minor-league team, normal is the franchise playing hardball with city officials — a history dating back to the construction of the ballpark that clearly has left a sour taste on the palates of those who ultimately vote to make the concessions.
What choice do they have?
One-sided negotiations
A brief recap of the history of negotiations between team ownership and the city, cited nearly from memory, goes something like this:
In 2007, to great fanfare, city burghers — with a bad case of stadium envy — agreed to contribute about $12 million to the original $22.6 million cost of building the park.
An entire neighborhood, populated mostly by renters and the working poor, had to be razed. But hey, the poor usually bear the brunt of such "progress." The land they live on is cheaper.
A divorce, literal and figurative, created a rift in the ownership of the ballclub. That and a cratering economy brought construction to a grinding halt.
A one-sided negotiation over the next move resulted in the city agreeing in 2009 to fork over another $15.7 million for a stadium with a vastly swollen $48.7 million price tag.
What choice did city officials have at that point?
A neighborhood had been bulldozed, and a giant mudhole grew next to Business 40. What could the city do with that? Hold monster truck rallies?
The stadium got built, just like we all knew it would. The team was rebranded as the Dash and hired a management company to run the business side.
Hurt feelings were papered over, and the band played on. The stadium, then BB&T Ballpark, was a lovely addition that afforded spectacular views of the downtown.
And as forecast, development indeed came to the area — just not at the pace or scale drawn up in those rosy renderings.
Instead of office space, Broad Street is fronted by a storage facility that partially blocks the view of downtown. That mixed-use retail/residential may yet come to pass — we'll know more when the latest round of high-dollar apartments is complete — but it's nowhere near what's happened on the other side of downtown anchored by the research park and the far more reliable Wake Forest University with all its various off-shoots.
Lasting grudges
The first Band-Aids were ripped off old wounds in February when the council approved cutting the team's annual lease payment from roughly $1.55 million to $750,000 and eliminated an annual ticket surcharge worth $175,000 to the city.
That couldn't be helped. COVID-19 wiped out an entire season, and limits on crowd sizes bled over into 2021.
Major League Baseball, the overlord of sanctioned minor leagues, decided COVID provided enough cover to set in motion a game of musical chairs. One quarter of the 160 minor league clubs would be eliminated.
Leverage, in other words, to be used against recalcitrant cities.
"We had no choice," said Mayor Allen Joines after that deal was approved.
This next round surfaced to the public Monday, and the Band-Aid was ripped completely off. The team's lawyers — it's always lawyers — asked for more lease changes including a further reduction in payments for games limited to less than 80% capacity.
(Major League Baseball, which signs off on the Dash's lease, is pushing for more control over decisions impacting the stadium.)
With the state restricting attendance to 50% of capacity at least through June 1, it's not unreasonable to ask for a reduction in lease payments. Less money coming in means less that can be paid out.
But asking a second time in a matter of months is unseemly. And given the history of "negotiations" between club and city, it's not surprising that some of this current batch of elected officials harbor grudges.
"I thought we were operating in good faith," Adams said Monday.
Taxpayers have been reassured since the first bailout in 2009 that all is well because the city would own the stadium and lease payments would cover the note.
But remember, at one time we owned the Lawrence Joel Memorial Coliseum. And when that building needed upgrading and maintenance, as happens with age and use, the Joel was sold to Wake Forest University in 2013 for $8 million.
If Major League Baseball revolts and Dash bolts, then what? Think Wake wants another stadium?
Despite the grumbling at City Hall, when the time comes to capitulate, expect council members to do just that.
What choice do they have?