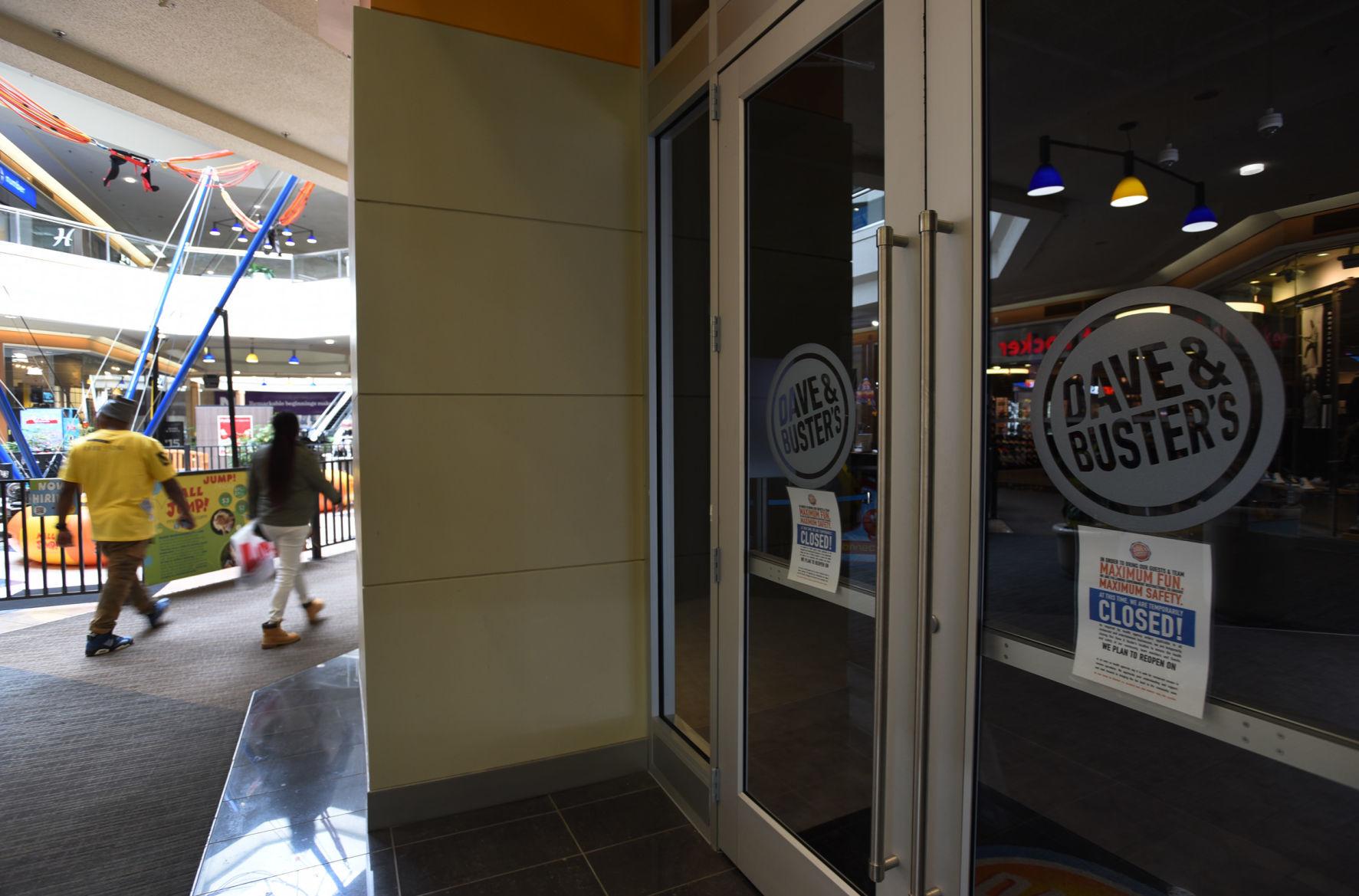 Dave & Buster's filed a WARN Act notice Tuesday with the N.C. Commerce Department for its location at Hanes Mall. The Dallas chain said job cuts affecting 79 employees would become effective Nov. 8.
The chain said that it does not plan to permanently close the local restaurant.
"The company intends to rehire for impacted positions when COVID-19 pandemic and economic conditions permit," according to the notice.
A company files a WARN notice to provide employees with a 60-day warning their jobs will end. Employees typically will receive 60 days' worth of wages and benefits as part of the notification.
The notice triggers Commerce officials to provide workforce and job training assistance to affected employees.
Similar to WARN notices filed by other restaurant chains, Dave & Buster's said it is converting the status of the affected employees from furloughed to permanently laid off.
The local restaurant closed on March 16, and the chain has chosen not to reopen during a phased reopening approach taken by Gov. Roy Cooper. It currently allows restaurants to operate with 50% indoor capacity.
"We did not foresee how significantly, and for how long a time, the pandemic and related government lock down orders would impact our business," the company said. "We are notifying you of this decision as soon as it was practicable to do so, taking into account the great difficulties we face in projecting staffing needs under these unprecedented circumstances."
The chain also filed notices for its restaurant at Carolina Place in the Charlotte suburb of Pineville, affecting 58 employees, and at its Cary Towne Center site, affecting 92 employees.
The company said in its second-quarter earnings report, issued after the stock market closed Thursday, that it had reopened 84 locations in 27 states by June 30 and 89 by Wednesday. It has 138 locations in its North American portfolio.
It told analysts during a conference call that it had to close or re-close nine locations during the second quarter.
Those stores are operating under reduced hours and capacity limitations "as dictated by each locality, new seating and game configurations to promote social distancing, a temporarily condensed food and beverage menu, and extensive incremental cleaning and sanitation procedures to protect the health and safety of guests and team members."
"In terms of future store reopenings, we are now forecasting we will reopen all of our remaining stores before the end of December, barring any additional delay due to COVID-19 resurgence, although state and local reopening timelines are inherently uncertain," chief executive Brian Jenkins told analysts.
"As for the cadence of those remaining reopenings, we continue to expect our 11 New York and 16 California stores to be among the last to reopen. These 27 stores represent over half of our remaining openings and about 20% of our total store count."
The company reported second-quarter revenues of $50.8 million, down 85% from $344.6 million a year ago.
It reported a net loss of $58.6 million, compared with net income of $32.4 million a year ago.
Hanes Mall presence
Dave & Buster's opened at Hanes Mall with great fanfare in May 2019, taking 30,200 square feet on the lower level of the mall next to the shuttered Sears store.
Local Dave & Buster's management said the restaurant would have 232 employees and nine managers at full capacity. It listed a dining room seating capacity of 386 and an overall capacity of 1,666.
The local Dave & Buster's mixed more than 11,000 square feet of out-sized arcade-style games with a restaurant and sports bar. The space also features 40 large-screen TVs topped by two 120-inch displays.
The retail optimism around a Dave & Buster's at Hanes Mall was because it was "positioned around multiple features, providing a unique destination option for consumers that might not normally be planning a trip to the mall," said Roger Beahm, executive director of the Center for Retail Innovation at the Wake Forest University School of Business.
However, having customers in close proximity, whether playing video games, watching sports events or dining, became challenging with pandemic social distance guidelines.
Jenkins told analysts that "the mall situation is a bit tough, candidly," in terms of second-quarter financial performance.
"Our mall locations are about 7 percentage points lower than non-mall stores" when it comes to comp revenue.
"So we're definitely seeing a slower recovery, which I think is telling the mall recovery somewhat. So that's what we're seeing right now.
"Markets where we see lower COVID case counts tend to perform better,"Jenkins said. "We have tended to perform better in stores that are in tourist markets or in the coastal areas. A lot of folks are sort of flocking to those areas."
Jenkins said that while Dave & Buster's had been considering pre-pandemic opening smaller locations, "this is one time where having large square-footage stores is helpful as it relates to social distancing."
"We have a lot of capacity. And as we've said in the past, our utilization rate of the box is lower than we would like it to be and that's why as we think about future store development, have been discussing sizing down our stores.
"So, by and large, the capacity constraints that we see aren't causing huge headwinds for us."
Jenkins said the company is re-opening a select number of restaurants for food and beverage only, including at Concord Mills, which is currently closed on Mondays and Tuesdays and open on limited hours the rest of the week.
"In general, we're 60%-plus of our revenue comes from the arcade," Jenkins said.
"The food and beverage business alone, that is a struggle for us. So we're doing it very nimbly in Islandia, N.Y. We have one other one in Concord, but we don't view that as a meaningful opportunity for us to get to a good place without the arcade."
Jenkins acknowledged that consumers have become accustomed to watching sporting events at home during the pandemic.
"The reality is ... we really don't know what demand is going to look like for kind of in-store watch experience," Jenkins said.
"So whether we're going to be able to drive people in to watch sports on our great assets is a question mark. Let's be candid here. That said, we have built a great asset that we're going to lean into several things, and this is one of them."
Other restaurants
Several restaurant operators or chains that have filed layoff notices affecting Triad locations.
On Aug. 14, the operator of six restaurants at Piedmont Triad International Airport warned it could eliminate the jobs of up to 42 furloughed employees on Oct. 15 if business does not rebound by that date.
HMSHost, based in Bethesda, Md., began providing services in May 2016 as part of a 10-year contract with Piedmont Triad Airport Authority. It planned to have between 65 and 70 employees. Among its PTI offerings is the ACC American Café.
The company filed a similar notice affecting 177 jobs at Raleigh-Durham International Airport.
Kevin Baker, PTI's executive director, said Aug. 14 he had not been given any indication by HMSHost that the company will stop operating after the cuts.
On May 5, the restaurant chain that owns and operates Aussie Grill, Bonefish Grill, Carrabba's, Fleming's and Outback filed 65 WARN notices affecting a combined 4,184 employees in North Carolina.
The notices include three restaurants in Forsyth County, six in Guilford County and one each in Alamance and Watauga counties. Altogether, 732 employees have been affected at those 11 restaurants.
After operating via takeout and delivery orders for about two months, the local restaurants resumed serving patrons at 50% indoor capacity around May 22 after Cooper implemented Phase Two of the reopening plan.
On April 8, Hooters of America LLC filed WARN notices to say it had eliminated 416 jobs at 14 corporate-owned N.C. restaurants. That includes 30 employees at each of its Burlington and Greensboro locations.
The chain also resumed indoor dining at 50% indoor capacity around May 22.
---
PHOTOS: Dave & Buster's in Winston-Salem, pre-pandemic
Concerned about COVID-19?
Sign up now to get the most recent coronavirus headlines and other important local and national news sent to your email inbox daily.