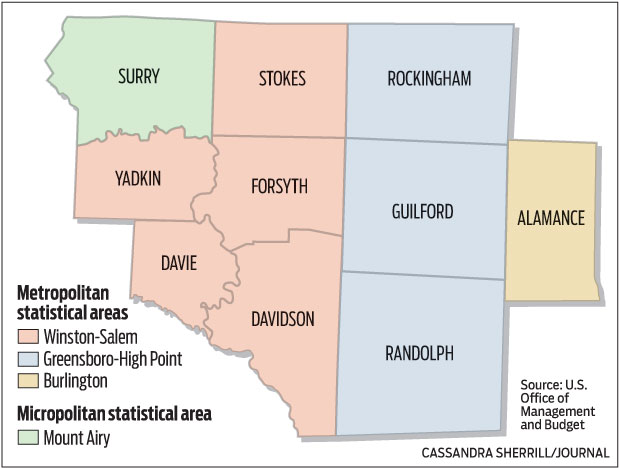 Davidson County, slide on over: You are the latest member of the Winston-Salem metropolitan statistical area.
The U.S. Office of Budget and Management has grafted the county in with the Davie, Forsyth, Stokes and Yadkin economies. The notification was made last week.
The agency has the role of classifying statistical areas that other federal agencies use to gather U.S. Census data.
The latest change is based primarily on 2010 Census data and reflects the increasing urbanization of bedroom rural counties, according to Anne Edwards, director of data and information services for the Piedmont Triad Council of Governments.
Although some federal data already reflect the MSA change, Edwards said it will take until late this year or early 2014 before the shift is noticeable in most federal and state data, such as the monthly unemployment rate.
"The inclusion of Davidson confirms anecdotal evidence we see that new residential growth and the plans for a new high school in northern Davidson County are related to the widening influence of Winston-Salem's economy," said Bret Marchant, director of business and economic development for the Winston-Salem Chamber of Commerce.
"It also reflects what all of us here already know – that our true labor market expands beyond the city and county lines and throughout the Piedmont Triad and Northwest North Carolina."
The addition offers several interesting economic twists.
Perhaps the biggest pro to adding Davidson and its population of about 163,000 is that it helps the Winston-Salem MSA resurface in economic rankings and listings that focus on the nation's top-100 metro regions. It also would give the MSA a higher presence on those rankings that already include it. That might bring the area more to the attention of companies looking for sites.
At 640,595 residents based on 2012 Census data released today, Winston-Salem MSA would vault from 105th to 81st, ahead of Cape Coral-Fort Myers, Fla., and just below Syracuse, N.Y. By comparison, Greensboro-High Point MSA is 73rd at 723,801, sandwiched by Columbia, S.C., and Sarasota and Bradenton, Fla.
Davidson County Manager Rodney Hyatt said he did not have any indication the MSA change was coming.
"It would have been nice to have some say in this decision, but you have to be willing and prepared for change, and we certainly are," Hyatt said. "You could say the county has been pulled in the direction of Forsyth and Guilford economically and with transportation issues."
A federal geographic definition affected by 2010 Census data has Thomasville in the High Point urban plan and Lexington, Wallburg, Welcome and Midway in the Winston-Salem urban plan. Because there are more people from Davidson County in the Winston-Salem urban plan than in the High Point urban plan, the county as a whole was placed in the Winston-Salem MSA, Edwards said.
The other main factor in determining MSA listings is commuting patterns from Davidson County, where 15,722 residents go daily into Guilford County for work while 13,382 go daily into Forsyth.
The 2004 splitting of the Triad, conducted by the same federal agency, divided what was once the nation's 36th-largest MSA. It affected some federal funding levels and sources, such as Medicare reimbursement to hospitals, and separated a region already struggling to cooperate economically.
Hyatt said there are some pros and cons to inclusion in the Winston-Salem MSA.
Davidson County loses its niche as one of the nation's top micropolitan areas for corporate economic projects. It has been ranked consistently in the top five nationally in recent Site Selection magazine listings.
"Our ability to market Davidson, Lexington and Thomasville has been very successful, and it is a part of our identity we would have liked to have retained," Hyatt said. "We're not sure how the new relationship will affect planning and coordinating with our neighboring counties on all sides of Davidson.
"But being in a top-100 MSA could help put Davidson more on the map for retailers and other companies who have a formula for where they want to locate or expand operations."
Allen Joines, Winston-Salem's mayor, said Davidson County is a welcome addition. "It has been a strong economic development player and should help boost our area's job creation," he said.
Davidson consistently has had a higher unemployment rate than the other counties. Davidson's rate was 10.1 percent in December, compared with Davie (8.2 percent), Forsyth (8.6), Stokes (8.4) and Yadkin (8.9).
Gayle Anderson, president and chief executive of the Winston-Salem chamber, said the population gain "is a much bigger plus than the slightly higher unemployment rate Davidson has, which will improve over time."
With the change, the Triad contains three MSAs: Burlington, representing Alamance County, and Greensboro-High Point, representing Guilford, Randolph and Rockingham counties.
Those counties, along with Caswell, Montgomery and Surry, comprise a 12-county Combined Statistical Area that reflects a Triad that most residents recognized. However, CSA data seldom are used by companies and agencies measuring the Triad because federal agencies prefer MSA definition.