The state's next distribution round of COVID-19 vaccine drew heated criticism Friday from two of the Triad's main healthcare systems.
Carolinas Medical Center in Charlotte, the largest hospital in the Atrium Health network, is scheduled to receive a total of 35,225 first doses of Moderna and Pfizer vaccine from the N.C. Department of Health and Human Services.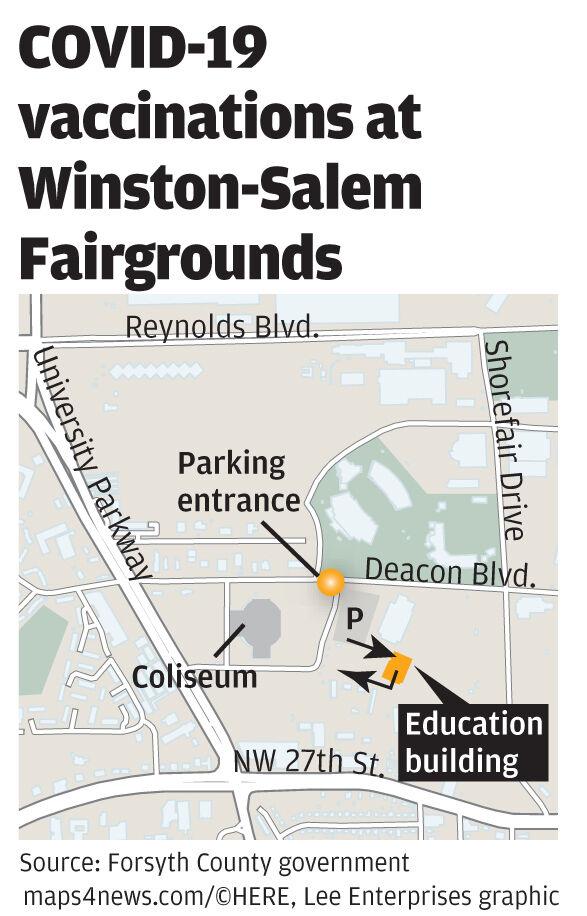 Atrium plans to provide at least 16,000 doses through Sunday at its mass-vaccination site at Charlotte Motor Speedway. That represents 27.7% of DHHS' statewide allotment of 127,125 for next week.
Meanwhile, the systemwide first-dose total for Novant Health Inc. was lowered from 5,325 this week to 5,075 next week. Forsyth and Presbyterian medical centers will each receive 1,950 first doses of Pfizer.
"That number is a disappointment and insufficient for the patients and the communities that we serve," Dr. David Priest, a Novant infectious disease expert, said Friday.
"We understand there is a limited supply. What we don't understand is how the gap in allocation numbers can be so wide between healthcare systems."
Wake Forest Baptist Medical Center remained the same at 2,975 first doses systemwide, while Cone Health went from 975 first doses this week to none next week.
Cone responded by informing 10,400 individuals that it will have to reschedule their first-dose appointment.
The DHHS decision did not affect the distribution of 975 second Pfizer doses to most large hospitals.
Novant 
The level of irritation with the distribution prompted Novant officials to appeal directly to Gov. Roy Cooper and Dr. Mandy Cohen, the state's health secretary.
"Several health systems expressed their concerns over the lack of a transparent, predictable and equitable distribution of vaccine," said Megan Rivers, Novant's director of public relations.
"Gov. Cooper acknowledged the problem, but no solutions were offered, nor was there a commitment that a solution would be forthcoming."
Novant still plans to launch Monday a mass-vaccination site in the former Sears department store in Hanes Mall.
Novant had hoped to receive enough doses from DHHS to support providing up to 7,000 doses each weekday at the site as part of a goal of 95,000 doses per week systemwide.
Both Atrium and Novant announced last week plans for 1-million vaccination initiatives through those its respective mass-vaccination sites.
Wake Forest Baptist, which was acquired by Atrium in October, has not established a planned mass-vaccination site in Forsyth.
"We want to be clear, Novant Health supports all healthcare systems and their mass vaccination strategies," Rivers said.
"We simply want to provide our patients access to these vaccines, which equal hope for the communities we serve. For many, it is their last hope."
Cone 
Cone said in a statement that there is enough vaccine to fill appointments through Monday at Greensboro Coliseum Special Events Center.
Cone said affected rescheduled individuals will be placed at the top of the Cone vaccination waiting list.
Individuals with appointments to receive their second dose will be kept as planned.
"We are deeply disappointed that we are forced to delay these essential vaccinations," Cone chief executive Terry Akin said.
"In order to maintain an aggressive vaccination strategy, we need predictability and regular vaccine shipments from the state as originally promised."
Cone said DHHS "assured Cone Health and other health systems that if the Jan. 25 goal was met, future vaccine shipments would be adequate to cover the following week's scheduled appointments.
"Completely contrary to the state's prior commitment, we were shocked to find out late last night that Cone Health's allocation for next week is zero, Akin said.
"As a result of the undependability of the vaccine pipeline from the state, Cone Health will no longer schedule vaccinations until vaccine is on hand."
DHHS 
DHHS said in a statement Friday that its decision to emphasis the Atrium mass-vaccination site at Charlotte Motor Speedway comes primarily from viewing those efforts as a way to address a backlog of vaccine not being put to use.
"As a result, many providers are getting small allocations or zero allocations for the week of Jan. 27," DHHS said.
"We know this is causing pain among providers who did an incredible job working to vaccinate residents quickly."
DHHS said it has "indications that the federal government might base future allocations on the supply states have on hand."
What appears to be an area of continuity between the Trump and Biden administration is a focus on shifting doses toward states being more efficient with distribution and vaccinations, and away from those that are lacking.
"Our state deserves a distribution process that is No. 1, not No. 38, and the health systems can make that happen if we are given the opportunity," Rivers said.
Cohen said Thursday she is encouraging healthcare systems and county health departments to use up all their first-dose vaccine supplies before their next allotment arrives.
"We have told them that what they are getting now is what they should expect to get in the future," Cohen said.
The mass-vaccination effort at Charlotte Motor Speedway, and one planned for Bank of America Stadium in downtown Charlotte, are ways for DHHS to rapidly distribute and vaccinate individuals.
"As long as we are getting such a small amount of vaccine as a state, there are going to be challenges and shortages as we try to ensure equitable access to vaccine, while getting shots into arms quickly," DHHS said.
"We understand this is hard for providers who are doing everything right."