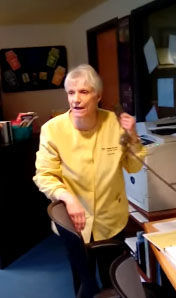 A disturbing encounter between a female volunteer at Wake Forest Baptist Medical Center and a man and his two children has been posted on YouTube, prompting an apology from the hospital.
The nearly 7-minute video set near the hospital's family resources center was uploaded Thursday by Isaiah Baskins. It appears to have been shot with a phone or tablet. The video had been viewed more than 20,000 times late Friday.
Baskins could not be reached for comment Friday to provide additional context of the encounter. In the video, he claimed he and his children were victims of racism, including being called the "n-word" before he began recording.
Baskins said in the posting his daughter had an appointment at the hospital.
Early Friday afternoon, Wake Forest Baptist officials posted an apology to Baskins in the comment section of the video post on YouTube.
"We deeply regret and apologize for this behavior demonstrated by our volunteer in this video," the post read. "We are dedicated to providing an inclusive environment for all, with respect, dignity and compassion. We are taking action, and this individual is no longer a volunteer with our organization.
"If they haven't already, one of our senior executives should be reaching out to you shortly. Again, we apologize for this appalling incident."
The system made similar comments in a statement to the Journal.
"Wake Forest Baptist Medical Center is shocked and appalled at the behavior demonstrated by our volunteer in this video. This behavior does not reflect our identity or our values. This individual is no longer a volunteer with our organization."
It is not clear what sparked the encounter.
The video begins with the volunteer walking away from Baskins and Baskins saying, "There's something wrong with this volunteer. She's acting a fool."
The volunteer pushes a baby stroller out of the family resource center and tells him "you're getting out."
Baskins told her he was recording the encounter. She responded, "I don't have to put up with you," and that she didn't have to look at his gray underwear and baggy pants.
She proceeded to shout on the phone for security to remove Baskins and his children. She appeared to reach toward the children, then shouted "get out, get out" and "get your damn underwear out of here ... I don't want to see it" and "dirty old tramp."
She appeared to shout at other volunteers or individuals in the family resource center, then she attempted to kick at Baskins. The encounter with the volunteer lasted two minutes and 19 seconds before what appeared to be another volunteer separated the two, and the volunteer went back into the family resource center.
The second volunteer agreed that "there's something wrong with her" as he attempted to calm the situation.
A security officer arrived about four minutes into the video, at which time the volunteer briefly left the family resources center to yell at Baskins a final time before she was moved back by the security officer.
The security officer, who identified himself as Officer Shelton, moved Baskins and his children away from the family resources center.
The final 90 seconds of the video involves the security official trying to get Baskins' version of the incident.