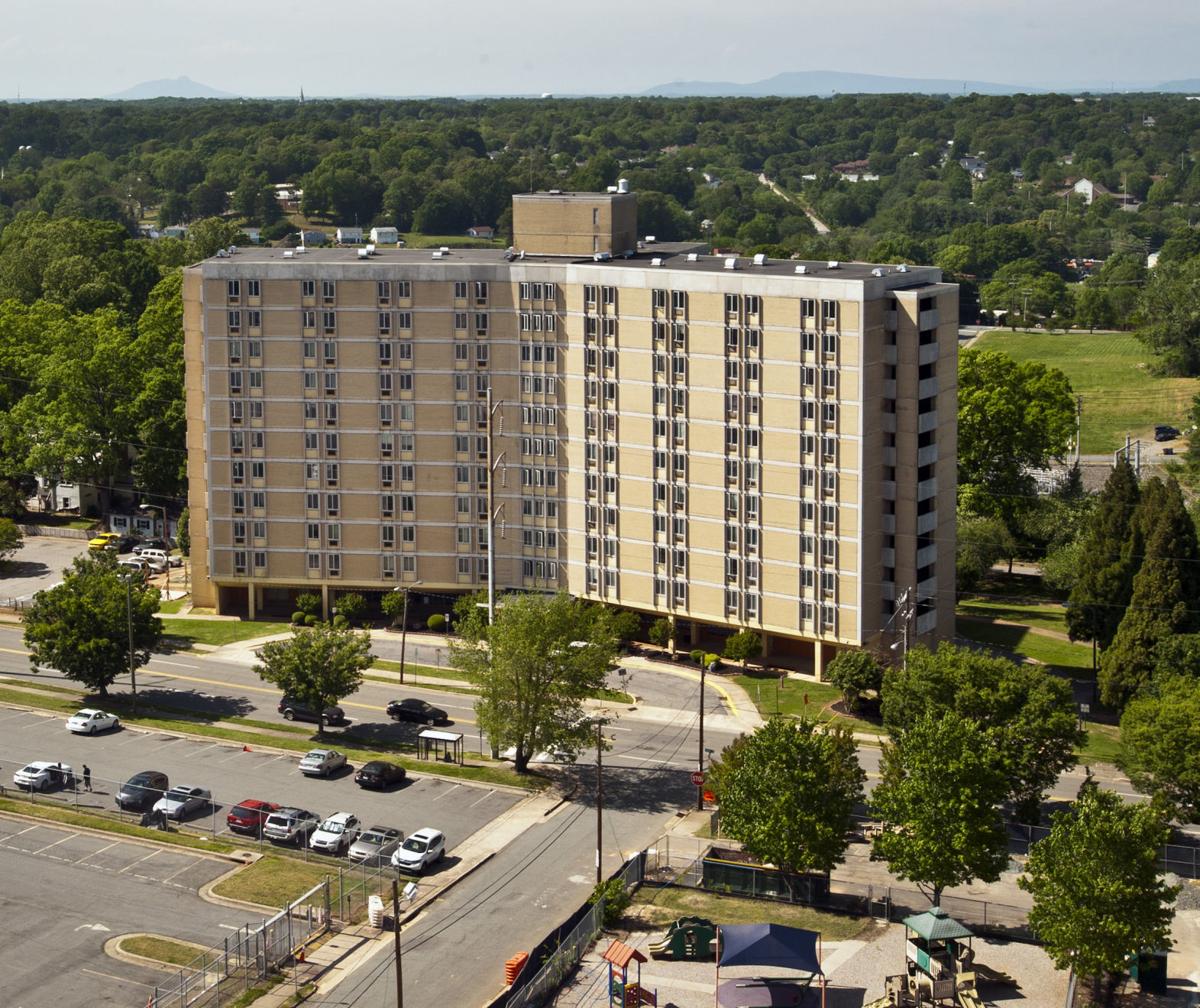 The Arden Group LLC, a real estate development company headed by local businessman Stuart Parks, wants to buy and renovate the Crystal Towers public housing building on Sixth Street, officials with the Housing Authority of Winston-Salem said.
The sale must be approved by the federal department of Housing and Urban Development, which must also agree to the HAWS plan for relocating the people who live in the building's 200 apartments at present.
And HUD would have to look past opposition letters written by Winston-Salem Mayor Allen Joines, who is concerned that the sale would mean the loss of affordable housing downtown.
Larry Woods, the chief executive of HAWS, and Kevin Cheshire, the HAWS attorney and vice president of real estate development, said in a recent interview that they don't expect to get HUD approval by December and that the sale to Arden Group LLC is unlikely to close this year.
In fact, HAWS won't be in a position to make its first submissions to HUD until August or September this year, so time-consuming is the application process, HAWS officials say.
"Once we get the approval, we will first go to the tenants and have a public announcement and tell them what to expect," Woods said.
Fally Morris, a resident of the towers, said recently that while she hasn't heard a word about when people might have to move, she knows HAWS has got to live up to a promise.
"I know one thing about housing: They can't get rid of us unless we have someplace to go," Morris said. 
HAWS wants to sell Crystal Towers because it would take so much money to solve the building's problems that the housing authority believes the money would be better spent elsewhere.
Those repair costs have been estimated at $7 million.
Milt Rhodes, the principal planner for Arden Group, thinks it could take about 18 months from now to get to the point where Arden acquires Crystal Towers.
Arden Group wants to do more than make repairs. Rhodes said the work will be "extensive."
"Plans are premature at best," Rhodes said. "We see this as an opportunity for the north end of downtown Winston-Salem. We are super excited to be a part of it. Crystal Towers has been a visual landmark since the 1970s. It is a great piece of architectural history in the city."
Woods said the Arden Group has said it would have a certain number of units in a renovated Crystal Towers building that are pegged to income levels so that the building retains some affordable housing.
Rhodes said Arden Group sees the city and HAWS as partners in the process of determining the direction of Crystal Towers redevelopment.
"There are stakeholders in the community that have to be heard and engaged with to do a quality project," Rhodes said. "I know the community has certain expectations. There is an element of affordable housing that should remain. We don't know what amount or type it will be like."
Arden Group is involved with a number of residential developments in Forsyth County, including Weldon Village in Kernersville, located on 385 acres on the south side of Interstate 40 off N.C. 66. 
South of Clemmons, in northern Davidson County, Arden Group has a development called Meadowfield, with a mix of town homes and single-family homes. The group has a luxury subdivision called Montrachet on the southwest side of Lewisville, and Crow Hill in Pfafftown.
Parks has been active in Winston-Salem development as well. A Parks company called 418 Marshall Street Properties LLC in late 2016 bought the building that houses the Winston-Salem Journal on North Marshall Street, and has been subdividing and renovating the property for business occupancy.
Jeff Hatling, the community development director in Kernersville, said he's been working for more than 10 years with the Arden Group in the town.
"Everything they have done in the town of Kernersville has been of the highest standard of quality," Hatling said, noting that Parks is part of the Parks Chevrolet family that has had a long presence in the town. 
Hatling said that neither Parks nor other developers in the town have embarked on projects involving affordable housing.
"The average house in Kernersville being built is over $220,000," Hatling said. "It escalates existing home prices."
The mayor of Winston-Salem has written to Woods at HAWS two times this spring to express opposition to the plan to sell Crystal Towers.
In both letters, Joines said that the city can't support the sale because it would reduce the amount of affordable housing downtown.
"We have challenged the housing authority to use the proceeds of the sale to figure out a way to put affordable housing units back in the central city," Joines said. "They are working on a plan now to show us how they would do that."
Winston-Salem City Manager Lee Garrity said his understanding is that what HAWS will be doing as asking for a waiver from the requirement to get local approval for the sale. Woods said in his letter to the city asking for an endorsement that proceeds from the sale would be used to develop more affordable housing in the city. 
The disposal of public housing units is a highly-regulated process under HUD rules. Housing authorities have to make submissions to HUD on everything from the environmental quality of the property to its plans for relocating residents.
Even if approved, the process of moving people out of Crystal Towers could take some time. Under the guidelines, the building can't transfer until all of the residents have new homes.
Woods said there won't be a one-size-fits-all transfer: Residents will be interviewed to see what their needs and desires are.
"We anticipate that most of the tenants will be finding housing in the private market using vouchers," Woods said. "Some may want to move to another state to be with family. We will have to temporarily put some in our units as they look for permanent housing.
Although HAWS has a waiting list, Crystal Towers tenants would have first priority. 
But will the new housing for displaced residents be downtown? Not at the current rent rates, Woods acknowledges.
"With the vouchers, (residents) have 100 percent choice where to live," Woods said. "Are there any landlords willing to accept the voucher? Right now, we know that one- and two-bedroooms (downtown) are over $1,500."