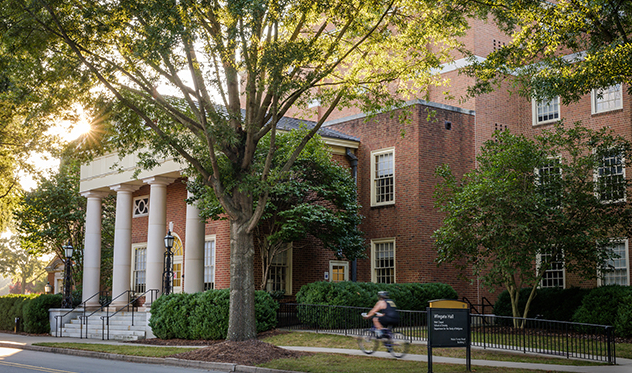 For some Wake Forest University students and alumni, "Wingate Hall" is no good, and "May 7, 1860 Hall" is no better.
An online petition organized by a student is urging the private Winston-Salem university to pick a new name for the former Wingate Hall, which was named for a 19th-century Wake Forest president who also owned slaves.
Wake Forest earlier this month announced that it would rename the building as part of an ongoing reckoning with its historical ties to slavery. It will be called May 7, 1860 Hall to mark the date when the college sold at auction 16 enslaved persons.
But the petition — which was started Wednesday and had been signed more than 1,000 times by 7:30 p.m. Thursday — pushes back on the building's new name.
Chloe Baker, the rising senior at Wake Forest who started the petition, said the university is correct to want to rename the building but it should pick another name.
"As a student of color at Wake, I am not looking for a reminder of the day people that looked like my family and me were bought and sold in such an inhumane and disgusting manner," Baker wrote in the petition posted at change.org.
"By deciding to name the Hall after the date Wingate allowed the sale to take place, administration is memorializing the exact reason they decided to take his name down in the first place. The administration is putting up a constant reminder of racial trauma for black Wake Forest students as if being black at Wake Forest isn't already hard enough."
Wake Forest's media office did not respond to a request to comment on the petition.
May 7, 1860 Hall adjoins Wait Chapel, whose iconic steeple soars 213 feet over the campus, and is home to the Wake Forest School of Divinity. The building was named originally for Washington Manly Wingate, the fourth president of the institution then known as Wake Forest College and located near Raleigh. Wingate Hall was built as part of the new campus when the college relocated to Winston-Salem in 1956.
Wingate, a Baptist preacher and a professor of philosophy and rhetoric, served two terms as Wake Forest's president: from 1853 to 1862, when the college closed because most students and faculty enlisted in the Confederate military, and again from 1866 until he died in 1879.
Wingate owned slaves, like the three presidents before him at the college, according to a university biography. He also was president when, in 1860, the college sold 16 enslaved men, women and children left to the college in the estate of a Chowan County planter. The college established its first endowment with the $10,718 in proceeds from the slave auction.
In addition to changing the building's name, Wake Forest said it plans to put up a memorial "affirming the humanity and dignity of those previously not remembered or honored in Wake Forest's antebellum history," according to the university's announcement from two weeks ago.
Ever since Wake Forest announced the name change — on May 7, the 161st anniversary of the auction — Black alums have been talking and texting among themselves and on a private Facebook page. The general consensus seems to be that Wake Forest needs to pick another name — maybe a prominent Black graduate of the university or perhaps a notable Black person from Winston-Salem's history.
The enslaved persons auctioned off by the college should be acknowledged in some way, said Kwamine Gilyard, a 1992 graduate who's now a school administrator in South Carolina. But she believes a building name is meant to be an honor — a way to celebrate someone who played an important role in the university's history.
"I don't think (that date is) an appropriate name for a building ..." Gilyard said. "It's a date to be remembered. It's not a date to celebrate."
Cydney Meadows, a 2020 Wake Forest graduate who's now in law school, added: "Naming a building after a slave auction date is not the best way to honor Black people."
Rue Cooper, who graduated from Wake Forest last week and plans to pursue a master's degree, said she was pleased that Wake Forest got rid of the "racist, harmful" Wingate name. She also said that Wake Forest should put up displays to inform people about the university's historical connections to slavery.
But Wake Forest needs to wrestle with more questions, she said: Who is this new building name for? And who needs to know about one of the worst dates in university history?
"Black students already know about the past because we're so closely connected to the legacy of slavery," Cooper said. "We don't need to be informed of that."
The three-paragraph petition asks Wake Forest to have students of color help the university select a new name to "celebrate the black excellence in our community."
Want to know more?
To see the petition, visit change.org and search for "Replace May 7, 1860 Renaming of Wingate Hall."
Contact John Newsom at (336) 373-7312 and follow @JohnNewsomNR on Twitter.