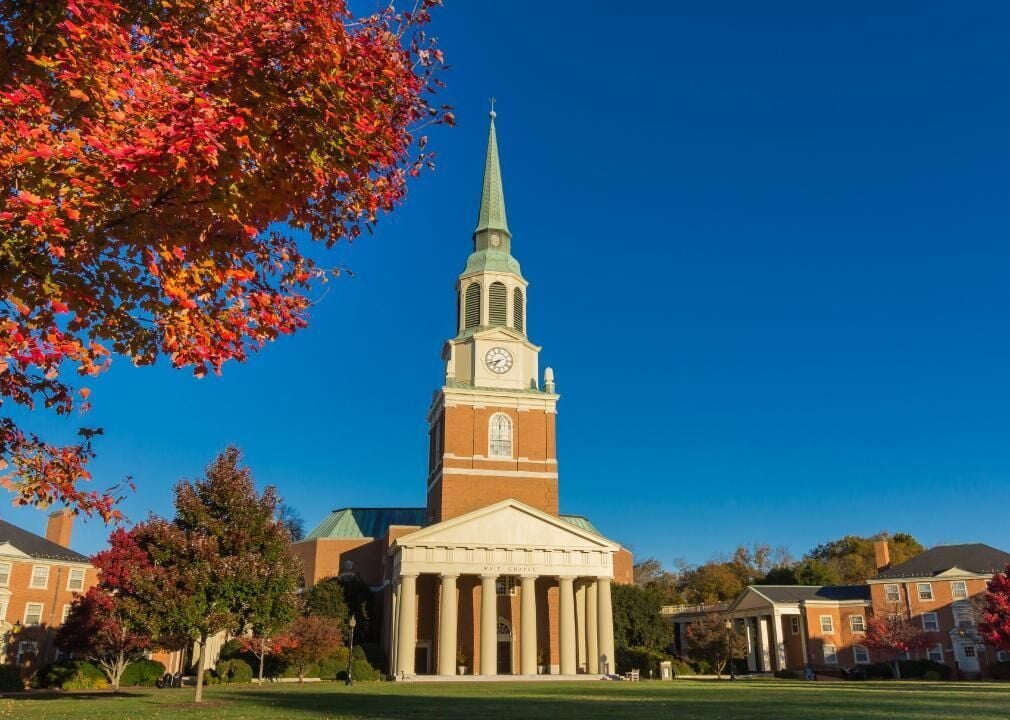 Wake Forest and Elon universities are curtailing campus activities after a rapid rise in COVID-19 cases.
Both universities have raised or plan to raise their campus alert levels — Wake Forest for the first time since fall semester classes started in August, and Elon for the second time.
Wake Forest university bumped itself up to Orange: Modified Campus Operations from Yellow status on Thursday. Orange is the third highest of five possible campus status levels.
The change came after a steep rise in COVID-19 cases among students. Between Monday and Wednesday, Wake Forest recorded 53 COVID-19 cases among students and two more among employees, according to its online dashboard. Tuesday's count of 21 new cases is the highest one-day total since Wake Forest started fall semester classes in August.
The university has 70 active cases and has confirmed 227 cumulative cases since mid-August.
Wake Forest will remain in Orange status for at least 10 days.
"The goal of moving to Orange Status is to pause activities that are most likely to allow further spread of COVID-19," university President Nathan Hatch wrote Thursday to the Wake Forest community. "This will permit us to evaluate the prevalence of the virus and slow the pace of its spread while we determine if further steps will be required to contain it."
In-person classes will continue to meet while Wake Forest remains in Orange status, and much of the campus will continue to operate as it has. But Wake Forest's dining halls will provide only takeout options, and students won't be allowed to attend Saturday's home football game. Student club events must be virtual. The annual Fall Fest, scheduled for next week, won't be held in person.
In addition, Wake Forest said students who live on its Winston-Salem campus shouldn't leave unless they need to get groceries, go vote or take care of other essential business. The university also told off-campus students to stay away from campus unless they have a class or an important reason for being there. And all students are asked to avoid crowded bars and restaurants.
If COVID-19 numbers don't go back down, Wake Forest said it will consider several new measures that could include campus curfews, suspending indoor student sports and reducing access to the student recreation gym. And if numbers keep rising, Wake Forest will consider elevating to Red status and moving most classes online.
Hatch in his Thursday message said the university "knew this semester would require us to adapt and show great flexibility" to keep COVID-19 in check.
"I am grateful to all of you who have gotten us to this point, and I ask that we continue to be vigilant as we move closer to Thanksgiving," when campus will close and students will finish the fall semester online, Hatch added. "It is easy to let down our guard, and hopefully, by our increased attentiveness and precautionary measures, we can stop the spread of the virus and return to our Yellow Status."
At Elon, meanwhile, the university will impose what it calls a "social hiatus" starting Friday. Dining halls will convert to takeout only, visitors won't be allowed in campus residence halls, and intramural and club sport activities are suspended. Students also were told to limit non-essential travel to and from campus.
Elon also said residents of certain dorms and members of specific student groups where cases have been reported will be required to take COVID-19 tests.
"Immediate action is required from each of us," Elon vice president Jeff Stein wrote in a message to campus Thursday. "Contact tracing and case data show that social gatherings without masks continue to fuel the spread of the virus."
Elon put similar restrictions in place in late September after sharp increases in COVID-19 cases among students. The steps seemed to work, and Elon reported single-digit daily increases in the number of new cases for the first couple of weeks of October.
But cases have been on the rise since the middle of the month.
Elon recorded 41 new cases between Monday and Wednesday and says it has 69 active campus cases, according to its online COVID-19 dashboard. On campus and off, 219 students are in isolation or quarantine because they have the virus or have been in close contact with someone who's sick.
The university said the Alamance County Health Department has identified a new cluster (five or more related cases) associated with an Elon fraternity. Elon also said that it expects to see more cases on campus over the next few days and warned students and employees that it soon expects to raise its campus status to Level 3-High Alert. That's the second-highest of four alert levels, which Elon adjusts based on campus and regional COVID-19 data.
Elon went to Level 3-High Alert on Sept. 21 and imposed a social hiatus four days later. It dropped down to Level 2-Moderate Alert on Oct. 6 and has been there ever since.
Elon has recorded 319 COVID-19 cases — 17 among employees and all the rest among students — since late May. The vast majority of cases have been reported since students returned to campus in August.
Stein, chairman of the Ready & Resilient committee that's coordinating Elon's response to COVID-19, said the university might consider quarantining some apartments or dorms or requiring the entire campus to shelter in place if cases continue to increase.
"None of us will be happy if we cannot stem the spread of this virus," Stein said Thursday.