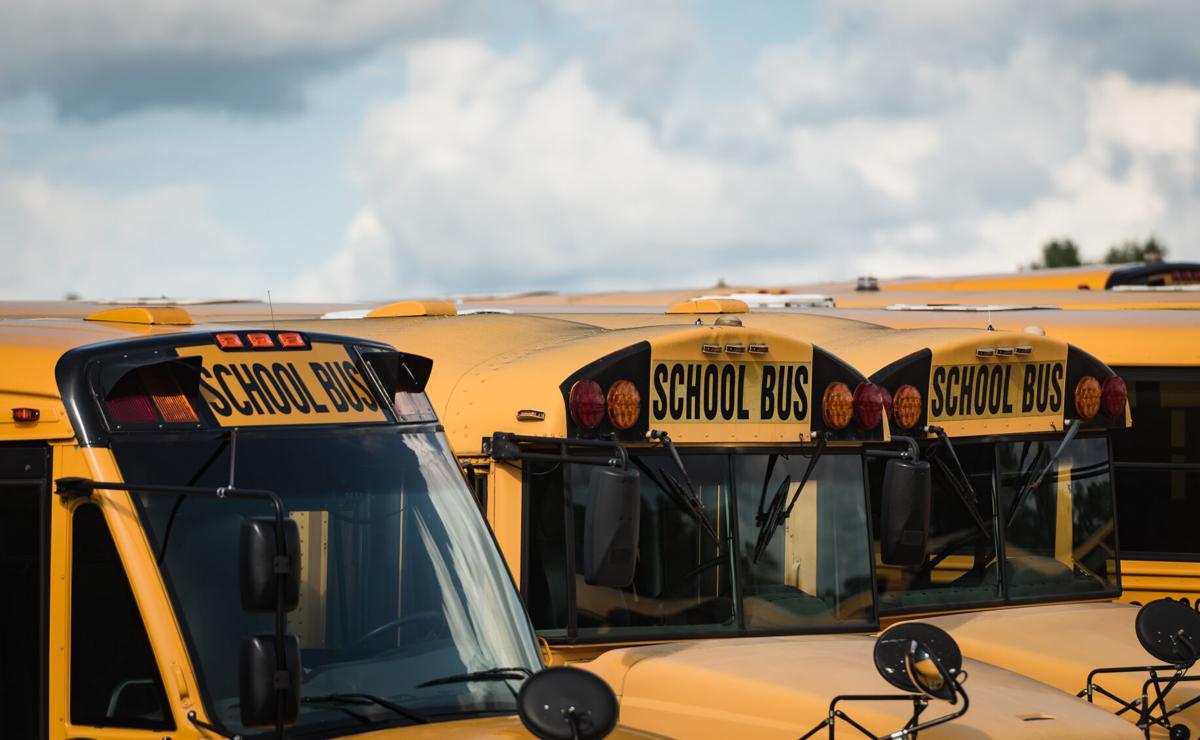 Officials with Winston-Salem/Forsyth County Schools say they plan to meet Wednesday morning with a bus driver who said she and other drivers plan to strike on Friday.
Kimberly Shouse told WXII last Friday that she and about 19 other drivers will not report to work on Friday if wages don't improve. On Monday, Shouse told WFMY that 200 drivers would join her.
Shouse has been with the school district since November 2020, according to school spokesman Brent Campbell.
Shouse did not immediately return an email from the Journal.
The school district learned of the potential strike through the media, Campbell said. Campbell said
The district has about 285 bus drivers on payroll, Campbell said.
Val Young, the president of the Forsyth County Association of Educators, said she is not aware of any bus drivers in the association who are planning not to work on Friday.
"However, FCAE supports a living wage and great working conditions," she said.
Like other school districts across the nation, the local district is experiencing a shortage of drivers, putting a strain on employees.
As of late September, the school district had 87 driver vacancies, which is up from 66 in late August.
Superintendent Tricia McManus asked the drivers who plan to strike to contact the district so it can help the children who may be affected.
"Students are at the heart of what we do, and everything we do must be focused on what's best for them. A strike will only impede our student's ability to get to school and our students need to be in school now more than ever. Hurting students is never the right way to make a point. We should continue working together to find win-win solutions," McManus said.
Based on a 2020 compensation study that showed lagging salaries in several departments, the school district began bumping up salaries of many of its employees. Bus drivers were the first to get a raise, with the minimum hourly salary going from $13.64 to $15 starting in January 2021. All other bus drivers got an extra 50 cents an hour.
That put the local district in line with the minimum hourly wage of bus drivers in Guilford County and Wake County school districts, Chief Human Resources Officer Jevelyn Bonner-Reed told the school board last December.
The Charlotte-Mecklenburg Schools board voted last week to bump the minimum hourly wage to $17.75 and the Durham Public Schools board approved increasing pay to $17 an hour.
Campbell said the median hourly wage among bus drivers in the Winston-Salem/Forsyth district is $16.
School district employees received a $1,000 retention bonus earlier this month. Bus drivers will also get $500 bonuses in December and May, a plan the school board approved earlier this month. In addition, the school district is giving employees $200 each quarter for perfect attendance.
The school district released a statement on Monday outlining some of its efforts to recruit and retain bus drivers.
Bus drivers must have commercial driver's licenses. Over the summer, the school district launched an effort to recruit drivers, and of 36 who took the CDL course, five passed and are now employed.
Shouse told WFMY that the demands also include pay every two weeks instead of monthly. Most staff members are paid monthly.
McManus said the school district values bus drivers.
"We would love to raise the salaries of bus drivers, and all employees for that matter, as this has been the toughest year any of us can remember. However, in order to do more than we are currently doing we must have more state and local funding. No one in education is compensated at a level they deserve, but everyone in this profession continues to do it for one reason, because they love children," she said in a statement.
Campbell said the school district is looking at ways to serve students who may be affected by a strike.