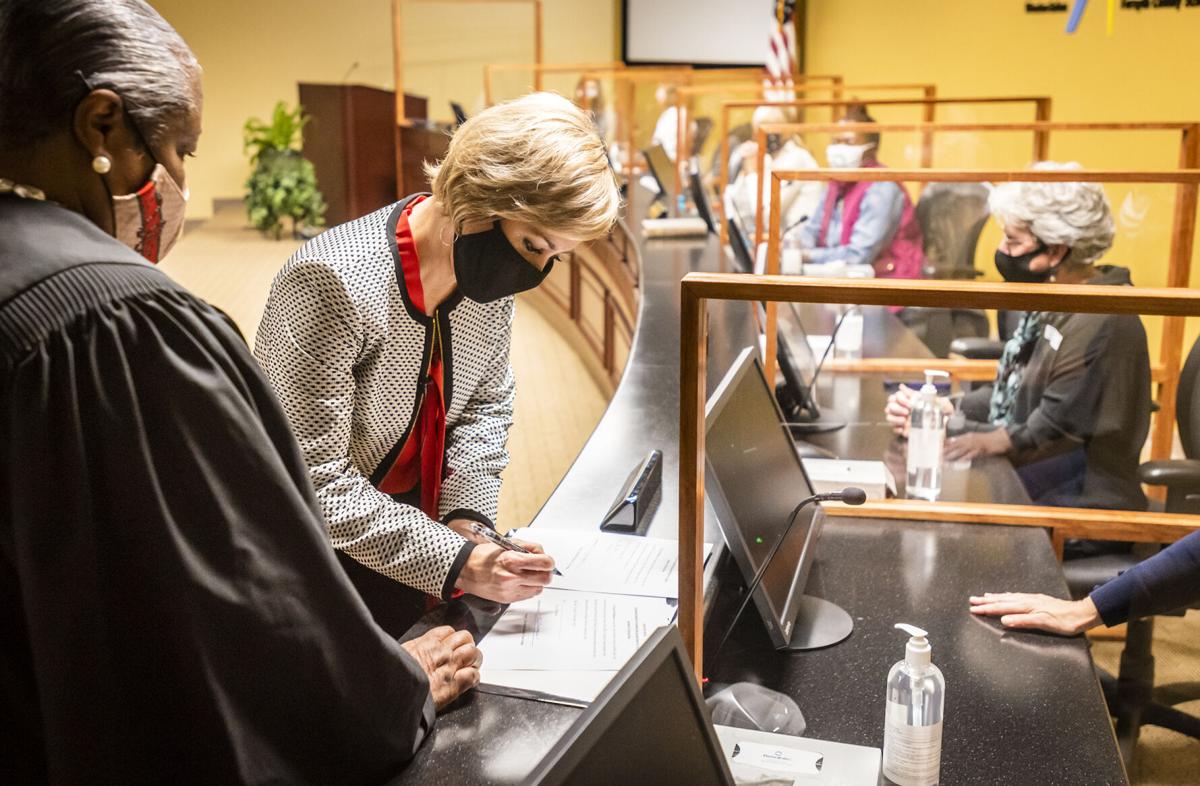 Tricia McManus has had a busy first week as interim superintendent of Winston-Salem/Forsyth County Schools, culminating with a recommendation to pause the district's re-entry plan until Jan. 11.
McManus' recommendation was impassioned and balance as she acknowledged the concerns of teachers who fear contracting COVID-19 and the loss in learning for many of the district's children. The board endorsed her recommendation, with a 7-2 vote. 
McManus replaces Angela Hairston, who resigned in October after 14 months on the job, at a time when the district was deciding when students can return safely to in-person learning. 
Before starting as the district's deputy superintendent in June, McManus worked in Hillsborough County, Fla., for 30 years, first as a fourth-grade teacher then taking roles in leadership, including overseeing the county's equity program to close the achievement gap.
Q: You're new to the area, and you're now the face of the district during a turbulent time. What do you want people to know about you?
Answer: Every decision I make, first and foremost, I do what is in the best interest of children and students. It's completely driven by what is best for students, how is my decision going to impact every single one of them. 
For kids to get quality education, they need to be surrounded by really great adults in the system. One of my favorite books is "If You Don't Feed the Teachers They Eat the Students!" That was my Bible when I was a principal. You have to make sure the staff feels excited by what they do. That's how I feel 31 years later. 
It's a balance of serving adults so they can best serve students but always keeping students at the forefront of everything. 
As I've advanced roles in my career, I've never forgotten where it started, and that was the classroom with kids. 
I'm a person who likes to listen and am approachable, but I'm also a person who can be way in the weeds because I'm approachable. 
Q: How have you gone about learning the district, the area and the district's history?
Answer: There's so much to learn after being in a district for 30 years that I knew backward and forwards. I've done a lot of listening. I've been in all kinds of meetings. I've done a lot of reading and researching about the history of the district, when Forsyth and Winston (schools) merged and some of the state initiatives and expectations. There are experts in the district that I have to capitalize on. And there's a lot of folks from the community that I will look to for expertise and guidance to fill in the blank space. The best way to learn is to be quiet and do a lot of listening.
I live in the community and have since June, on the outskirts of town. I'm trying to do a lot of visiting to schools, trying to get to schools every single week. I'm also meeting with different groups — the United Way, the Stratford Rotary Club — and I'll start reaching out to churches and pastors and infiltrate myself into the community as much as possible. 
Q: Since the re-entry plan started in early October, COVID numbers are skyrocketing, and we're about to enter a crucial period with the holidays and cold weather. Is school a safe place for students and staff?
Answer: I do think it's a safe place to be. When I look at the number of COVID cases in the community, they've really gone up. We're meeting with the Forsyth County Department of Public Health, and we're paying close attention to the numbers. You can see why people are alarmed. We have mitigation strategies we've put in place, and if those are followed, we feel we can stop the spread in schools. 
We know everyone in school is wearing a mask, with maybe the exception of students with very severe special needs. What I've seen in the schools is that they're following mitigation strategies. We are aware that if there's a lot of general spread that you run the risk of contracting the virus from family members. You can't ignore the community spread as we think about schools.
From what I've seen, every week, schools are implementing the mitigation strategies at a very high level. I always say there's room for improvement and if we're seeing a lax approach, we're addressing it through the area superintendent. We need to make sure people are practicing personal accountability out of school as well. 
We look at the dashboard every day, and we meet about contact tracing. If we start to see spread, we are going to take action. 
Look at the large number of people quarantining. When people report a case, we quarantine. We know that number is high, but the good news is that, though it creates the need to make readjustments in the school building, people are reporting and quarantining. 
Back to the question, do I think schools are safe? Yes. Do I think we can ignore our community numbers? No. The more spread in the community, the more risk you run of having someone bringing the virus to school.
Q: You have a background in equity. As you look at Winston-Salem/Forsyth County Schools, what are you seeing in terms of equity and where we can improve?
Answer: The first thing is we look at is student data, and looking at the data now, you see the achievement gaps. 
You look at third-grade reading scores, which are a strong indicator of successful students. If you're not reading by third grade, what does that mean? If you look at third grade scores here, you see major gaps between white and Black and white and Hispanic students. Most of the under-achievement is in our Hispanic students. 
If you look at all the data, you're going to see gaps between our racial demographic groups. The good news is that our district has adopted an equity policy and has invested in a person who is director of equity and access. 
And then you dive deeper into what is causing these issues. Programming is one of the things. Do students have a chance to do advanced coursework or are we keeping kids in remediation as opposed to on grade level standards? You don't teach down. You teach on grade level and provide support. 
We're moving in the right direction and now we need to look at all the training we're offering. Do we need to start with implicit bias training? What are the next steps in understanding our own personal biases?
You also have to look at discipline disparities. How are we addressing those? 
We need to get clear on what it is going to take and not allow excuses for even one student to fall through the cracks. My major passion is making sure we are addressing issues of social justice, that we are addressing issues of any group of our students performing less than another group. 
These systemic inequities did not just appear in 2020. They're historic and systemic.