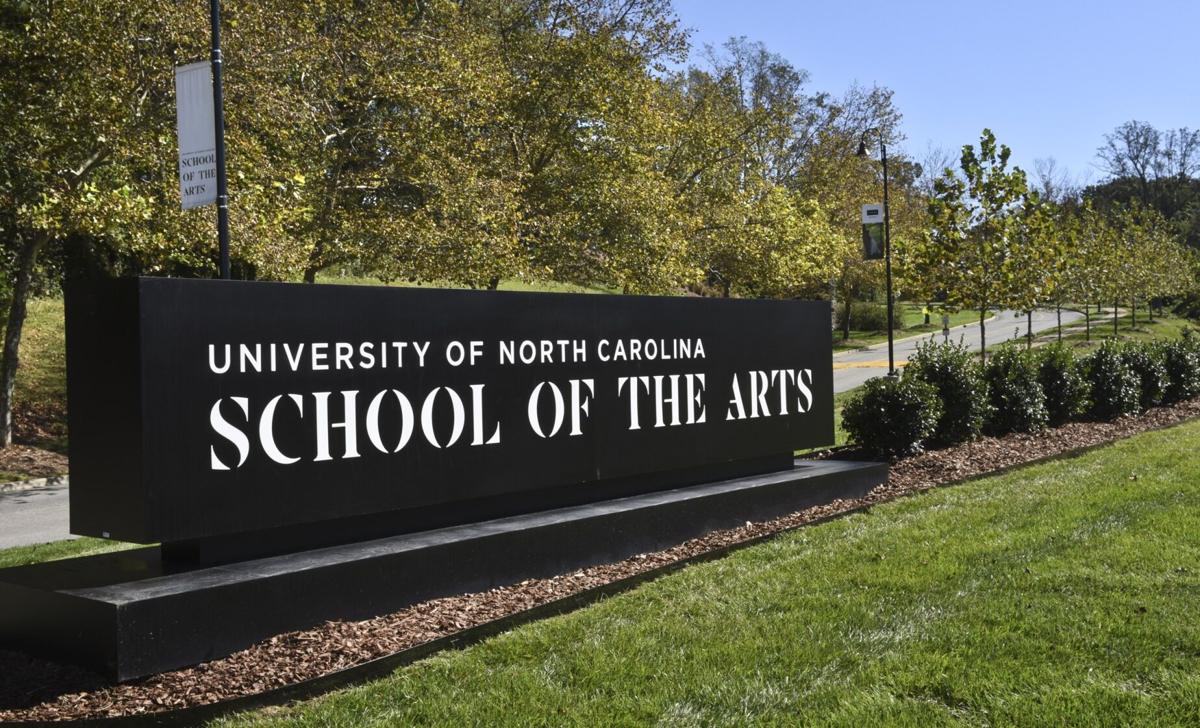 A lawsuit accuses faculty and administrators at UNC School of the Arts of ignoring and failing to do anything about pervasive sexual abuse of students that happened over at least a 20-year period starting in the 1970s.
Seven former UNCSA students filed the lawsuit Wednesday in Forsyth Superior Court. Gloria Allred, a California attorney known nationally for representing victims of sexual abuse and sexual harassment, represents them. Most recently, Allred represented several victims of R. Kelly, the R&B singer convicted this week on allegations that he sexually assaulted girls.
Most of the accusers were students in the 1980s.
One of the former UNCSA students named as a plaintiff is Christopher Soderlund, who sued the arts school in 1995. In that lawsuit, Soderlund said that Richard Kuch, an assistant dean of the School of Dance, and Richard Gain, a dance instructor, forced him into a sexual relationship when he was 16, luring him to their house in East Bend. Kuch is dead, and Gain, who is named in the new lawsuit, declined comment Friday.
Also named in the new lawsuit are several former administrators — Jane Elizabeth Milley, the school's former chancellor who resigned in 1989; Larry Alan Smith, former dean of UNCSA School of Music; Peggy Dodson, former associate vice chancellor of High School Programs at UNCSA from 1981 to 2006; William "Bill" Tribby, former dean of general studies from 1978 to 1999; Dianne Markham, assistant dean of modern dance; and Alan Rust, former dean of the School of Drama.
UNCSA is also named as a defendant. Lauren Whitaker, spokeswoman for UNCSA, said Friday that she had no comment because the school has not yet been served with the lawsuit.
Dodson of Clemmons, the former associate vice chancellor of high school programs at UNCSA, declined to comment about the lawsuit, saying it was news to her and that she wasn't aware of the legal action.
"It's a surprise to me," Dodson said. 
Other defendants could not immediately be reached for comment on Friday.
The lawsuit said the defendants "knew or should have known of the dangerous culture that permeated the institution and that permitted and condoned the sexual abuse and exploitation of students attending the school."
The lawsuit said defendants "turned a willful blind eye to the egregious conduct suffered by so many of the school's students, specifically including plaintiffs and others similarly situated."
According to the lawsuit, there are several hundred potential former students who could join the class-action complaint. The accusers are seeking to proceed as a class-action lawsuit.
Many of the allegations center on Kuch and Gain.
"Kuch and Gain made no secret of their efforts to have sexual relationships with UNCSA's minor students and were widely known to groom boys as young as 12 and 13 years old with the full and open intent of engaging in sexual activity with these adolescent students," the lawsuit alleges. "Kuch and Gain, under the guise of dance instruction, constantly and repeatedly groped, fondled or otherwise touched in a sexual manner many of the male and female students in their care."
The two men told their middle school-aged students that they needed to have sex in order to become better dancers "so you can learn to dance from your vagina," according to the lawsuit.
In many cases, they lured students to their farm in East Bend. The farm was known among students by a sexually-explicit name, the lawsuit said. According to the lawsuit, one former faculty member went to then-Vice Chancellor William "Bill" Pruitt and told him that he had trouble recruiting young male dancers to UNCSA because of Kuch and Gain.
"Vice Chancellor Pruit was specifically told that dance instructors around the country, in an attempt to protect their young students, refused to recommend UNCSA to their gifted young male dancers because it was widely known that Kuch and Gain would try to groom these young boys for sexual abuse and exploitation," the lawsuit said.
The lawsuit said Pruitt did nothing.
The abuse was not limited to the dance department, the lawsuit alleges. The then-Dean of the Drama Department, who is unidentified, had a practice called, "Freshman Friday," where all the male freshmen would have to go into his office. Once there, the dean would fondle the boys, causing them to have an erection.
At one point during the school's history, a group of graduate students sought 13-year-old female students so they could take their virginity. The lawsuit said that the then-dean of students was told about this practice and did nothing about it.
"Sexual relationships between faculty members and high school age students were widely known by UNCSA administrators … who ignored and/or condoned such sexual exploitation," the lawsuit said.
In fact, the lawsuit alleged, if a male faculty member got a young female student pregnant, "the only help the school might offer would be to provide the young girl with information about getting an abortion."
In specific claims, the seven former UNCSA students describe in graphic detail sexual abuse and how that sexual abuse affected them later in life. Some gave up any notions of a dance career and many have continuing mental-health issues. One of the students has been in and out of psychiatric hospitals for years and has tried to commit suicide. Others have dealt with the abuse through drug use and alcoholism.
One former student said in the lawsuit that Kuch would ball up his fist and touch her genitals while she was in mid-air doing a leap. At other times, he would have his hands near her breasts.
Another student said that Melissa Hayden, who has since died, touched her inappropriately and would frequently slap or place her hand on the student's buttocks. She also said that while she was in a dance studio with other students, Kuch would stare at her crotch.
Another female student said Kuch told her that she needed to understand what a real sexual experience was and that she needed to have sex with a "big Black man" and then pointed to a Black male student. Kuch then forced the two students to dance seductively together in front of the entire class.
The former male student who has been in and out of psychiatric hospitals said he was 12 when he attended a summer program at UNCSA. He was soon accepted into the high school program and that Kuch and Gain required students to wear revealing bathing suits. Gain sexually abused him and once forced his tongue down the boy's throat in another incident, according to the lawsuit.
During a rehearsal for a performance, Gain sent everyone home except for the former male student and two other boys, according to the lawsuit. They were forced to do hip slides over and over and then at one point, Gain grabbed the student by the hair and told him to "dance like a man, not a little boy."
As an adult, the former male student has attempted suicide and he continues to have night terrors to this day, the lawsuit said.
The only plaintiff the Winston-Salem Journal is naming is Soderlund because he filed a previous lawsuit. According to the current lawsuit, Soderlund attended summer school at UNCSA's high school and then was admitted to the regular term in September 1983.
Soderlund was a ballet major, and according to the lawsuit, Kuch and Gain quickly paid a lot of attention to Soderlund, making him feel special.
When he was 16, Gain allegedly took Soderlund to the farm in East Bend, where he gave Soderlund alcohol and had sex with the boy. Kuch also made sexual advances toward Soderlund, the lawsuit alleges.
Soderlund feared that if he resisted Gain, he would lose his friendship and possibly jeopardize his dance career. The two men played on that fear and told other students about their sexual abuse of Soderlund, according to the lawsuit.
Soderlund was publicly humiliated as a result. Art students in Soderlund's dormitory created graphic cartoons in the bathroom and showers, showing Kuch and Gain "sodomizing" him, the lawsuit said.
Arthur Ballard, a faculty member, told Soderlund that he knew of the sexual abuse but never offered Soderlund any assistance, the lawsuit said. Duncan Noble, at that time an assistant dean who has since died, also told Soderlund that he knew about the abuse but he never sought to have Kuch or Gain disciplined.
"Instead, Noble told Christopher that he, too, thought he would have sex with him by the end of the school year and told Christopher that he was not being invited back for the fall semester," the lawsuit said.
Markham also knew of the abuse and did not do anything about it, the lawsuit said. She also said she didn't think it was wrong of Gain to have sex with Soderlund, the lawsuit alleges.
The abuse led Soderlund to drink heavily, smoke and over-eat, the lawsuit said.
Soderlund's 1995 lawsuit sparked scrutiny at the arts school that went all the way up to the N.C. General Assembly.
A Winston-Salem Journal investigation published on Aug. 13, 1995, quoted former students and faculty who said that the arts school did not have procedures in place that would have helped make students feel they could report these allegations.
A Forsyth judge dismissed the lawsuit, but the N.C. Court of Appeals overturned the ruling. The lawsuit was dismissed again in Forsyth Superior Court, and in 2001, the N.C. Court of Appeals upheld the decision.
Kuch and Gain resigned from their positions after school officials began a process to fire them.
The lawsuit is seeking at least $125,000 in compensatory damages and an unknown amount of punitive damages. No date for a trial has been set.
Reporter John Hinton contributed to this report
336-727-7326