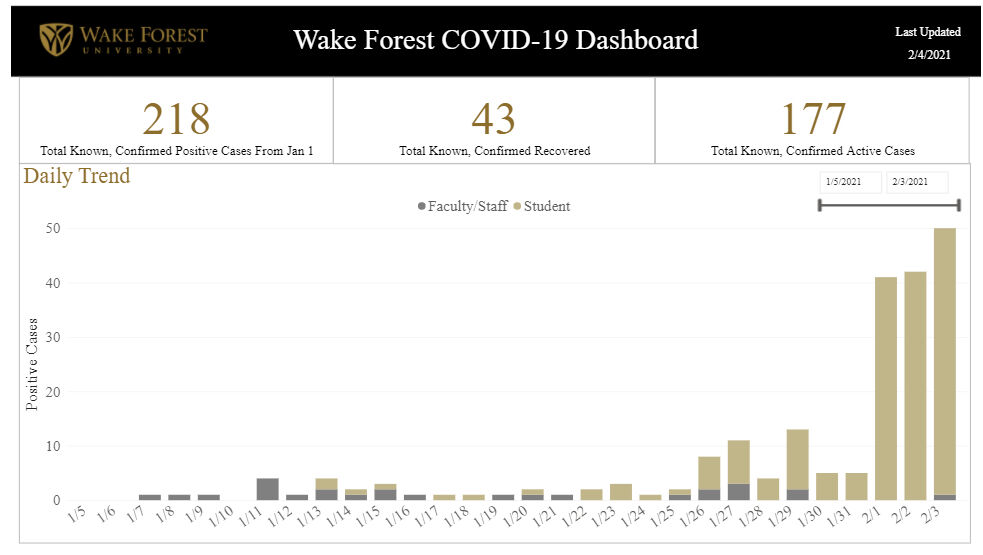 Wake Forest University will impose more restrictions — and might enact even tougher campus rules — after a rapid rise in COVID-19 cases among its students.
Three senior Wake Forest leaders told students Thursday that the university had recorded more than 150 positive tests for COVID-19 in the past 48 hours. The university's COVID-19 dashboard shows 134 new cases between Monday and Wednesday and 177 active cases among students and employees.
As a result of the surge, Wake Forest will put in place several more campus restrictions on dining, gathering and campus facilities starting Friday. University leaders threatened more dire measures if the number of COVID-19 cases doesn't come down soon.
"Currently, we have the capacity to manage the surge, but the trend lines are unsustainable," President Nathan Hatch, Provost Rogan Kersh and campus life Vice President Penny Rue wrote to students Thursday.
"Continuing in this direction will give us no choice but to move to Red Operating Status, which means as much as a 14-day campus lockdown, with other necessary measures," they added. "This decision could be made at any time if the situation becomes untenable."
Wake Forest ended the fall semester and began the current spring semester in January at Orange Status, the third of five campus operating levels. Orange Status calls for modified campus operations to reduce the spread of the virus. Red Status means additional restrictions to significantly reduce contact among people and groups after a spike in campus or community rates of COVID-19. Purple Status, the most restrictive operating status, means a full suspension of campus activities.
The university's online COVID-19 dashboard shows only a handful of new cases — fewer than 10 each day — for much of January. When undergraduate classes resumed Jan. 27, Wake Forest recorded a double-digit number of new cases for the first time since November. After the weekend came the surge: 41 new cases on Monday, 42 on Tuesday and 51 on Wednesday. All but one of these new cases since Monday was reported among students.
University leaders blamed students for the rapid rise in cases.
"Positive cases are coming primarily from social activity — small and large gatherings, on- and off-campus parties and groups congregating at bars and restaurants," Hatch and the other administrators wrote. "In these cases, masks were not worn, gathering sizes were ignored and social distancing was not respected."
It's unknown if any students have been disciplined recently for violations of university policies related to COVID-19. Students were required to agree to numerous new campus health and safety regulations before the school year started in August. Serious violations could result in suspension or expulsion. The university's media relations office didn't return an email Thursday seeking this information.
To combat the virus, Wake Forest leaders will put in place additional restrictions starting Friday. They include the suspension of in-person dining — all dining options will be grab-and-go — and a ban on residence hall visitors. Because of North Carolina's statewide 10 p.m. curfew, Wake Forest said it won't allow Uber, Lyft and other ride-sharing services to pick up students on campus after 10 p.m.
Student organizations and other university-sponsored extracurricular activities can't meet in person, and fraternity recruitment must be virtual as well. Wake Forest for now won't allow any in-person events or gatherings, including Super Bowl parties on Sunday.
In addition, Wake Forest will close its library and most of its student center and Wellbeing Center.
Classroom instruction* will continue as scheduled, the university leaders wrote, because "no known transmission of the virus has occurred in the classroom or at University-sanctioned events where safety measures were implemented."
University leaders reminded students to wear masks "except when actually eating at all times on- and off-campus" and to quarantine themselves immediately if they have COVID-19 symptoms even if they haven't yet been tested for the virus.
"Returning to campus has been a time to reunite with friends, and the beginning of the semester has seen an increased amount of activity for student organizations," Hatch and the two other university leaders wrote to students.
"However, given the increased prevalence of COVID-19, we must engage in protective measures that made it possible for us to stay on campus last semester. We know how to conduct a successful experience on campus, and we know you can do it. You've done it before."
Two other area schools have imposed additional campus restrictions since the start of the new year.
Guilford College in January extended virtual classes for two additional weeks after a rise in cases on its campus in Greensboro. N.C. A&T in Greensboro also added new campus rules that same month when COVID-19 cases increased before the start of spring classes.