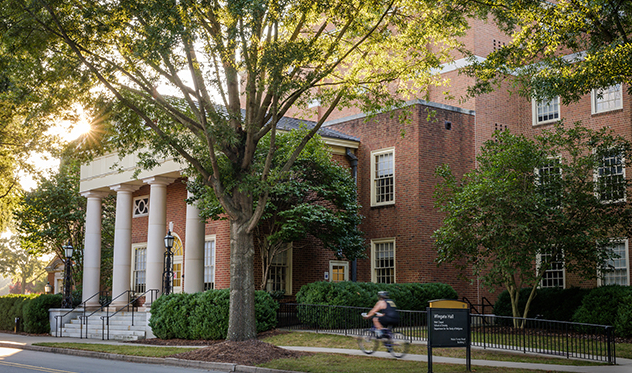 After quickly reversing itself last month on a new name for a campus building, Wake Forest University has named six people to an advisory committee that will recommend a new name for Wingate Hall.
The six committee members, announced Wednesday by university President Nathan Hatch, are two alumni, two university employees and two students. They'll join the committee's two co-chairs, whom Hatch appointed last week.
The eight-member group has two charges, according to the message Hatch sent Wednesday to the Wake Forest community: "to clarify the objectives in selecting a name for the former Wingate Hall," Hatch wrote, "and ... to collect and understand our community's concerns, reactions and suggestions regarding a new name."
Hatch wants the group to wrap up its work by June 30, the date he is to retire after 16 years at Wake Forest. The university hasn't said when it might announce a new name for the building.
Not only did Wingate himself own slaves, he was president in 1860 when the institution sold 16 enslaved men, women and children bequeathed to the college. Wake Forest used the $10,718 in proceeds from the auction to establish the college's first endowment.
The new name — May 7, 1860 Hall — lasted only 19 days.
The university had wanted the new name to commemorate the date of the slave auction and acknowledge Wake Forest's participation in slavery.
But black students and alumni opposed the name with a petition started by a student and a letter from the university's Black alumni association. They argued that a name on a campus building should honor a prominent person important to the university, not enshrine a traumatic date in Wake Forest's history.
On May 26, the university said it would "pause" its plan to change the building's name and appoint a committee to help come up a more acceptable name.
The committee's two alumni members are Alex Reyes Schroeder, who's president of the Wake Forest Alumni Association, and Kelly Starnes, the president of the Association of Wake Forest University Black Alumni.
Each of the women holds two degrees from Wake Forest. In addition to their bachelor's degrees, Schroeder earned her law degree at Wake Forest, and Starnes holds an MBA from the university.
The two university members are Erica Still, an associate professor of English, and Tim Pyatt, dean of the Z. Smith Reynolds Library.
Still also is the associate dean for faculty recruitment, diversity, and inclusion and is co-chair of the President's Commission on Race, Equity and Community, the group formed in 2019 to review Wake Forest policies and practices and make specific recommendations to create a more diverse and welcoming community. The commission issued its report in May 2020.
Pyatt, meanwhile, is co-chair of the university's Slavery, Race and Memory Project, which is examining Wake Forest's historical relationship with slavery. Wake Forest College was founded near Raleigh in 1834.
The two student members are Ally Swartzberg of New Jersey, the Student Government president, and Jacob Thomas, a Greensboro resident who's president of the Black Student Alliance. Both are rising seniors.
Hatch announced last week that he appointed two people to lead the committee. They are José Villalba, the university's chief diversity officer and vice president for diversity and inclusion; and former U.S. Rep. Donna Edwards, a university Board of Trustees member. A 1980 graduate of Wake Forest, Edwards represented Maryland in Congress from 2008 to 2017.
Villalba, along with Still, is co-chair of the President's Commission on Race, Equity and Community.
Hatch in his message Wednesday said the committee is "intentionally a small group" because of its end-of-the-month deadline. The committee's make-up, he added, represents "major stakeholders who have voiced concerns or questions about the proposed new name and process to date."
Hatch's message also included an apology "for the pain this has caused many Black students, colleagues and alumni."
Contact John Newsom at (336) 373-7312 and follow @JohnNewsomNR on Twitter.