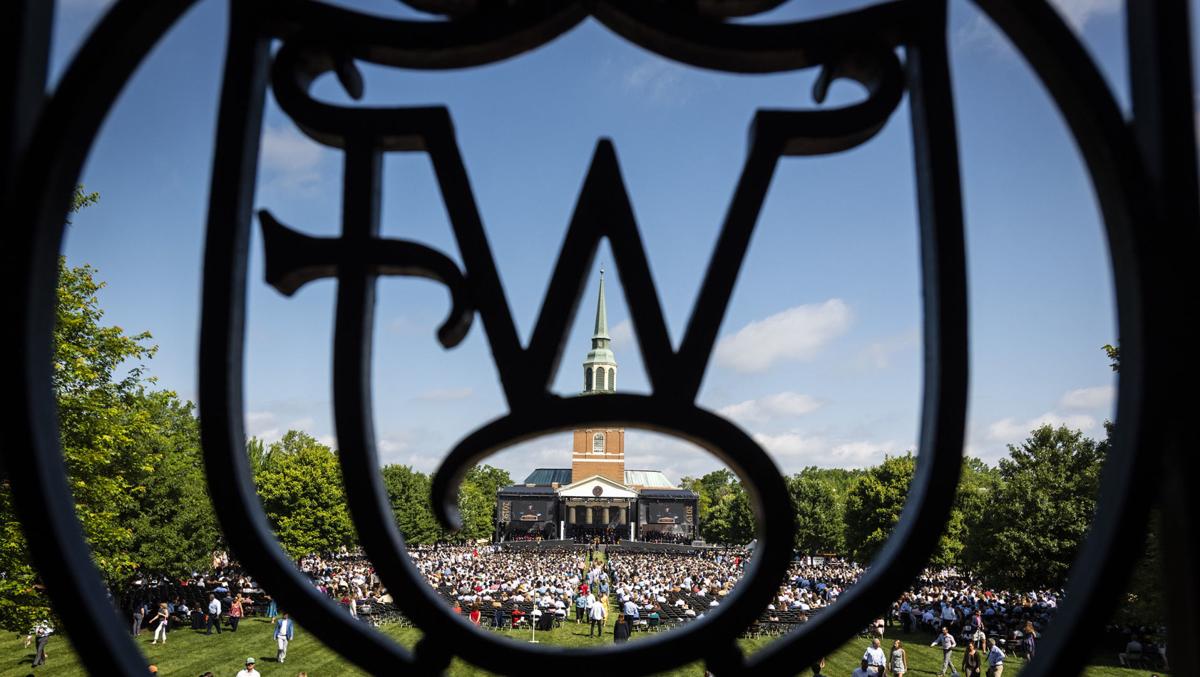 Wake Forest University says it will open a new academic division aimed at working professionals in Charlotte.
The university announced Thursday that the School of Professional Studies will be its first new academic unit in more than 20 years. It will be led by business school dean Charles Iacovou.
In an interview Thursday, Iacovou said the new professional studies school will offer classes toward master's degrees, certificates and other credentials as well as executive education, but not undergraduate degrees. Most students will be adults with jobs who want new or better skills to change careers or move up in their current field.
Classes will be offered online, in person and in hybrid modes that combine virtual and face-to-face instruction. The new school will be based initially at the Wake Forest University Charlotte Center in Uptown Charlotte.
Iacovou said the new school plans to offer programs and other training in several areas, including finance, technology, education, healthcare leadership, clinical research and nonprofit management. Several of these programs exist at the Charlotte Center and will be folded into the new school. New programs will be added starting in late 2021 or early 2022.
The programs will be designed to be innovative and flexible and meet the demands of the job market in and around Charlotte. The university continues to do market research as it considers prospective course new offerings, and Iacovou said the school will work closely with Charlotte companies and community organizations to see what sort of education and training they want for their employees.
"The vision (of the new school) will continue to evolve," Iacovou said.
The School of Professional Studies will expand Wake Forest's growing footprint in Charlotte, the U.S. city with the largest concentration of Wake Forest alumni.
Wake Forest has offered an MBA program in Charlotte since the mid 1990s. In 2012, the university moved its Charlotte business school campus and a growing roster of degree and non-degree programs into its current Uptown building, known as the Wake Forest University Charlotte Center.
In October, Charlotte's Atrium Health and Wake Forest Baptist Health announced a merger. As part of this arrangement, Wake Forest School of Medicine — part of Wake Forest Baptist Health — is planning to open a second medical school campus in Charlotte.
"Charlotte is a thriving city that's experiencing tremendous growth and has amazing organizations that have really good leadership," Iacovou said. "They need professional support along the way, and we want to be the one to provide that."
Iacovou has worked at Wake Forest since 2001, when he was appointed to the faculty as a management professor, and was named dean of the Wake Forest University School of Business in 2014. During Iacovou's tenure as dean, the university said the business school has launched new online, non-degree and executive education programs as well as a new master's degree program in business analytics. Wake Forest also said business school enrollment also stands at record levels.
Wake Forest President Nathan O. Hatch said Iacovou is "uniquely qualified" to lead this new initiative.
"Charles has a demonstrated talent for developing new, vibrant academic initiatives and for working across schools and disciplines to advance university priorities," Hatch said in a statement. "He has brought a deep knowledge of business and professional education, a commitment to preparing students to become excellent and ethical leaders and a lively spirit of creativity and innovation to his extraordinary tenure" as business school dean.
Iacovou will become dean of the School of Professional Studies and vice provost for Charlotte programs Jan. 4.
Wake Forest said Michelle Roehm will serve as interim dean of the business school while the university searches for a permanent dean. Roehm is currently vice dean of the School of Business as well as the Peter C. Brockway Chair of Strategic Management and a professor of marketing.
The School of Professional Studies will be Wake Forest's seventh standalone academic unit and its first outside Winston-Salem. Wake Forest has an undergraduate college, a graduate school and professional schools of business, law and medicine. The newest Wake Forest school before Thursday's announcement was the School of Divinity, which began offering classes in 1999.
(336) 373-7312
@JohnNewsomNR