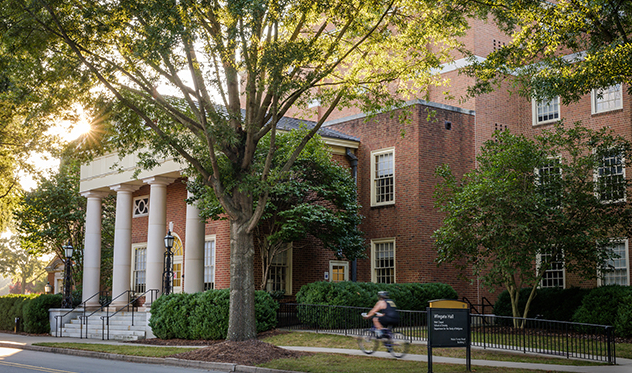 Wake Forest University announced Wednesday that it will pause its process to rename Wingate Hall as May 7, 1860 Hall. The announcement came the same day that a Black alumni group criticized plans to name the building after the date that Wake Forest sold at auction 16 enslaved persons.
WFU President Nathan Hatch said in a message to the Wake Forest community that university officials appreciated "those who questioned our decision and asked us to pause and reconsider the full impact of this name."
"We have heard the requests for consideration of a name that would recognize the contributions of a Black leader from the Wake Forest community," Hatch said. "We have heard particularly from some Black students, for whom Wake has felt unwelcoming, that the name, 'May 7, 1860' on a campus building would further alienate or traumatize them."
The Association of Wake Forest University Black Alumni sent a letter to Hatch, expressing its objections about renaming Wingate Hall to May 7, 1860 Hall.
The association said its leaders were excluded from the university's decision-making process and that Wake Forest officials didn't follow proper guidelines in the matter.
"While we agree with the university's decision to remove Washington Manly Wingate's name from the building, we were angered and dismayed by our exclusion from the selection of the new name for Wingate Hall," the association said. "May 7, 1860 stands as a day of trauma for the individuals who were ripped from their families, and represents a day in history where Black people were sold in a transaction that benefited the university."
A Journal reporter asked Cheryl Walker, a WFU spokeswoman, for a university response to the association's letter to Hatch. Walker responded by referring to Hatch's Wednesday statement regarding the matter.
"We are fully committed to listening and understanding, as well as seeking a solution that appropriately honors the enslaved and fulfills our ethical commitment to accountability," Hatch said.
Hatch said he asked Donna Edwards, a 1980 graduate and a former Maryland congresswoman, and Vice President Jose Villalba to chair a committee focused on clarifying the objectives in selecting a name for name for Wingate Hall and collecting and understanding the Wake Forest community's concerns, reactions and suggestions for a new name.
The committee will complete its work by June 30 and will advise the school's president on its findings, Hatch said. Hatch is scheduled to retire on June 30.
Earlier this month, Wake Forest announced that it would rename the building as part of an ongoing reckoning with its historical ties to slavery. It was to be called May 7, 1860 Hall to mark the date when the college sold at auction 16 enslaved persons.
"In selecting this name, we sought to memorialize them as vital contributors to the Wake Forest story," Hatch said in Wednesday message to the WFU community. "Additionally, we envisioned that choosing this date as the building's name would invite the question: what happened on May 7th, 1860?"
Wingate, a Baptist preacher and a professor of philosophy and rhetoric, served two terms as Wake Forest's president: from 1853 to 1862, when the college closed because most students and faculty enlisted in the Confederate military in the Civil War, and again from 1866 until he died in 1879.
Wingate owned slaves, like the three presidents before him at the college, according to a university biography. He also was president when, in 1860, the college sold 16 enslaved men, women and children left to the college in the estate of a Chowan County planter. The college established its first endowment with the $10,718 in proceeds from the slave auction.
Earlier this week, an online petition organized by a Wake Forest student urged the school to pick a new name for Wingate Hall. As of late Wednesday, the petition had 1,795 signatures.
In its letter to Hatch, the Black alumni association said that Wake Forest violated two of its principles in its rush to rename Wingate Hall. Those principles are the university's commitment to diversity and inclusivity and its commitment to transparency and tradition.
Kwamine Gilyard of Columbia, S.C., a 1992 Wake Forest graduate and a member of the black alumni association, said she agrees with the association's position criticizing the name of May 7, 1860 Hall.
"We should have been part of the conversation as well as other members of the Wake Forest community," Gilyard said. "The Wake Forest administration should have surveyed our members."