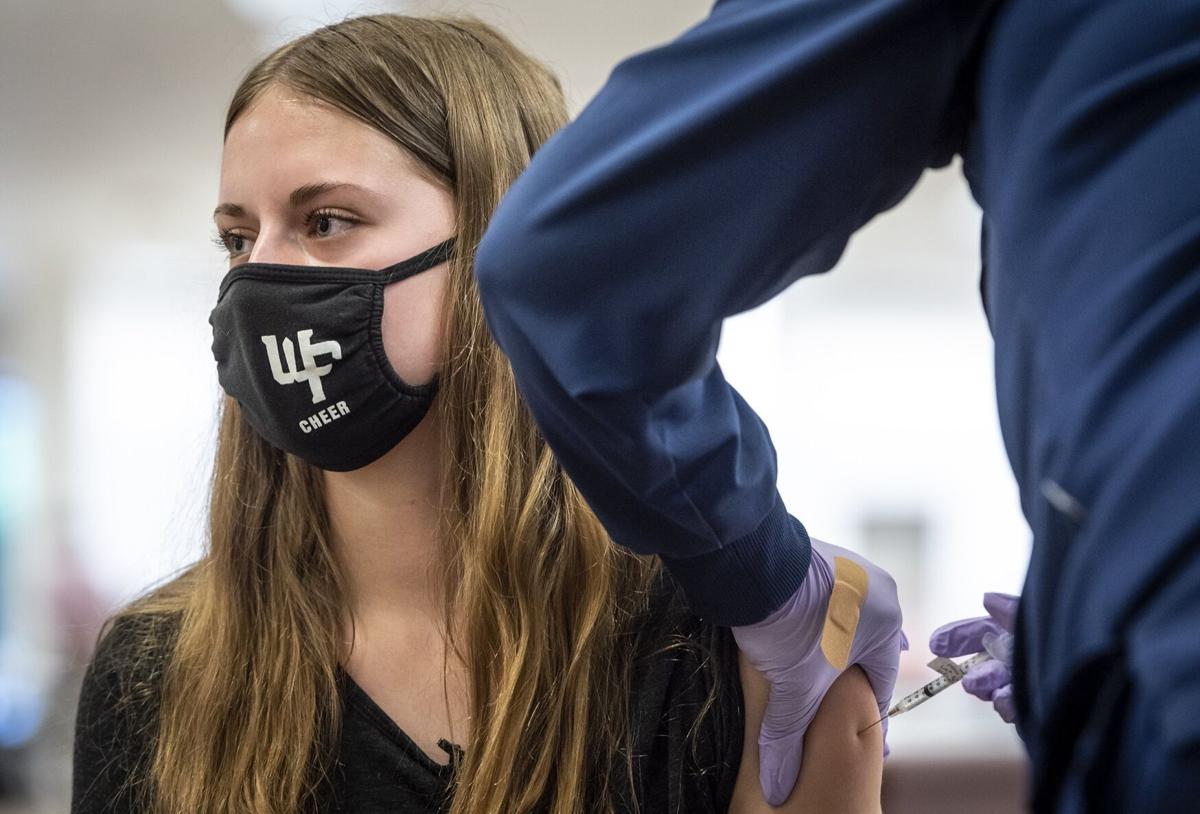 In the medical clinic where Dr. Kimberly Montez works, staff members cheer when a child between the ages of 12 and 17 gets a COVID-19 vaccine.
"We celebrate every little one," said Montez, an assistant professor of pediatrics at Brenner Children's Hospital
In Forsyth County, as in most parts of the country, this age group lags behind other groups eligible for the vaccine, a particularly troubling statistic considering how social and mobile young people are.
According to the Carolina Population Center at UNC Chapel Hill, 42% of kids in this age group in Forsyth County were fully vaccinated as of Thursday, about 20 percentage points below the county's vaccination rate for people 18 and over.
Still, the vaccination rate for the county's youth is higher than the statewide average of 37% for the 12-17 age group, and it's much higher than in surrounding counties.
The number of kids fully vaccinated is 18% in Stokes, 20% in Surry, 20% in Yadkin, 33% in Davie and 23% in Davidson counties, according to the Carolina Population Center.
The 12-17 age group became eligible for the Pfizer vaccine in May.
The consequences of such a sluggish vaccination rate in the 12-17 age group is reflected in the number of outbreaks and clusters throughout the state in K-12 settings.
The N.C. Department of Health and Human Services reported 248 clusters involving nearly 5,000 students in K-12 schools on Tuesday. Three of the clusters were in Winston-Salem/Forsyth County Schools — Reynolds High School, Walkertown Elementary and Clemmons Middle.
Clusters are defined as a minimum of five positive cases associated with a school. The local school district reported nearly 300 positive cases among students in its most recent weekly report.
Though one-third of COVID-19 cases in the county are children, transmission within classrooms is rare, Dr. Christopher Ohl, an infectious disease expert at Atrium Health Wake Forest Baptist, said in his weekly briefing on Thursday.
"It gives the false impression that school itself is the risk, which is not the case. School transmissions are actually pretty uncommon," he said.
The Winston-Salem/Forsyth County Schools is requiring masking inside school buildings for at least the first nine weeks of school.
Ohl said a lot of the transmissions are happening in social situations tied to schools, such as gatherings after football games and car-pooling. He mentioned how students frequently get in a car together to drive to the Career Center, a ride that could take as long as 20 minutes for some students.
"Being in a car together is a pretty high-risk for transmission," Ohl said.
The majority of the cases with young people are in the 12-18 range, he said.
"That's the more socially active group," he said.
Though the vast majority of kids don't get too sick from COVID-19, a handful of children are in the intensive-care unit at Baptist Medical Center.
Some may face long-term impacts, Montez said.
When she talks to unvaccinated children and their parents, she tells them that kids are testing positive and may face long-term impacts. That kind of information can be particularly impactful for young athletes, she said.
"In the first wave (of COVID), we weren't really seeing kids as affected, so there was this idea that kids are not impacted by COVID," Montez said. "But really, with this wave, a lot of kids are getting infections."
In the week ending Sept. 16, there were nearly 226,000 cases among children across the country, the third highest weekly total among children since the pandemic began, the American Academy of Pediatricians reported. That number represents about 25% of new cases for the week.
The importance of the COVID-19 vaccination among children may have gotten lost in the messaging, Montez said.
"When the vaccine was first available, there was a big push in the media, with vaccination drives and events," she said. "There seemed to be less of a push to get teenagers vaccinated."
Children in the state must get approval from their parents before getting the COVID vaccination, according to a new law passed in August. That has been another barrier to getting some kids vaccinated, Montez said.
The more common barrier to getting more kids vaccinated is misinformation. Earlier this month, popular rapper Nicki Minaj falsely claimed that the vaccine could cause infertility.
"There's not even biological plausibility for that happening," Ohl said. "Watch out for misinformation such as this."
Montez said she and her staff combat myths about the vaccine on a daily basis.
"There's a group that is unsure perhaps but open to it, and others who are firmly rooted in their beliefs," she said.
Besides the obvious protection the vaccine provides against the virus, students who are vaccinated don't have to quarantine from school if they come in close contact with someone with the virus and they're not showing symptoms.
Unvaccinated students may have to be quarantined up to 14 days if they come in close contact with someone with the virus.
The next group in line to get vaccinated will be the 5-11 age group. Ohl said he expects that approval to come as soon as Halloween.
"Maybe kids will think it's a Halloween horror, but most parents will think it's a Halloween treat, he said. "It's very good news."
The Forsyth County Department of Public Health and the School Health Alliance will have an immunization clinic, including the COVID-19 vaccine, on Saturday from 9 a.m. to 3 p.m. at Hanes Memorial CME Church, 819 Highland Ave.