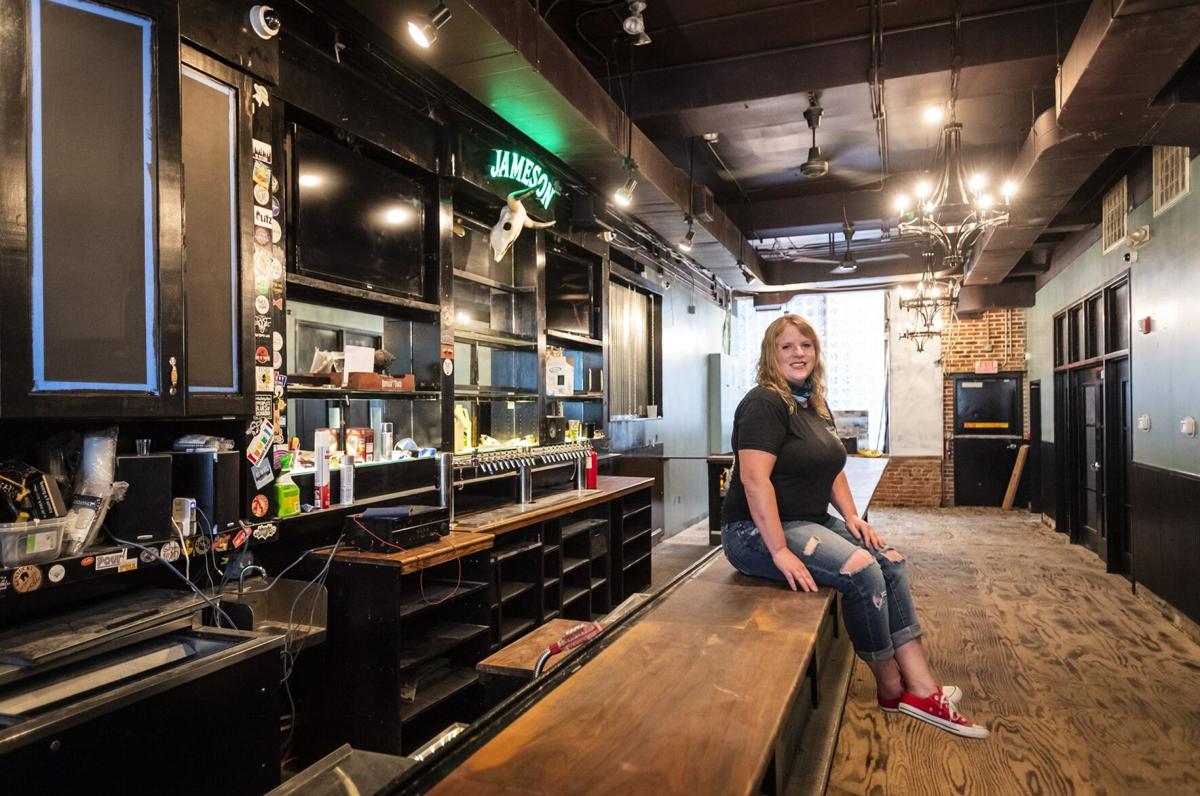 The words "effective immediately" from Gov. Roy Cooper were like music to the ears of Winston-Salem bar owners Jamie Bartholomaus and Danielle Bull.
Cooper's lifting Friday of most indoor and outdoor social distancing restrictions ends what the owners considered a test of physical, emotional and financial wills and — hopefully — a sign they have survived the worst of the COVID-19 pandemic.
"There aren't words to describe how excited we are to operate at 100% capacity again," said Bull, owner of Bull's Tavern at 408 W. Fourth St.
The reopening progression for bars has been 30% capacity outdoors, or 100 customers, in October, then 30% indoor capacity on Feb. 26 before going to 50% indoor capacity in late March.
"I'm looking forward to hiring back beloved staff and booking full bands," Bull said.
Bull said that while she is relieved to begin adjusting to whatever the new social normal will become, she cited that "vaccines have been readily available for almost two months now."
Bartholomaus said Foothills Brewing removed the mask mandate from all locations once Cooper issued his latest executive order.
"We are no longer enforcing or asking customers to wear masks, though we hope those that are not vaccinated will continue to wear them responsibly for their own safety," Bartholomaus said.
"Our employees are welcome to wear masks as they want so they are comfortable. We are asking any employees who have yet to vaccinate to continue to wear protection from COVID for their health.
"We will continue to be vigilant with cleanliness and sanitation of our facilities."
Bartholomaus said Foothills isn't expanding its customer capacity "until we can hire more staff, and we're hiring all positions."
"Besides that, we are so looking forward to seeing everyone's smiling faces again."
'Personal responsibility'
Cooper and Dr. Mandy Cohen, the state's health secretary, acknowledged they have ushered in the personal responsibility reopening phase of the pandemic.
"Certainly, we don't know whether people are vaccinated or not," Cooper said.
"We're going to expect people to do the right thing, particularly since these new variants are even more contagious."
Cooper said the N.C. Department of Health and Human Services will continue "to strongly recommend that unvaccinated people wear masks."
When asked if lifting most mask mandates would serve "to open the floodgates" at social venues for the unvaccinated, Cooper said that "even though we have had mandates in place in a number of areas, a lot of what we have done has relied on the personal responsibility of people and of businesses."
"This order just increases that personal responsibility," he said.
Bull said she recognizes Cooper's latest executive order "is operating on the honor system; we will do the same."
Mitch Kokai, senior policy analyst with Libertarian think tank John Locke Foundation, said that "it appears Gov. Cooper is surrendering to reality."
"Growing numbers of people are sick of wearing masks, avoiding their friends and family members, and they see zero reason to suffer these restrictions when the federal experts now say there's no good reason for them to do so."
"While Cooper and his team continue to tout the dangers of COVID-19, I suspect that there's very little chance the governor would try to reimpose any of his lockdown restrictions," Kokai said.
"The reopening train is moving in one direction, and Cooper would rather ride that train than get left behind."
Business responsibility
Cooper is "leaving the opportunity for businesses to require masks ... if they want to. That's our recommendation."
Cohen said she expects many private businesses, including retailers who deal with the public, to continue to require customers and employees to wear a mask in their venues, in part because of the uncertainty of whether a mask-less person is fully vaccinated or not.
Cohen cited Starbucks among retail establishments that have said they will continue to require masks indoors.
"The best protection remains getting vaccinated," Cohen said. "Today's announcement is a big step forward, but it's not the finish line.
"We still want to reach our goal of two-thirds of North Carolinians 18 and older with at least one vaccine dose. That's when we believe we'll have enough protection across our communities to be able to live more safely with this virus."
Rep. Donny Lambeth, R-Forsyth, said he's pleased that local public establishments that have borne the brunt of the financial impact of the pandemic have the chance to become whole again.
"Even Bowman Gray racing was on hold pending the next step in opening back our state, so this is good news for many outside events," Lambeth said.
Two patrons at this year's Winston-Salem Greek Festival said they will continue to wear masks inside of local businesses.
Stuart French of Winston-Salem said he will continue wearing masks, including inside of businesses.
"I've gotten so used to it," French said. "I don't feel dressed without it (a mask)."
Resident Pamela Ford said she agrees that businesses can set their own rules whether their customers should wear masks.
"I will wear a mask because I'm not sure who has been vaccinated and who hasn't," Ford said.
Fitness response
The YMCA of Northwest N.C. will no longer require masks for members who have been fully vaccinated, though they can if they want.
YMCA officials will not require members to show proof they are fully vaccinated, spokesman Michael Bragg said.
The organization, which is based in Winston-Salem, has 14 branches in Forsyth, Davie, Yadkin, Stokes, Wilkes, Alexander and Iredell counties.
"We strongly encourage those who are not vaccinated to continue wearing a face covering and physically distancing," Stan Law, the nonprofit's president and chief executive, said in a statement.
However, masks at childcare and camp settings at the YMCA are still required, per Cooper's executive order.
The YMCA will continue its deep cleaning and sanitation practices.
"As the governor stated, the fight against COVID-19 is not over yet," Law said. "We will continue to do our part in keeping everyone safe as we've done throughout this pandemic."
Dixon Douglas has kept the CycleBar franchise in downtown Winston-Salem open for business by meeting customer demand for exercise as he has been allowed to by Cooper over the past 14 months.
"We will be taking a phased approach before opening back to full capacity," Douglas said.
"We will be making masks optional, though we will still heavily encourage those who are not vaccinated to wear one. Our cleaning standards will remain the same as we continue to keep the health and wellbeing of our guests and teammates our top priority."
"Over time, we will make the call on adding more bikes to our theater," Douglas said. "Until then, we will stay at 50% occupancy inside and outside the studio."
Arts response
Arts N.C. said it will recommend that arts and entertainment venues adhere to Cooper and Cohen's "strong recommendation to continue mask wearing indoors for all those who are not fully vaccinated and for everyone at large gatherings such as live performance events, regardless of vaccine status and especially for events held indoors."
"The lifting of restrictions means that arts organizations and businesses may now set their own restrictions for volunteers, employees and patrons.
"The order specifically states that private businesses, including nonprofits and public buildings, may still require face coverings for employees and/or guests, social distancing by employees and/or guests, set capacity limits or assign seating at their own discretion, and require COVID-19 vaccination for employees and/or volunteers."
Vivian Joiner, co-owner of Sweet Potatoes restaurant and Miss Ora's Kitchen, said Friday she was "absolutely not" relaxing the rules that people wear a mask when they come inside.
"There is no way for us to tell who is vaccinated and who is not," she explained.
"Our response is to make sure you have a safe environment to dine in. If you want to dine with us you will dine with us.
"If not — we are not all things to all people, but we want to hopefully be a place where, when you decide to dine with us, you can do it in a comfortable way."
Journal reporter John Hinton contributed to this article.
336-727-7376