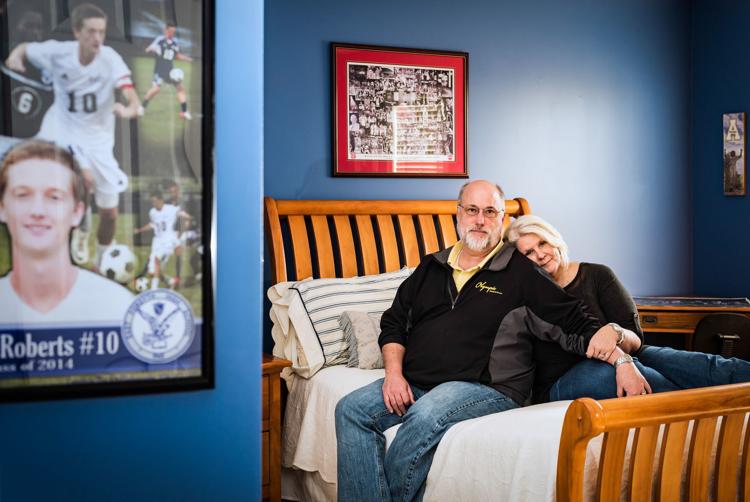 Nearly two years ago, Martin Roberts stood by a Boone bus stop talking to his cousin about the upcoming semester and his future goals.
He seemed like his normal, joking and pleasant self. But what his cousin didn't know was that Martin had just left a cryptic note at his apartment.
She waved goodbye and got on the bus.
It was the last time anyone saw Martin.
A video from the bus shows Martin — then 19, with his backpack and Appalachian State University pullover — shrinking away in the distance as the bus departs the busy stop on campus, and then he's gone without a trace.
An investigator told his family: "If I didn't know better and I believed in 'The X-Files,' I would believe a ship came down and picked him up and carried him away."
'Doesn't make sense'
It has been almost two years since Martin's disappearance April 21, 2016, but his Kernersville family and law-enforcement authorities continue to investigate with the hope of solving some of the many unanswered questions.
Theories from foul play, suicide, a hike on the Appalachian Trail and Martin leaving to start a new life have all been tossed around, yet none seem to quite fit.
"It doesn't make sense. He was close to his family. He doesn't have history to be a drug dealer or to live off stealing things. It wasn't in his nature to be that way," his father said of his only son. "Who he is makes it even harder to figure out what the heck happened."
Among the many strange things in his disappearance was a cryptic note indicating Martin's need to get away that was found face down on his bed on top of a pile of clothes in the Boone apartment he shared.
The handwritten note was vague and Boone Police Chief Dana Crawford said he "would not characterize it as a suicide note." A similar version of the note was found crumpled up in a trash can in his room.
"The note itself said he regretted he hadn't taken advantage of opportunities he had and that he was leaving," his father said. "It didn't say if he was going somewhere or going to do something or what his intentions were. It was vague. It's still one of the biggest mysteries."
The exact wording of the note hasn't been released by investigators.
Roberts had spoken to his son the Monday night before his disappearance about budgeting, saving money and the future, with the agreement that they would touch base again Tuesday or Wednesday.
It wasn't totally out of character for Martin, as a college student, to procrastinate when calling his parents back, but by Thursday, Roberts was starting to get worried when he couldn't reach his son, he said.
On Friday, he called the landlord of his son's apartment and tracked down his roommates, who said they hadn't seen Martin in a couple of days.
"It was the worst day of my life," his father said. "Your mind goes to bad places because unfortunately there are bad people in this world, as well as being concerned about his mental health and anything of that nature. There were just a million possibilities."
Martin, a graduate of East Forsyth High School, had never had any mental health issues before and had never run away from home, his father said. He was in good shape after 15 years of soccer but had never been one to go on any extended hikes.
Martin had never expressed interest to family or friends in walking the Appalachian Trail, a marked route between Georgia and Maine.
Martin only had money for day-to-day living expenses, and there was no evidence to suggest he had a large amount of cash on hand when he disappeared, his father said.
"He was standing there on the corner making plans, talking about the next semester and how excited he was about it," Roberts said. "Then boom, he's gone."
Missing pieces
Almost everything was still in Martin's Boone bedroom, including his clothes, his laptop, his cell phone, his iPad and other electronics. His bank card was in the pocket of some dirty jeans on the floor.
The only thing blatantly unaccounted for was the food Martin had bought to fully stock his fridge while on a grocery run with a friend that Tuesday night. But he had mostly bought TV dinners and other perishable items — nothing that would keep for long, his father said.
"He did leave with a book bag so he could have brought the food with him and planned to head off to the woods for a day or two," said Lt. Chris Hatton, an investigator in the Boone Police Department. "The one thing we know about this case for sure is that we don't know anything for sure."
Missing chunks of time were discovered in the weeks leading up to Martin's disappearance that could not be accounted for by friends or with a digital trail. He would tell his roommates he was hanging out with friends, who later said they hadn't seen him in months.
"It's one thing if he's doing something he thought we, his parents, wouldn't approve of, but when you're making up things to your friends, what could he possibly have been doing that his friends would've judged?" his stepmother Abbie Roberts asked. "It's so completely out of character."
During the gaps in time, Martin hadn't logged any bank transactions and wasn't leaving a digital trail with his electronic devices.
The police chief sent a letter to the town's residents, requesting any information from people who might have seen Martin.
"We don't necessarily know something suspicious was afoot," said Hatton, the investigator. "I've been in this business for 20 years and usually when you put a tenth of the work we've put into this case, you get something back."
Because Martin's Apple devices were password-protected, police were unable to search the contents of his phone, iPad or laptop.
Police were in contact with Apple representatives, who said they could not break into Martin's devices, following a 2016 precedent where Apple resisted the FBI's demand to crack an iPhone linked to the fatal shooting in San Bernardino, Calif., in December 2015.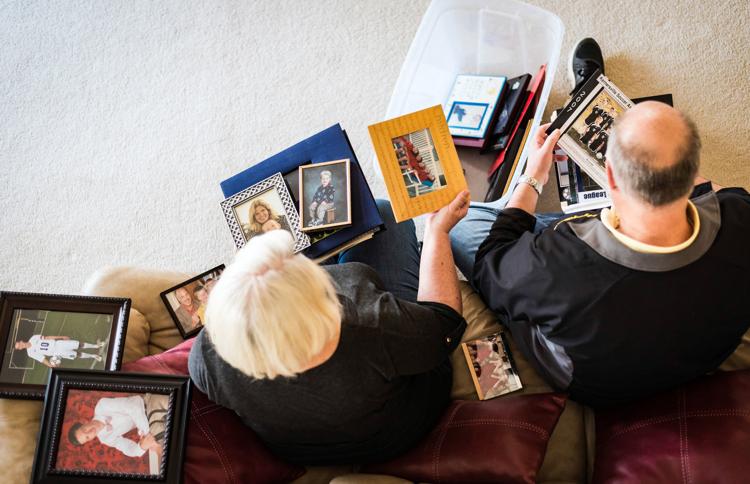 Experts recommended that police try a pass code on his phone 10 times, which would erase the phone's data and upload it to iCloud.
Police obtained a search warrant for data stored in the iCloud, but there was nothing there.
"I don't know if that means he wiped the phone. I don't know what it means," Hatton said. "It's been frustrating for us and for the family."
A month before his disappearance, Martin researched Marine recruiting and workout programs for joining the military on an old Dell computer that investigators were able to look at, Hatton said.
Police exhausted every avenue to conclude that Martin had not left to join the military nor had he met with any recruiters. But the internet search did point to the idea that Martin may have been looking for a life change, Hatton said.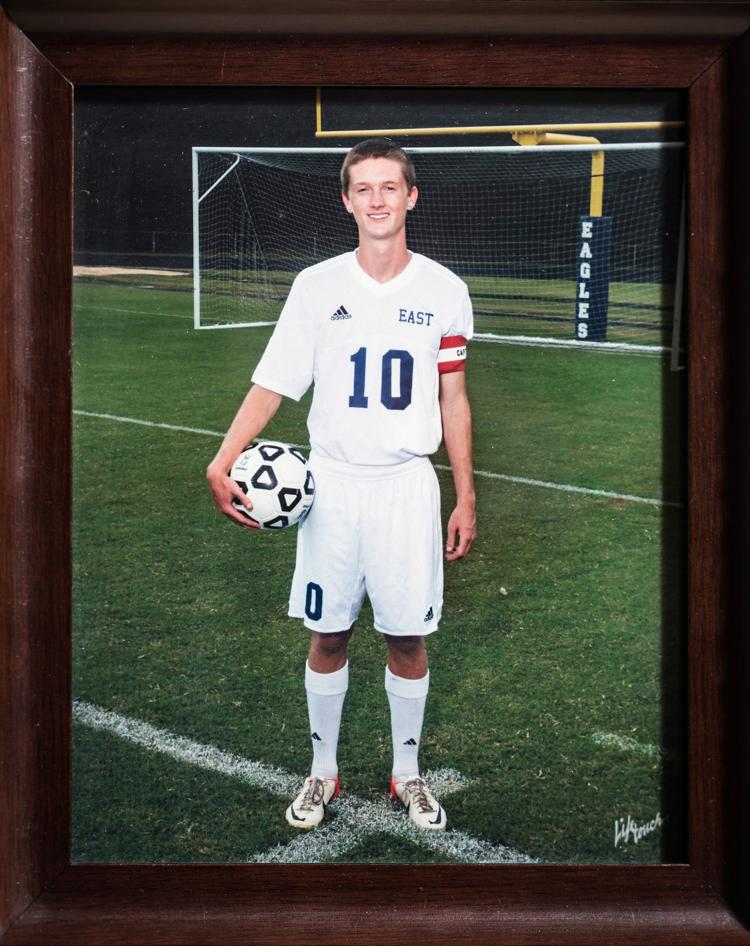 Investigators found a fake ID in his apartment — not out of the ordinary for underage students wanting to drink illegally — which led them to question whether Martin could have had another fake ID made with an alternate identity. They tracked down the company that made the ID, but because it is based in another country and thus out of their jurisdiction, Boone police couldn't force it to cooperate.
While friends said Martin hadn't been acting differently before his disappearance, he had pulled out of a few group chats in the days before he disappeared and stopped logging in to his online classes.
Hatton said the note he left, which was written in past tense, just added to the mystery.
"One person can read the note and think he's bent on harming himself and gone off to do that, while another person will read it and think he's tired and gone off to join the circus with a different name," Hatton said. "The problem is we don't have a lot of evidence to Martin's state of mind."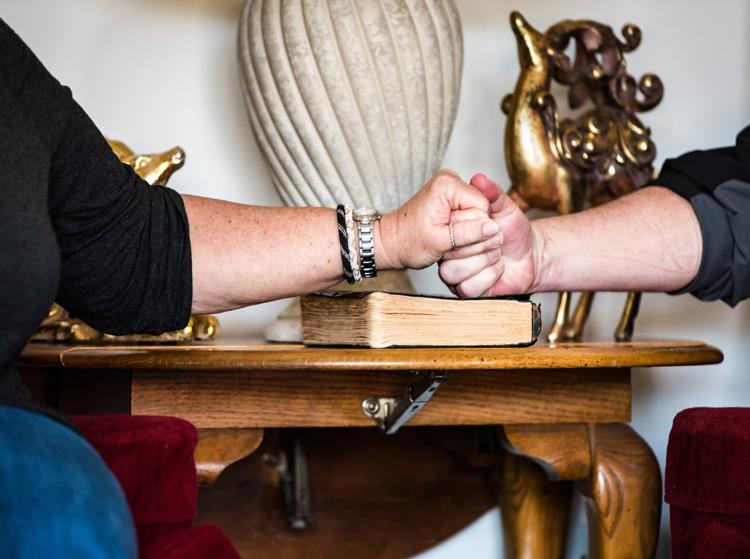 A puzzling investigation
While the video of Martin at the bus stop — at the intersection of Blowing Rock Road and Rivers Street in front of the university Convocation Center — was a definite peg to his whereabouts, it provided little direction as to where to look next.
"Basically he could've gone three ways from there: He could've gone back into campus, gone toward King Street or crossed the street to the fraternity house," Abbie Roberts said, referring to Tau Kappa Epsilon, Martin's fraternity. "He wasn't picked up on any of the video cameras on King Street or on campus, and we know he didn't show up at the fraternity house, so it's just a real mystery."
In a day and age with surveillance cameras at every business, it's hard to avoid detection, but Martin seemingly fell off the map despite not having access to a bike or a car while in Boone.
He could have gotten into a car with someone, his parents said, although there were two possible unconfirmed sightings of him later that afternoon hiking a little ways away from campus.
Both people said they thought they saw Martin hiking near Trout Lake — an area a few miles from campus that students were known to frequent — heading toward the Blue Ridge Parkway a short time after he was captured on the bus video.
He was reportedly seen by a friend midafternoon near the intersections of Flannery Fork and Payne Branch roads in the parkway area.
Police have poured over the last video of Martin to try to make sense of it.
"As the bus pulls away, he seemingly turns to go to the King Street area, but it's a mild turn of his body. He could've just been shifting his feet," Hatton said. "Where he went next is a question we ask ourselves every night."
The night Martin was declared missing, a helicopter equipped with infrared cameras was used to search the densely wooded areas for signs of heat from a human being or campfire.
The possible sightings near Trout Lake also led authorities to explore that area extensively and eventually drag the lake.
Sonar equipment and divers were used to explore several other bodies of water, and cadaver dogs scoured the woods, water and trails for a trace.
Police, family, friends and Martin's Tau Kappa Epsilon fraternity brothers also conducted several land searches of places Martin was familiar with and remote wooded areas, all to no avail.
"In the vast mountainous areas, a human is very small, especially if they don't want to be found," Hatton said. "We've searched communes, we've searched everywhere, but we'll keep searching until we find him."
In the beginning, Martin's family and police were in contact several times a day. Now they communicate on an as-needed basis, John Roberts said. Police have also been in contact with Martin's biological mother throughout the investigation and kept her up to date on the case.
"Anytime I see the Boone police calling, I get worried," John Roberts said. "Do you want the phone to ring or not? If it rings, it's probably the worst news possible, but on the other hand at least you find out."
The uncertainty has plagued the family, leaving it haunted by every possibility.
John Roberts said one of the hardest parts is seeing similar cases involving large and frequent search parties.
"You immediately think, 'Why aren't we doing that?' Well, we have no idea where to look," he said. "Once we got past those dozen initial spots, it opens up the entire world. Vegas, Key West, San Francisco, we don't know which direction to go next."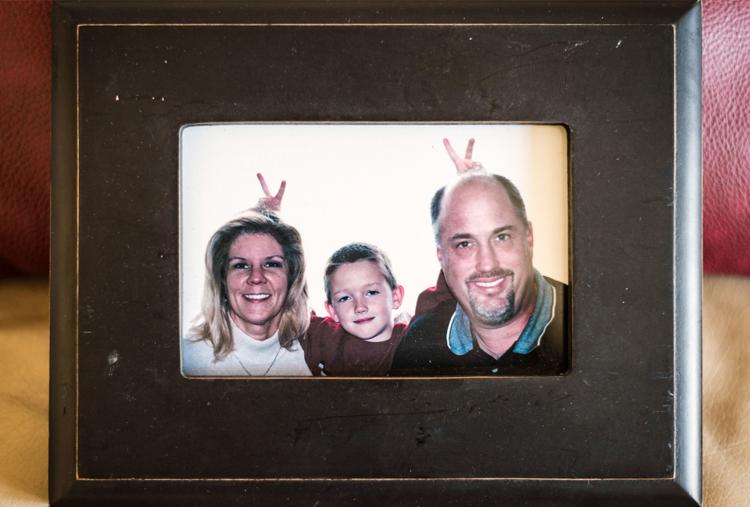 Police have no leads
Another obstacle that has hindered the investigation is Martin's appearance as a lean, 5-foot-10, brown-haired, blue-eyed college student, making him fairly nondescript to a passer-by.
On many occasions, police have received tips that Martin was seen at seemingly random places, such as the Appalachian Trail or at a Taco Bell at Carolina Beach. Sometimes the tips conflicted, with Martin "seen" in two places 300 miles apart at the same time, Hatton said.
He said the police department appreciates all legitimate tips whether they pan out or not, but so far the tips have largely turned out to be similar-looking men.
"When I met with the fraternity leadership, all three kids were wearing the same clothing description Martin was when he went missing: khakis, New Balance shoes and an Appalachian pullover. It's like the unofficial uniform for frat guys here," Hatton said. "Now if he had a pink mohawk that would be different."
Had Martin been trying to hide, he could have dyed his hair, gained weight, grown a beard and used color contact lenses to become an unrecognizable person and start a new life.
But his father said he is fairly certain Martin, who would be 21 now, would have kept the two tattoos he got after his high school graduation of multicolored mountains on his left forearm and a quote from a song by the reggae musician Bob Marley over his right rib cage.
The lyrics read: "Don't gain the world and lose your soul; wisdom is better than silver or gold."
The tattooed lyrics from the Jamaican singer, in addition to the family's annual vacation to Jamaica and Martin's passion for the beach have led some people to ask whether Jamaica has been properly vetted for signs of the missing teen.
But his parents still have his passport, and leaving the country isn't an easy task.
"If he's perfectly happy and healthy living his life somewhere at least say: 'I'm OK; I'll be home when I can,'" John Roberts said. "If for an unknown reason he felt he had to leave, we have no issue, we could work on that. We'd just be happy to know he's safe."
'Still hoping for a positive outcome'
On a street of cookie-cutter brick houses with matching covered porches, there's one thing that makes the Roberts' house different.
In the front window is a stark white sign accentuated by the glow of a flickering candle with bold capital letters that read "Pray for Martin."
The sign appeared on their front lawn from an anonymous person shortly after Martin went missing.
"This whole thing is surreal. It's like you're watching it happen to someone else because it can't be happening to you," Abbie Roberts said. "It's a nightmare you can't wake up from."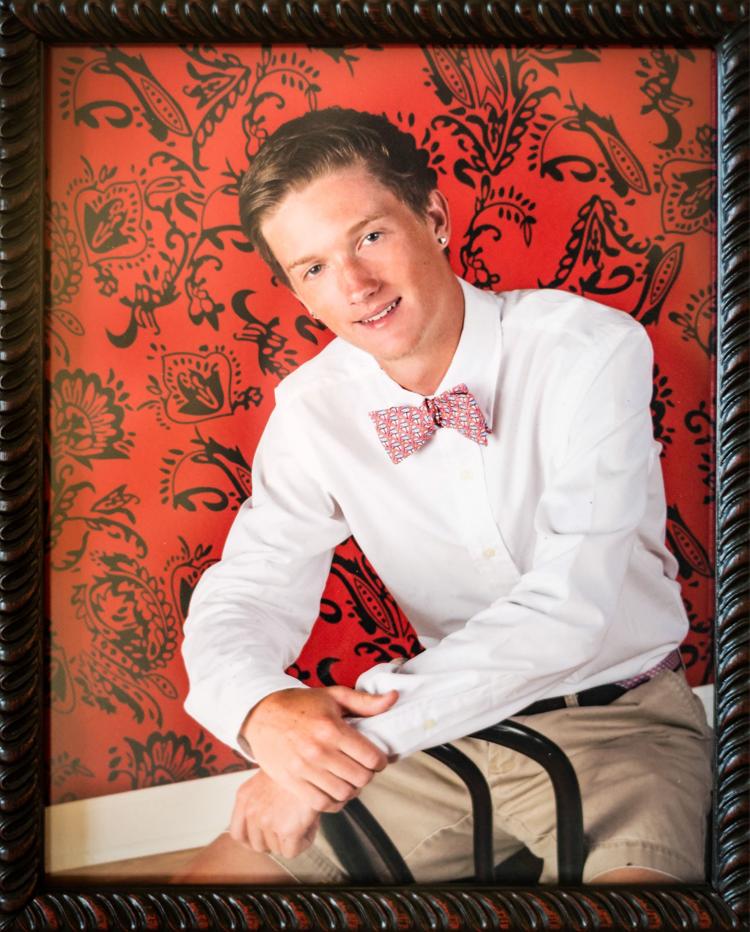 Every time Abbie and John Roberts arrive at their house, they half-expect their son to be sitting on the porch waiting for them.
Martin's bedroom — which he painted a deep blue for his 15th birthday present — is just as he left it. His sheets haven't been changed since he disappeared and they still smell like him, Abbie Roberts said.
"There's plenty of times when we're coming home, we crest the hill and expect to see him sitting on the front steps," his father said. "I can't tell you how many times I've done that. I believe he's coming home. Hopefully sooner than later."
After his freshman year at Appalachian State, Martin took a semester off to work in Kernersville.
He returned to Boone at the beginning of 2016 to take online classes through a community college and boost his grades, with the plan to return to Appalachian in the fall, his father said. He had hopes to enroll in the business school his junior year.
The last time Martin saw his family was over spring break a few weeks earlier. He hung out with his family, and they grilled steaks at Martin's request.
The family had an arrangement that they would text throughout the week and that Martin would call them Sunday afternoons to catch up. When they spoke on the phone the last Sunday, they talked for a long time and there were no red flags, his parents said.
"Everything just seemed normal," John Roberts said. "There was no tipoff personally whatsoever until he was gone."
Roberts, who used to coach Martin in soccer, said he misses his son's smile, quick wit, easygoing nature and the way he could brighten a room with his jokes and humor.
The grief is unbearable but not without hope, he said.
"He loved to travel any place he hadn't been before, and was a big fan of the beach," he said. "Especially this long out, we're still hoping for a positive outcome."
A plea for answers
Martin's case will be featured on "Disappeared," a documentary TV series on the Investigation Discovery channel sometime this year.
His family hopes the increased attention will bring a break in the case and maybe reach someone involved in his life today, Abbie Roberts said.
"The filming we did weeks ago ripped the scabs off everything, but we're hoping it reaches the right person," she said. "Somebody's got to know something and maybe they just don't know it's important."
Authorities have followed tips as far away as the Outer Banks and Virginia, while working with various agencies along the Appalachian Trail as far away as Ohio.
By this point, Martin's physical case file is 4 feet thick, not counting all of the digital data.
The Boone police have invited several experts to review the case, including a cold case expert, Dave Pauley, who was introduced to the case in mid-February and has investigated several high-profile cases. including the terrorist attack on the USS Cole in 2000.
"There are cases out there where someone will show up many years later," Hatton said. "We will look for him until we find him."
A criminology professor at Western Carolina University, who used her cadaver dogs in the search for Martin, has also made investigating the case her students' project for the past three semesters.
The students explore Martin's social media with fresh eyes and present a final project with their ideas on the case.
Hatton urges anyone with tips or sightings of Martin to contact police.
"If you know anything, it's not too trivial or small. The smallest little detail could be huge to us and could be the thing that helps us find Martin," he said. "It would help heal a lot of people's broken hearts and put a lot of uneasiness to rest."
The yearning for answers has tortured the family, but it maintains hope. Each night, the family turns out the lights and lights a candle in the window as a constant reminder that Martin is always welcome home, whenever he is ready, his father said.
Each year, on Martin's August birthday, family and friends also light a candle in his honor and share it on the Facebook page "Help find Martin Roberts."
"Sometimes it's hard to make it minute to minute or even second to second. Unfortunately, one of the sad lessons you learn on day one is until you find a body, there's always hope," John Roberts said.
"I hope he reads one of these posts or sees this story and knows that we miss him, we love him and we want him back."
Get local news delivered to your inbox!
Subscribe to our Daily Headlines newsletter.