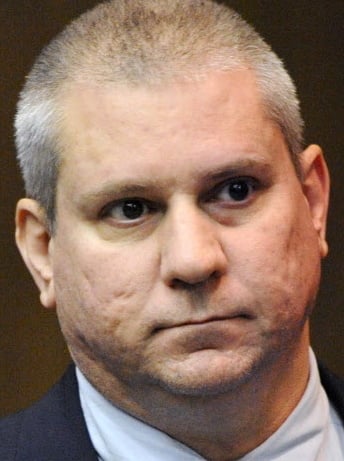 Michael Charles Hayes, the Winston-Salem man who killed four people and wounded five others in a 1988 shootout on Old Salisbury Road, is no longer under any court supervision.
After a two-day recommitment hearing in May 2010, Judge Steve Balog of Forsyth Superior Court ordered Hayes, now 48, to be released, with conditions, from Dorothea Dix Hospital, where Hayes had been since 1989 after a jury found him not guilty by reason of insanity.
In January, Balog signed an order terminating the conditions after determining Hayes had complied with all of them for the past year, including that he not possess drugs or firearms, remain employed and not travel to Forsyth County. He also was prohibited from traveling outside the state and had to get counseling for himself and in connection to his relationship with his girlfriend, with whom he has two children.
"According to all reports, respondent has been fully compliant with the conditions of his release and his therapists have recommended termination of the conditions previously imposed," Balog writes in the order.
Balog says in the order that Karl Knudsen, Hayes' attorney, had consulted with prosecutors and they agreed it would serve "no useful purpose" to extend the conditions of Hayes' release.
"There are no current conditions on him at this point," Knudsen said this week.
In other words, Hayes is completely free for the first time since 1989, when he was sent away to Dix Hospital. Hayes, who now lives in Wake County, could not be reached for comment. Knudsen said Hayes doesn't want to comment.
State law required a recommitment hearing every few years to determine whether Hayes still needed to be held at the hospital.
Over the years, the hospital had granted Hayes privileges that allowed him to spend much of his time outside of Dix and work 40 to 60 hours a week as an assistant manager at a convenience store. Hayes also had unsupervised visits with his girlfriend and two children.
At his hearing in May, seven psychiatrists and psychologists testified that Hayes no longer was mentally ill and posed no threat to the public. Robert Brown Jr. was the only psychiatrist who testified that Hayes posed a danger to the public but he said that risk was low.
On the night of July 17, 1988, Hayes walked out of his failing moped business, armed with a .22-caliber rifle, and began waving down traffic on Old Salisbury Road near the Davidson County line. He started shooting people who he believed were demons as they slowed down at the intersection. He killed four people — Crystal Cantrell, Tom Nicholson, Melinda Hayes and Ronnie Hull — and wounded five other people before a Forsyth County sheriff's deputy shot him.
Doctors have said drug and alcohol abuse contributed to a psychotic break that led Hayes to start shooting. Assistant District Attorney David Sipprell argued at the hearing that there was a chance, no matter how small, that Hayes could relapse and have another psychotic break.
In his order, which was amended in July 2010, Balog ordered that Hayes not take drugs or consume alcohol and that he had to attend Alcoholics Anonymous at least twice a week. He also ordered Hayes to submit to random drug tests.
A caseworker with Wake County Human Services was assigned to monitor his compliance with all the conditions. That caseworker submitted reports to Balog and the Forsyth County District Attorney's Office. Those reports were submitted under seal because they contained confidential information, including sessions with counselors.
R.B. Nicholson, whose son, Tom Nicholson, was one of Hayes' victims, said he knew the day would come when Hayes might be completely free.
"We did what we could to have him slightly restricted for as long as we could," he said.
Forsyth County District Attorney Jim O'Neill said the law should be changed to allow juries to find someone guilty but insane.
"There's nothing further under the law available to judges or prosecutors to keep Michael Hayes incarcerated," he said. "That is why state legislators need to step forward and change the law in order to keep people like Michael Hayes off the streets forever."